NOTE
This feature is not enabled by default on Course Evaluations & Surveys Accounts. Please
contact our Support Team by clicking
Submit A Request
to have this feature enabled.
The Course Evaluations & Surveys allows you to share specific results from your course evaluation projects with students, or publicly to anyone. The difference between student reporting and public reporting is simply who can access this reporting, and how. In student reporting, only students can access this feature from within their Course Evaluations & Surveys account (or if you are a Blackboard Learn customer, from our student reporting building block module). Public reporting is the same reporting functionality, but one URL is provided, which you display wherever you like (e.g., within your LMS, Portal, in e-mails, etc) and anyone who clicks on the URL will be able to view the reporting. Moreover, you control which results are accessible for selected projects and selected survey questions, and when you want to allow access.
NOTE: The Student Reporting & Public Reporting Module refreshes every four hours so changes made will not immediately be reflected in the module. The changes will be reflected at the next four hour refresh.
Example of student view with above Display Name and Instructions:

Project-Level Settings
In EACH Course Evaluations & Surveys project, manage the
Student Reporting/Public Reporting Access Settings
for that project within the
Report Setup
tab.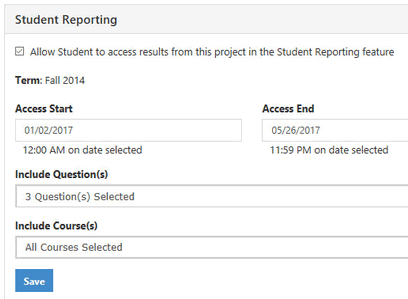 User Access to Student Reporting/Public Reporting