Add a Strategic Objective
Note: This guide will show you how Unit-Level Objectives can be added to Strategic Goals in your plan. Strategic Objective, in this example, refers to the third level in our Strategic Direction/Goal set-up. Your nomenclature may vary from that used in this guide.
1. Go to the Planning tab in the side menu and then click on Strategic Planning in the top horizontal menu. Click on Strategic Directions/Goals located in the drop down menu and then click on Edit/Create.
2. Select on the organization and the strategic planning period for which you wish to create a Strategic Objective. In this example, we've chosen the College of Engineering for the 2010- 2015 Strategic Plan.
3. You will see any strategic directions already created in black text on the screen. To see the strategic goals belonging to each strategic direction, either:
a. Click on the small
to the left of the strategic direction you wish to add to, or
b. Click Open All to view all of the Strategic Goals and previously entered Strategic Objectives.
4. Click on the
button to add the Strategic Objective.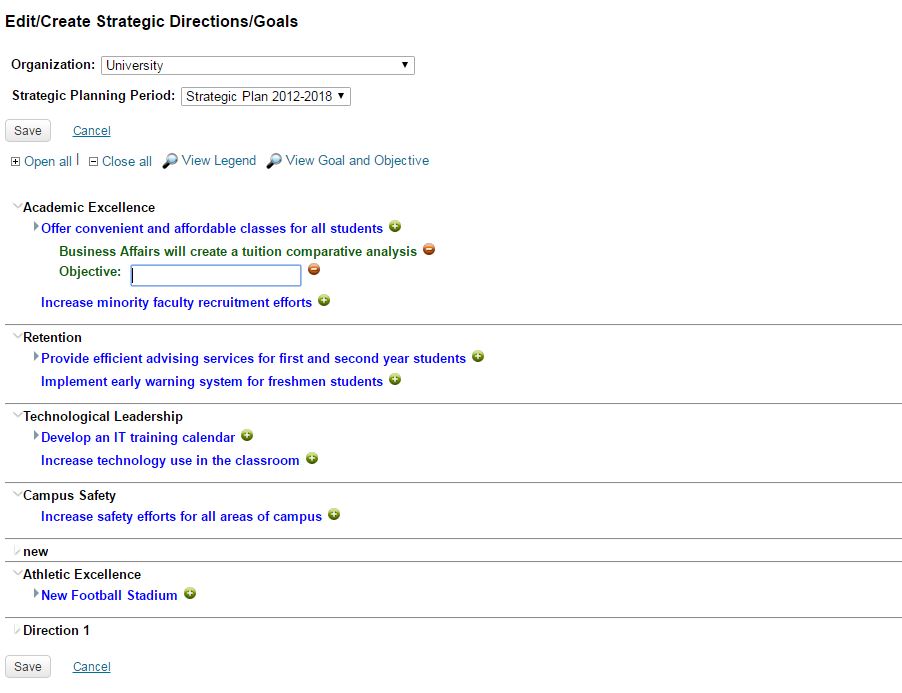 Creating Strategic Objectives

a. Enter the objective text into the text box on the screen.
b. Hit Enter on your keyboard to enter the objective.
c. You may click the
button to add another objective to the Strategic Goal.
5. When you are done, you have two options:
a. Save: This will save the objectives. You will remain on that page and the Strategic Objectives and Strategic Goals will collapse so that you are only viewing the Strategic Directions.
b. Cancel: This will cancel any actions you have taken on this screen without saving.