If a student is no longer part of the institution, it is recommended that their primary role is switched from Student to Alumni.
Alumni Role
Switching a student account from Student to Alumni can be done from the user interface by the UA. Please see the steps below to complete this task.
Create the Alumni Role: Administration Security Roles Create New Role Complete Role Configuration Set this role to be locally authenticated Create
Note: Make sure to provide the Alumni role access to the correct tabs and menu items in the system. Click here to access our Help Desk guide to help you with this task.
Change role from Student to Alumni:
Administration Users Add/Change Role Search for User Select User Next Display and select Alumni as the Primary Role Update
A second option will be to submit a Custom Services Request to our support team (support@watermarkinsights.com). In this document, you will need to provide the student ID associated to their Tk20 accounts, their previous role and the new and desired role (see screenshot below).
Alumni Access
Since the alumni role is set to be locally authenticated, users will need to log in directly to their institution's tk20 server (https://school.tk20.com) and use their Tk20 username as username and their Tk20 PID as their password. After logging in for the first time, alumni will be prompted to change their password. If alumni are not able to log in, they can email support@watermarkinsights.com 24 hours a day, 7 days a week. The support team will help alumni reset their passwords.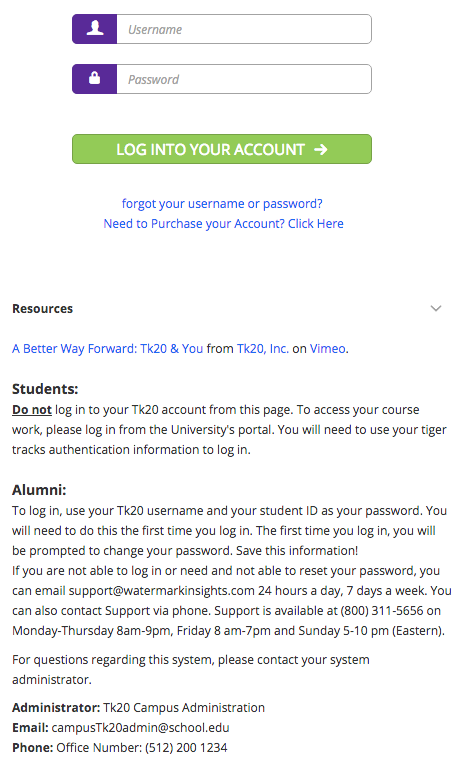 Have a Plan
Let students know that they have access to their Tk20 accounts and provide information that can help them access their accounts.
You can use the Resources area from your Tk20 log-in page to provide alumni with their log-in information (see screenshot).