Tk20 has a News feature that appears in the Home page for users. As a UA, you can create a customized News item, and decide which roles will see the item when logged in.
The News feature is a great way to display useful information such as current events, upcoming meetings, or to provide access to other information via an embedded link.

Getting Started
The first step is do decide which users in Tk20 will be able to view the News item. If you are creating a News item for all faculty or for all students, Tk20 has User Groups already in place for these populations. If you want to customize whom will see the News item, you will need to create a new User Group. If you don't need to create a User Group, skip to "Creating a News Item" below.

Creating a User Group
Go to Home User Groups
Click "Create New User Group"
Give your User Group a Name (required), a Description (optional), and decide which role(s) the User Group will include. In the screenshot below, the User Group will include users with a role of "Application Reviewer – Education."
In the next screen select the "+" symbol for "Filters."
Select a Filter Variable from the drop-down menu. This User Group will recognize users with a specific role, so "Role" is selected.
Next, select "Application Reviewer – Education" from the "Value" drop-down menu.
Click "Add" when finished.
You will return to the User Group page where you entered the User Group name and selected the role. Click "Create" to finish creating the User Group.
You will then return to the table of all User Groups.
Creating a News Item
Follow these steps to create a custom news item:
In the Administration tab, click News.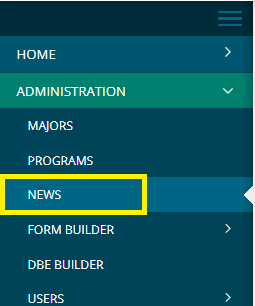 Give your news item a title and set the status to "Active." Write the content of your news item in the "Content" box. Lastly, select the user group(s) who should have the news item posted on their home page.
When you are finished editing your news item, click "Create" at the bottom of the page.