Access to this product feature is dependent on your institution's Watermark agreement
Base ☑ | Faculty Accomplishments ☐ | Reviews, Promotion and Tenure ☑ | Web Profiles ☐
You can access the Workflow Administrator Certification videos here.
Workflow Templates allow you, as a Workflow Administrator, to arrange the sequence of steps your process goes through each time it runs. Templates can be re-used an infinite number of times and appear like flowcharts that illustrate the various steps in your process.
The number of Templates you need to create will vary depending on the needs of your institution. You should create a new Template when you have variance in any of the following attributes:
Sequence of steps

I

nformation collected at any step

Notification preferences for participants at any step
Note: If multiple processes at your institution have the same steps but vary in due dates or participants, you can use the same Template with a different Schedule.
Creating a Template
Navigate to the Workflow utility in the Navigation Bar and select Configuration.
Click the Add New button.
Give the Template a descriptive name that clearly describes the process for which it is used. For example, "Annual Review" or "Tenure". 
Select a Type for your new Template. Depending on the Type you choose, the Template will populate default Steps that you can then build upon.


Note: Changing the Type for a new Template after you have configured your Steps will override the changes you have made. So once you begin configuring your Steps, it's best not to change the Type unless you would like to start over.

Click the Add Step box at the end of the diagram to add Steps to the Template or click on the Step you would like to edit. When you add a step you can give the Step a name, identify what type of Step it is (Administrative Review, Faculty Response, Review Committee), the scope of the Step and where in the sequence you want the Step placed.  Once they appear in the Template Diagram, you can drag and drop the Steps to reorder them appropriately. For more information, visit How to Configure Steps in a Workflow Template.


Note: The Scope options are dynamic based on the scopes you have available in your instance of Faculty Success. Scopes are fields that can be used to group users when running reports or assigning security. For example, if you've customized Faculty Success to allow you to run reports by a Campus field, you will see an additional Campus Administrator scope, as well. For more on this concept, you can read about Owner Data Paths here.
Duplicating a Template
You can duplicate an existing template from the Workflow Configuration menu. This can be useful for when you have an existing template that is locked, but you need to make a minor change to the existing template for a future "run" of the process. This way, you don't need to start from scratch.

Editing a Locked Template
Once a Template has been launched, the majority of the template (for instance, the sequence of steps) will become permanently locked. However, there are some limited edits you can make to locked templates. The editable items are limited to the following:
Form security settings
File upload limits
Field labels and "Required?" settings
Static instructional text within forms
Template Name
Template Type
Action Label
Note: When you edit any of these items within a locked template, the changes will retroactively be applied to any currently running Workflow processes.
Managing Template Views
By clicking on the drop down arrow next to the column headers, you can filter templates by Name, Instrument, Type, and "Other" within the Workflow configuration. This will allow you to see how templates are organized within Workflow.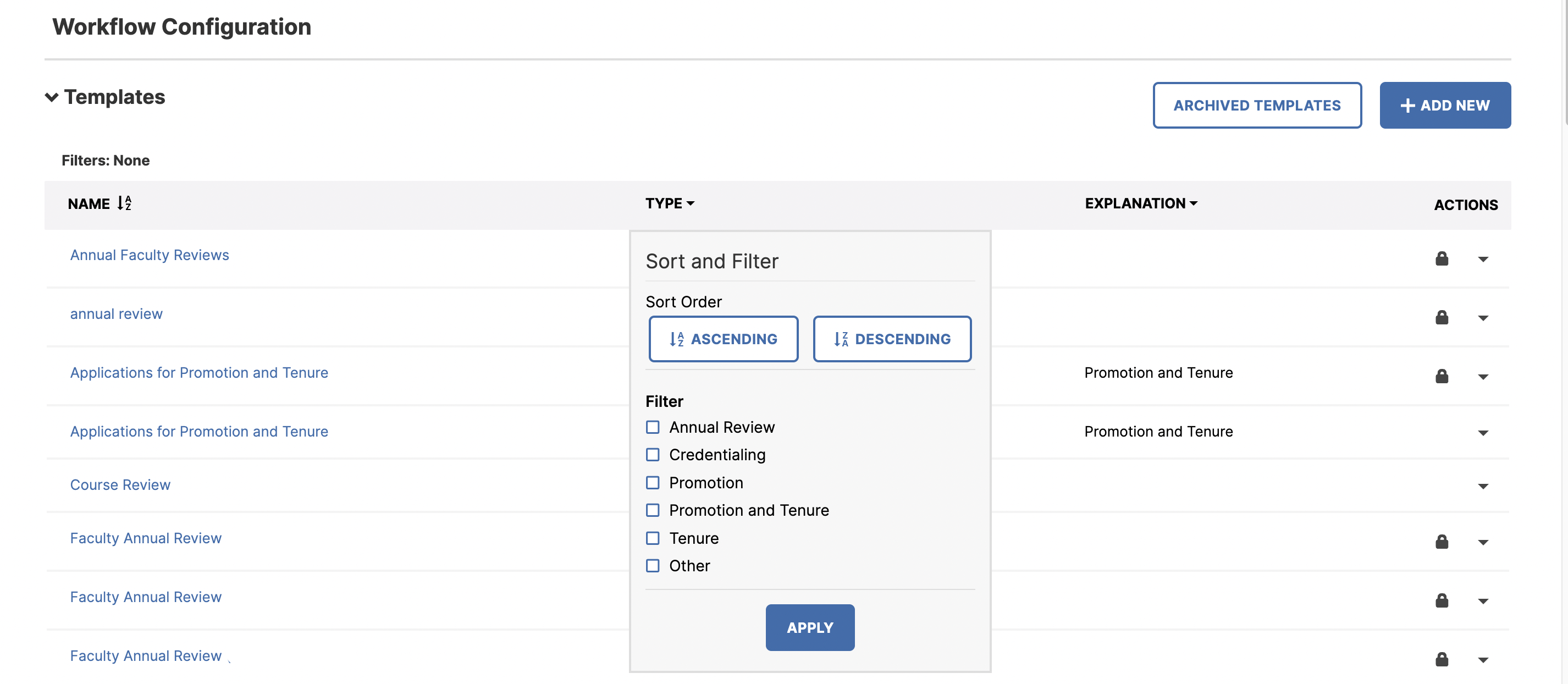 Archiving Templates
Templates can be archived to help keep active templates on sight when managing reviews. You can view archived templates by clicking the Archived Templates button. 

Deleting a Template
You can also delete templates, as long as they don't have any associated Schedules. The delete function can be found under the "Actions" drop-down for a given template and it will permanently delete the template. This action cannot be undone.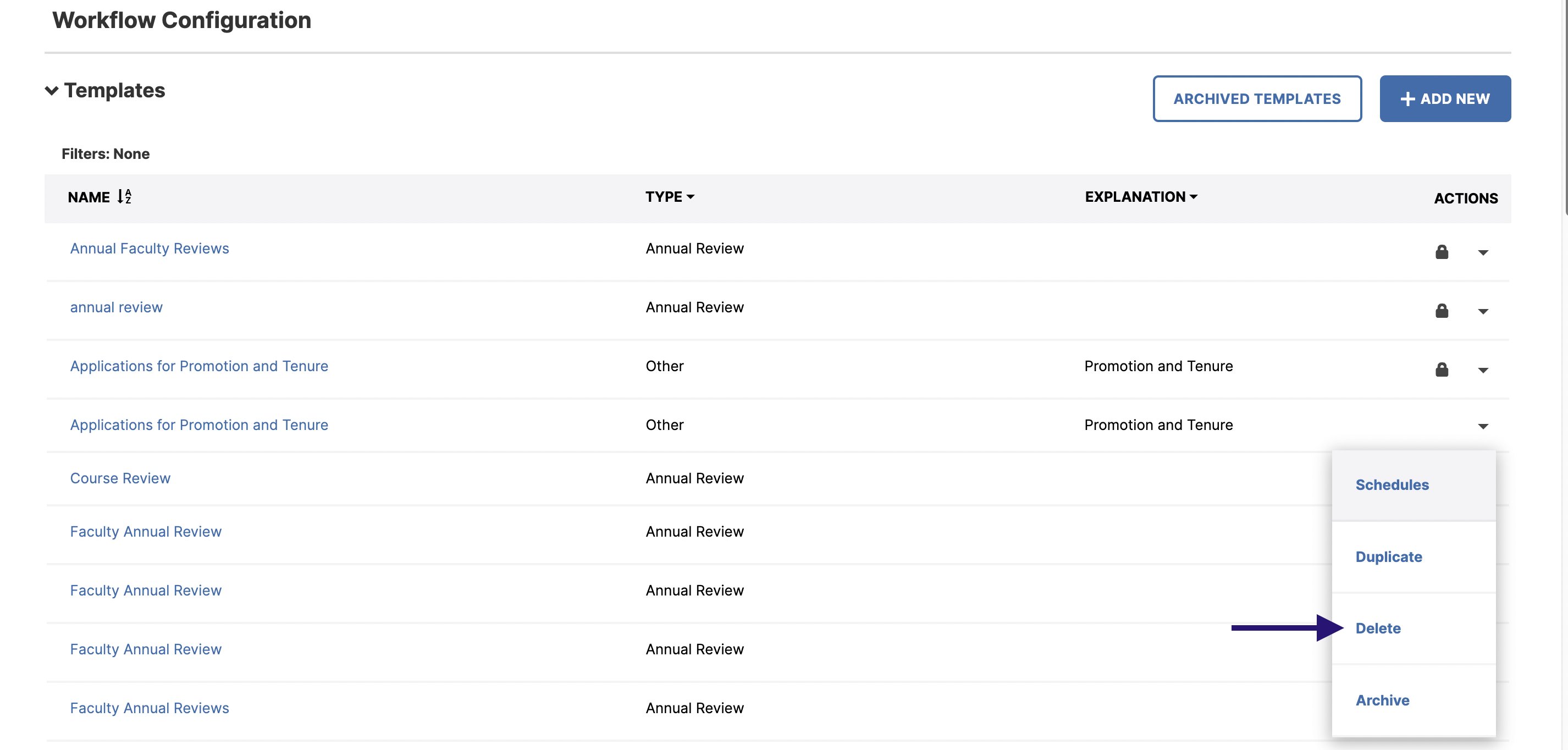 If you have a template with associated Schedules, you can terminate and/or delete the Schedule, and then delete the Template. Terminating and/or deleting a Schedule and Template will result in the deletion of all data associated with it.
The Reviews, Promotion & Tenure module is available to add to Faculty Success for an additional fee. To learn more about adding it for your institution, please contact your Client Success Manager.