Access to this product feature is dependent on your institution's Watermark agreement
Base ☐ | Faculty Accomplishments ☐ | Reviews, Promotion and Tenure ☑ | Web Profiles ☐
When an External Reviewer is approved and a unique access URL is generated for them, this URL can be shared with them via email in order to invite them to submit their review material to the submission. Upon clicking on the link, they will be taken to a landing page where they can accept or decline the invitation, as well as the candidate they are being asked to review.
It is important to remember that External Reviewer links are single use. If an External Reviewer needs to access the submission more than once, they will be prompted to generate a new URL each time they attempt to access the link in the invitation email.

If an External Reviewer Declines an invitation, they are able to change their mind at a later date and Accept an invitation previously declined.

If an invitation is Accepted, the External Reviewer is taken directly into the form created by the Workflow Administrator.
If an External Reviewer wants to decline the invitation after reviewing the form, they can do so by selecting the button with an "X" to Cancel or Save the form. Following the selection of either option, the option to continue the review or decline will be available.

How to Submit a Review 
An External Reviewer can submit their response after completing the review by selecting the SUBMIT button in the right hand corner and confirming in the pop up message that they want to submit their review by selecting the OK button.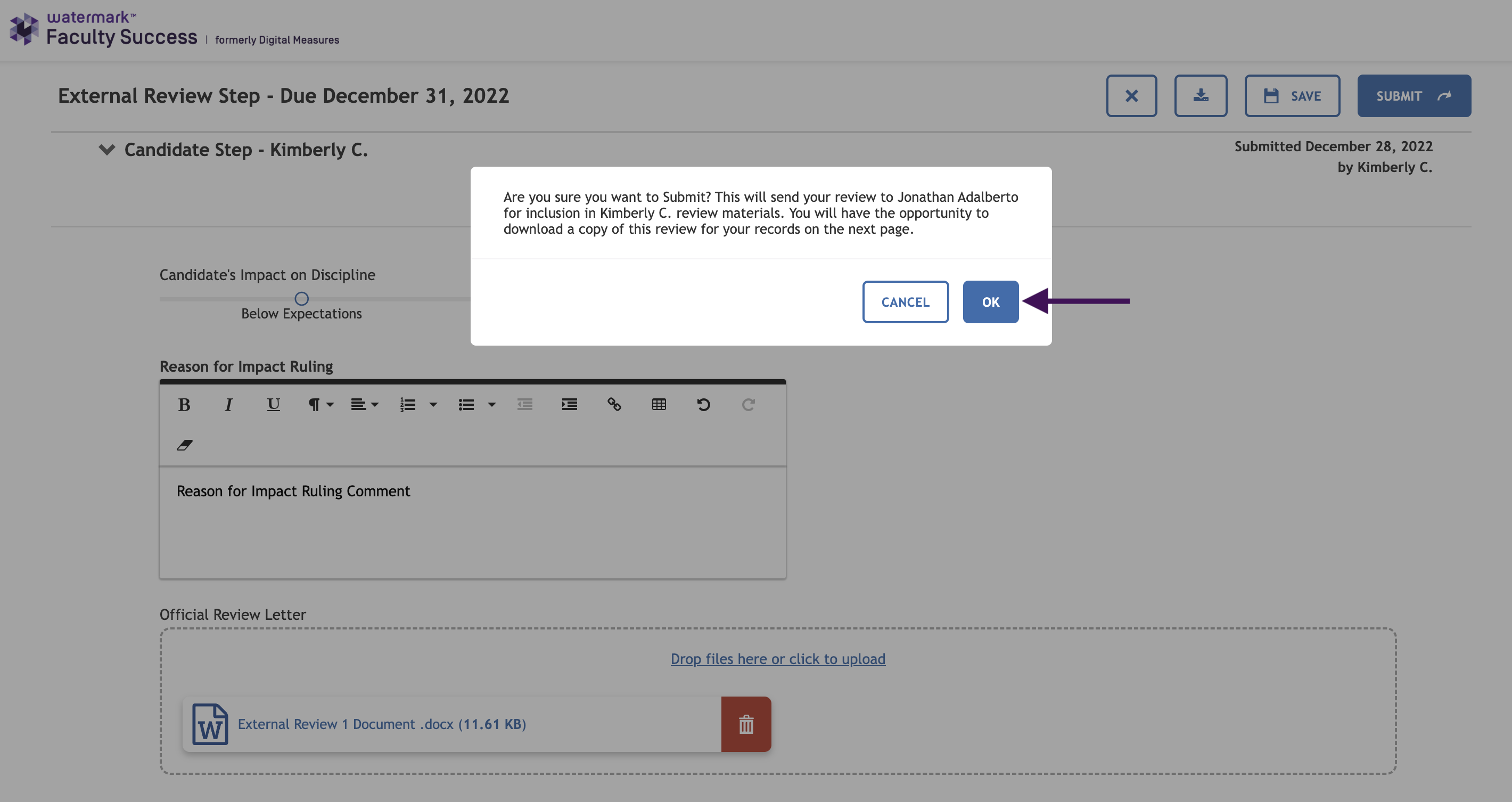 Once a response is submitted, the External Reviewer receives a confirmation message thanking them for their review. This message is not customizable. They will also be prompted with the option to download a copy of their review for their records.

Resolving System Messages
Your access link has recently expired 
As mentioned at the beginning of this article, each access link provided to an external reviewer is a one-time use link, which means that when the external reviewer clicks on the link, it expires on use. If a review is saved in progress, a new URL will need to be generated to continue work on the saved form. Workflow will bring the user to a confirmation page letting them know they need a new link, and upon selecting the CONFIRM & SEND button they will receive a system-generated email with a new URL to the email address noted in the system message. A user can also reply to their initial invitation email and ask the on-campus reviewer to generate a new URL for them.

Your access is temporarily on hold 
This message appears when an external review is trying to access their review and the submission has been sent back to a prior step, they will receive a note stating that the campus is not quite ready for their review and to check back later or contact the on-campus reviewer by replying to the initial invitation. 
You no longer have access to this invitation 
If an external reviewer tries to access their review after the submission has been advanced past the External Review step or the submission has been completed (either an Early Complete, or a normal Complete), they will receive a note stating that the campus no longer needs their review and to contact the on-campus reviewer if they have any questions.

You do not have access to this page
If an external reviewer tries to access their review after a schedule has been terminated (and all associated submissions deleted), they will receive a message stating that they no longer have access and to contact their on-campus reviewer.