Access to this product feature is dependent on your institution's Watermark agreement
Base ☑ | Faculty Accomplishments ☐ | Reviews, Promotion and Tenure ☑ | Web Profiles ☐
Additional reviewers for non-primary appointments may be added to select committee steps as ad-hoc committee members by enabling the joint appointment feature for a schedule. This feature allows for the selection of two role groups for a committee step, with the primary (required) role group being a review committee, and the optional additional members for joint appointments as an administrative reviewer role group. Candidates with and without additional appointments may continue to be included on the same schedule when this feature is enabled.
Preparing for Joint Appointments
Prior to enabling joint appointments on a schedule, it is recommended to download your Yearly/Administrative Data information for candidates to determine their current appointment information. The system uses the most recent Yearly Data record to determine each candidates primary and non-primary appointments. The primary (first listed) College and Department are used to determine which role groups are assigned to the candidate, the appointment information for the submissions table, and who has access to their submission through the permissions feature. All other listed appointments are considered non-primary, which is where the Joint Appointment Reviewers feature comes into play.
Enabling Joint Appointments for a Schedule
From the Schedule creation page, select the checkbox option to Enable Joint Appointments. This should only be selected if candidates with multiple appointments should be reviewed by all affiliated units. All Schedules with committee steps are able to make use of this feature.

When this option is selected, the committee steps will continue to have a required committee role group based on the step scope. Additionally, these committee steps will have an optional administrative reviewer role group of the same scope. The committee role group will be used based on the candidates primary (first) appointment. For each candidate with one or more additional appointments, the administrative reviewer for their unit will be added as a committee member during the process.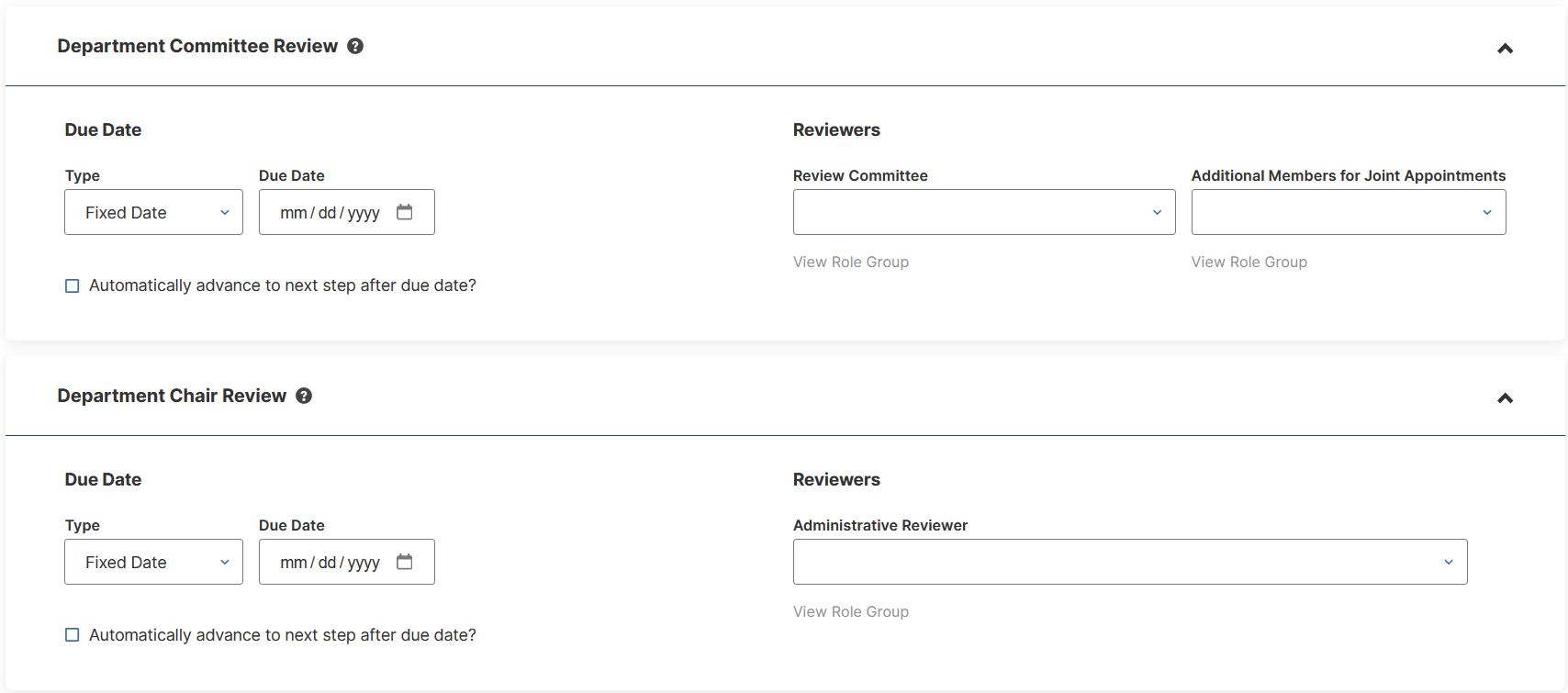 In this example, the Department Committee Review steps gains an additional Role Group option. Users from the Additional Members for Joint Appointments administrative reviewer Role Group will be added as committee members for all candidates with a joint appointment. On the other hand, the Department Chair Review only has the Administrative Reviewer option for role groups as the joint appointment functionality is not available to the administrative reviewer step.
Changes to Schedule Validation
When confirming a schedule with the joint appointment feature enabled, all appointments of the selected candidates will be reviewed. In order for the Schedule to Confirm, each step with a Role Group selected for Additional Members for Joint Appointments must have a reviewer for each candidates additional appointments.
As a reminder, enabling joint appointments for a schedule has no effect on candidates with single appointments, so candidates with single or multiple appointments can be included in the same schedule and the confirmation process will ensure each candidate has a reviewer for their appointment(s). 
Appearance of Joint Appointments for a Launched Process
The committee steps will continue to operate in the same fashion prior to enabling the Joint Appointments. The committee chair will have a unique form that becomes part of the official response, while an optional committee member form is available depending on how the step is configured in the template. As a committee chair, additional committee members may appear for individual submissions based on the candidate's joint appointment(s) and selected Role Group.

Charles Clarence has been added as a committee member based on the appointment of the candidate currently being reviewed. For candidates without a joint appointment, or with a joint appointment different from this current candidate, Charles Clarence would not be listed as a committee member or have access to this submission.
The reviewers for both the committee role group and the additional members for joint appointments (administrative) role group may be edited post-launch.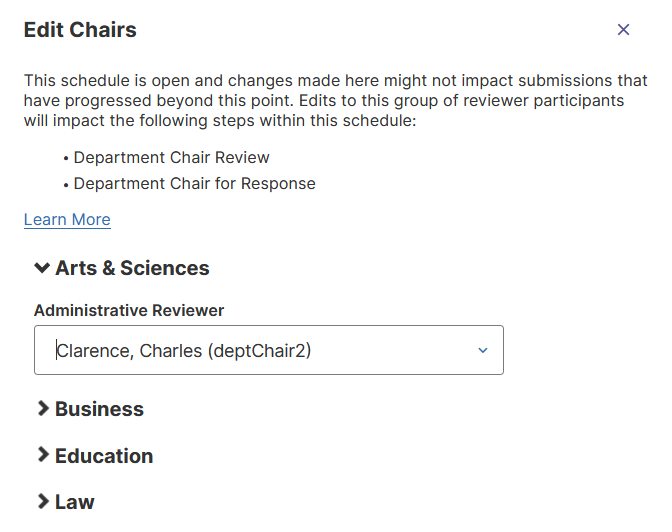 Referencing the previous example, we can update the reviewer for all candidates with a joint appointment in Arts & Sciences