A caseload of students can be viewed from the Students Page.
To view students listed in a staff member's Caseload, navigate to the Students tab at the top of the Student Success & Engagement menu bar. From here, Caseload is listed as one on the Default Filters on the left-hand side of the screen.
A staff member's default Caseload consists of current students where there is a subscription between the staff member and the student i.e. the staff member displays on the student record as a follower, primary advisor, or primary coach.
In addition:
An individual staff member's User Settings - Caseload Settings determine if their caseload also includes Continuing Students with the same subscription criteria.
An individual staff member's Instruct User Settings - Caseload Settings determine if their caseload includes all students enrolled in current courses they instruct.

For more information about Caseload Settings that determine which students may display on a caseload, other than "current students", please click here.
For more information about Follow-by tag rules, please click here.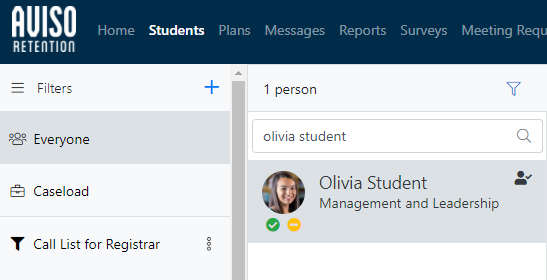 Information from various systems on campus, including the Learning Management System and Student Information System, is pooled together so that an advisor can view essential student information quickly.
This includes current class information, complete transcripts, financial aid, student messaging, and notes capturing significant interactions on campus, tasks, and more.
Each tab provides critical information regarding the history and current behavior of a student, allowing campus staff to provide in-depth and knowledgeable service.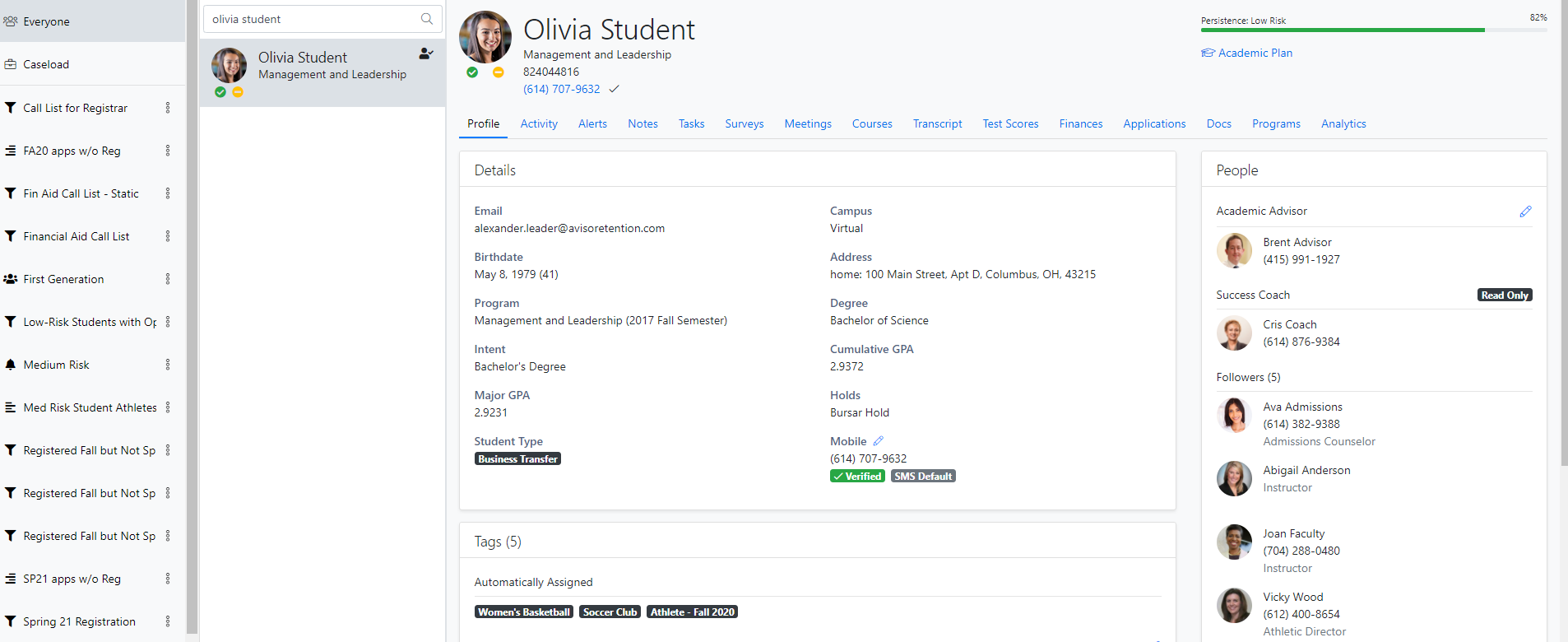 Caseload Feed
By default, when selecting the "Caseload" filter from the left side menu, the Caseload Feed displays filtered activity for all students that are in the faculty's caseload.

The Caseload Feed filters can be used to target any activity type "item", student/person, and date range. By default, the caseload feed filter selections include all items, all students, and all dates.
Note: The Caseload Feed does not respect User Settings, i.e. it does not filter out any alerts or activity. Therefore by design, this feed will not match the alert items displayed on the alert widget.