Access the Publish Tab
From the homepage, open the workspace you wish to export by clicking on it.
Toward the top right, click the Publish Tab.
From the Publish tab, click Export to PDF.
On the next page, indicate if you would like to include a title page, customize the Published by and choose date fields.You can also indicate is you wish to include a Table of Contents and an appendix of uploaded attachments. Once you have chosen your settings, click Continue.
On the next page, click Generate Now. A pop-up message appears indicating you will receive a notification email when the PDF has processed.

Access the PDF for Download
To download the PDF or check the Status, click Resource Tools at the top.
Click the Exports Link on the bottom of the right column. From this page, you may download your PDF or Word exports for up to 30 days after they're generated.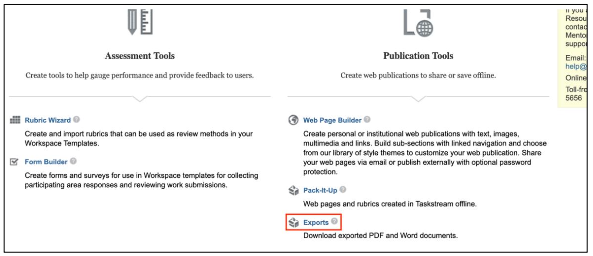 Frequently Asked Questions
What is a workspace?
A workspace is a centralized, transparent repository for content about outcomes assessment and continuous improvement or related processes such as program review, strategic planning, or accreditation self-study. A workspace is structured in a way that guides users to enter different types of content into specific requirements.
What is a Participating Area?
A participating area is any group within your institution that is responsible for entering content into a workspace. For example, if the Accounting (B.S.) group is enrolled in a workspace, it is a participating area in that workspace. Every individual whose AMS account is affiliated with a participating area may be given access to all workspaces (or a subset of workspaces) in which the participating area is enrolled.