Getting Started
Note(s): Before a Course Binder Template can be created, the necessary Artifact Templates and Assessment Tools need to be created from the Administration tab.
Click on Courses in the side menu.
Click on My Templates located in the side menu below.
Click on Course Binder Templates located in the side menu below
Click on Create New Course Binder Template.
Step 1: Define Template

Creating a New Course Binder Template
Enter a Template Name. This can be a generic name, excluding specific course numbers or terms, as the template can be used multiple times for the current and subsequent semesters. When you send the template, you will have a chance to rename it for better organization.
Enter a Description (optional).
If you to choose to Enforce completion before submitting, students will be required to attach all artifacts before submitting.
If you choose to Allow additional artifacts, students may submit more than you require.
If you choose to Allow attaching standards, students may attach standards available on your server.
Choose template Visibility.

Private: Only you can see and use the template.
Public: Template is available for others to use.

Enter names for each Tab you intend to use in the binder. The tabs divide the course binder template into sections for organization.



Select from the Options

Click Next.
Step 2: Select Attachments
In Step 2, you will be able to add instructions and attachments to each of the tabs you created in the previous step.
Follow these steps for each tab:
Instructions (optional): Insert directions for each section of the course binder.
Click Add New to add required attachment type(s) the student must submit for each tab.
Select an Attachment Type from the artifact types available.
You may select a Reflection Form (optional), if one is required. Note: This is usually not recommended.
Select the Standard Body (optional) the selected artifact meets or needs to meet by clicking Add New .
Click Add.
Repeat steps 1-6 for each section/tab you have created.
Click Next.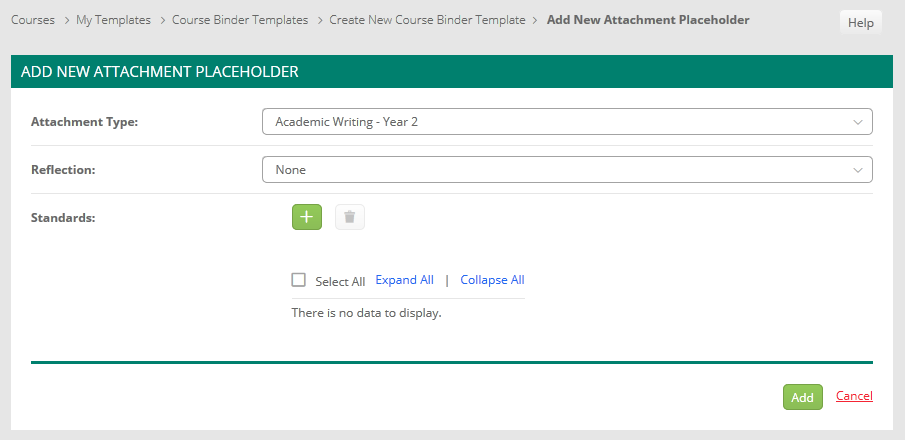 Adding Attachment Placeholder
Step 3: Select Assessment Tool(s)
Select the Assessment Tool(s) that will be used by the assessor by placing a checkmark next to the corresponding form.



Select Assessment Tool


Click Next.
Note: If the Assessment Tool has been configured but is not listed, you have to make the assessment tool available to you (see Courses Libraries).
Step 4: Review
Make the Course Binder Template active, by selecting Yes.
Click Finish.
Note(s):
If you select Save, it will save the work and the user will remain on the page.
If you select Finish, it will save the work and the user will land on the Course Binder Templates page.
If you select Close, it will prompt you to a screen that asks you if you would like to save before closing.
You cannot send a Course Binder based on the template unless it is active.
If your templates for different course binders vary slightly, you can copy a single template, make adjustments, and rename the template accordingly.