Access to this product feature is dependent on your institution's Watermark agreement
Base ☐ | Faculty Accomplishments ☑ | Reviews, Promotion and Tenure ☐ | Web Profiles ☐
There may be situations where you need to delete many records at one time.  You can submit a work request to have this done for you. 
Work Request Requirements
To do this you need to submit a "General" work request
You must indicate the Screen from which the records should be deleted in the work request title
You must include a list of the record IDs. You can get these IDs by running an "Export Data" report or via Web Services. 

If using "Export Data" to retrieve IDs, select the option "Record and DSA IDs" to include the ID column as part of your export.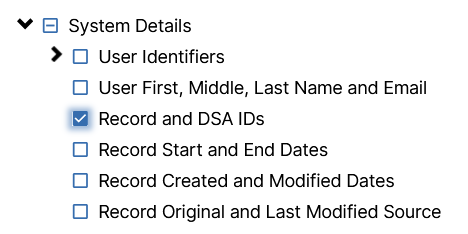 Please note: we will not delete fewer than 10 records on a screen, given that no time efficiencies can be achieved compared to manual deletion in such cases.
Warning: This deletion is permanent.  Please make certain that every record whose ID you've included for deletion should be deleted.  It might also be a good idea to run an Export Data report to back up the deleted records.