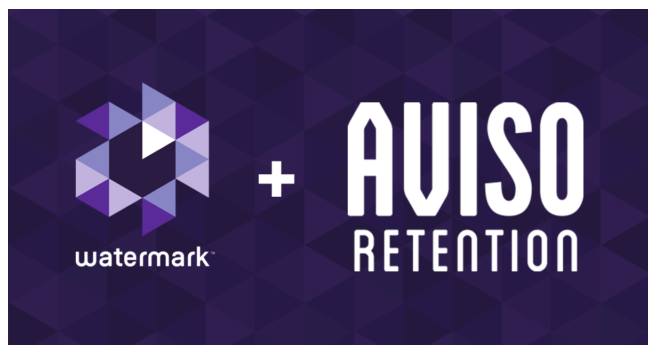 Watermark adds Aviso Retention to deliver and measure the impact of institutions on marginalized students
Austin, TX – January 12, 2021 – Watermark, a leading higher education insights software provider, announces the acquisition of Aviso Retention, to better serve higher education institutions striving for continuous improvement in institutional effectiveness and student success.
Aviso Retention, founded in 2012 and based in Columbus, OH, offers an AI-powered student success solution that helps colleges and universities increase retention and degree or certification completion. Using predictive analytics, Aviso Enterprise listens for data signals and trends that could flag retention risks, alerting the institution for intervention, and surfacing trends to better serve the student body.
Watermark offers the leading platform for higher education assessment and accreditation, faculty activity reporting, course evaluations, and curriculum development — all essential to driving and measuring institutional effectiveness. The acquisition of Aviso adds an important layer of student success indicators to further enhance academic planning and success.
"Today's campus leaders focus on student success and institutional effectiveness; however, these are often managed and reported by different areas of their institutions," Watermark CEO, Erin Shy, said. "At Watermark, we build tools that centralize key data so teams across campuses can better collaborate when making decisions. Aviso's solutions help institutions keep students engaged and on the path to graduation. Having these insights in a centralized tool will help administrators, advisors, and faculty plan with best practices to improve retention and success for all students."
Alexander Leader, Aviso Retention's founder, said, "Our goal is to provide institutions with best practices and technical solutions that are tailored to their unique needs and diverse student populations. We are thrilled to join forces with Watermark, where we can expand our reach to more students and help drive improvements in student outcomes, including course completion and retention." Leader will join Watermark as Chief Impact Officer.
The acquisition brings together teams with backgrounds in higher education, focusing solely on the unique needs of higher education institutions.
About Watermark
At Watermark, insights inspire progress. Watermark's software gives higher education institutions the insights they need to improve, evolve, and empower student success. Watermark's integrated digital solutions support assessment and accreditation, faculty activity reporting, course evaluation and surveys, and catalog and curriculum development for more than 1,700 higher education institutions around the world.