How to Submit a Support Ticket
1. Click "Submit A Request" from the top right or the bottom center of any Watermark Help Center page.

2. The Support Ticket Entry Web Form will appear.
Fill out the fields, ensuring that you've selected "Student Success & Engagement" from the "Which Watermark product are you using?" dropdown:
Optional fields display with [optional] beside the field name.

All other fields are required.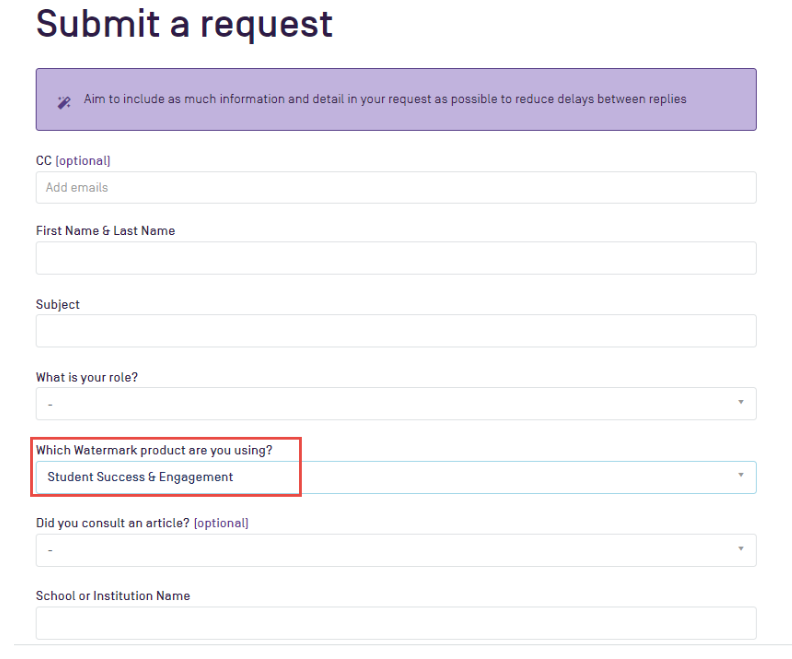 3. The Support ticket will be automatically route to a skilled agent on our Support Team.
How to View Your Support Tickets
Users who have accessed the Help Center through SS&E can view a list of their new Watermark support ticket requests by clicking on their profile picture icon from the top right and clicking "My activities":
Support Requests
Under "My activities", support tickets will display under the "Requests" tab on two separate tabs:
My requests - You, the logged-in user, created the ticket or are assigned as the requestor

Requests I'm CC'd on - Tickets where you, the logged-in user, are CC'd on the ticket
On each tab, support tickets will display the following information:
The support ticket ID number

The ticket subject

When the ticket was created

When was the last activity on the ticket

The ticket status
Filters include:
Search requests

Filter by ticket status