Opted-out students add an additional student response status to your evaluation process.
If utilized within a project, there will be a not submitted, submitted and opted-out status for each student response.
Opted-out student responses are treated as completed, in that they do not receive reminder emails and, in our integrations, the student is treated as if they have submitted their survey.
Additionally, within your response rates for that project, an opted-out survey will be treated like a submitted survey in that it will not negatively affect your response rates.
Opt Out Setup: Properties (Project)
Within the Project
Properties
subsection of your project, you can choose to enable this feature, which will display an
opt-out
option to students for each course survey.
Select checkbox to Enable Survey Opt-Out.
Choose to display the Opt-Out option in the survey only, dashboard only or both.
Select the option to delay the display of the opt-out option for course evaluations within a project until X number of days prior to the survey end date.
Customize the opt-out text and confirmation text.
Add an optional question to student as to why they have selected to opt-out of this course survey.
Click Save.
Preview button is then available to see a preview of what the student would see if opt-out feature is enabled for project.
See below screenshots for setup and student view.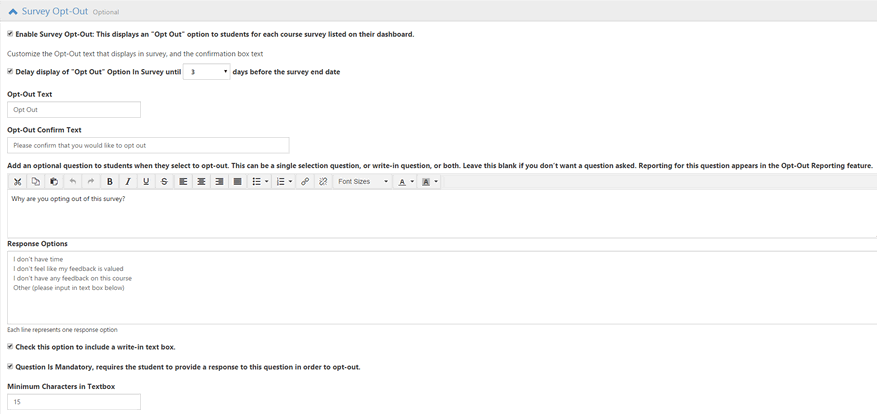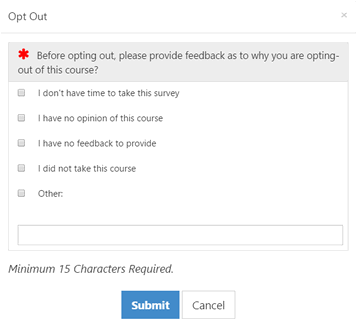 Import Opted-Out Response for Multiple Users in a Project
CES Administrators have the ability to set student's response status to
Opted-Out
by uploading a
Opt-Out Users
file to the project.
This is a two-step process:
Add the OptOut column and indicate which students are opted-out by entering a 1 for the student's course.
Upload the Opt-Out Users file into the project. The Opt-Out Users file can be created from scratch (see the Course and User Upload File Information article in Help Center), or downloaded from the Users tab in the project by clicking Export All Project Users.

Required data in the Opt-Out Users file: Required data in the Opt-Out Users file: To upload the Opt-Out User file: If the OptOut column is included and the field value is set to 1; then, the specific user's response will be set to opted-out for the specific course. Additionally, when the student logs into their Course Evaluations & Surveys dashboard they will see a time-stamp for the course survey indicating the date when their response was set to Opted Out.

For sample files and more on the course and user upload process, please see the Course Evaluations & Surveys Course and User Upload File Information article in the Help Center.
Survey Opt-Out Reporting
View results of how many students opted out of individual course surveys within project, as well as responses to survey opt-out question (if applicable).
To view results for the opt-out feature, go to Results.
Click on Survey Opt-Out Reporting.
Select Project.
Filter by Level, Instructor or Course.
Click GO.
Option to export this report to Excel, PDF, or Word format.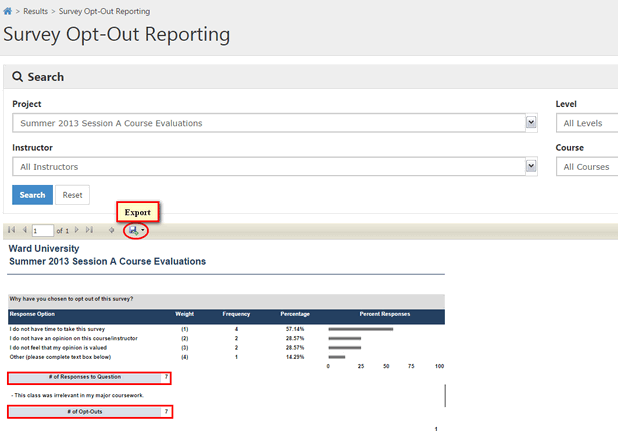 Opt-Out Reporting on Response Rate Tracker
Within the
Response Rate Tracker
, you can also view the number of students who opted-out of a survey within a specific project. Here, you can see the number of opted-out responses at the project, hierarchy and course-level. Additional statistics available on the response rate tracker are the % of enrollments that opted out and the response rate with and without the opted-out responses within the project.
NOTE
To view this information, please ensure these settings are enabled by going to the account level setting for the reporting for Response Rate Tracker.
To view Response Rate Tracker, go to Results .
Click on Response Rate Tracker.