The following settings allow you to set a default email address for any emails being sent from Course Evaluations & Surveys on your organization's behalf, including notifications and project email communications.
Edit Outgoing Email Settings
NOTE
This email address should be a real email address as fake email addresses are more likely to get caught in SPAM filters.
This default email address can be overridden within specific communications if needed.
The Edit Outgoing Email Settings section offers the following options: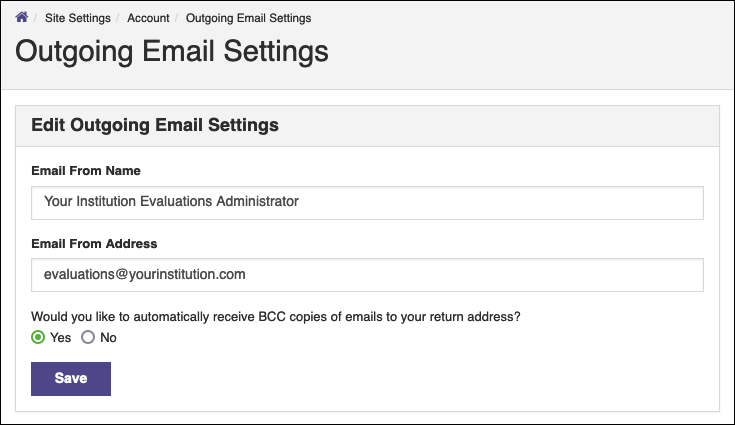 Validating Your Email Domain(s)
The following Email Domains section and functionality
only applies to our .com customers.
If your Course Evaluations & Surveys URL ends with .ca or .ek-au.com the following section is not applicable.
All email communications default to send from notifications@watermarkinsights.com, however, the Email From Address as set in Outgoing Email Settings is the default From address for new communications. In other words, all email communications will come from the watermarkinsights.com email server and the email From address is "spoofed" if you have a custom Email From Address.
If you're accustomed to sending email communications From a campus email address instead of the system default and you want to avoid "spoofing", you'll need to use a set of self-service tools to configure and authorize Watermark to send from your preferred campus email domain(s).
IMPORTANT
This is a collaborative process involving some steps by the CES Administrator and some on the part of your institution's IT team.