System Setup
Courses, Sections, and Memberships

To use the Placement Management tool, Student Learning & Licensure's organizational information must be in place, just as with traditional placements. These include:

Courses created as Internships

Sections created within these Internships

Students and Supervisors added as members of the sections

NOTE: It is not required to create Mentors or add them to sections. However, if you already have an established process for adding Mentors in SL&L, feel free to continue doing so.

Enabling a Section for Placement Management

SL&L allows for the choice of traditional placement practice or Placement Management to be used for a section. This division means that Placement Management can be enabled for the sections with which you wish to use it. However, if Placement Management is enabled for a section, it is no longer possible to create or edit the section's placements using the traditional SL&L admin process. The exception is that SL&L admins will still be able to create and edit Labels.

Turning on Placement Management for Sections
The process for turning on Placement Management for sections requires editing the section's settings.

To turn on Placement Management for a Section:

Navigate to the section

Click the Paintbrush icon to access the section's settings
Under the section titled Placement Management, click the Enabled button.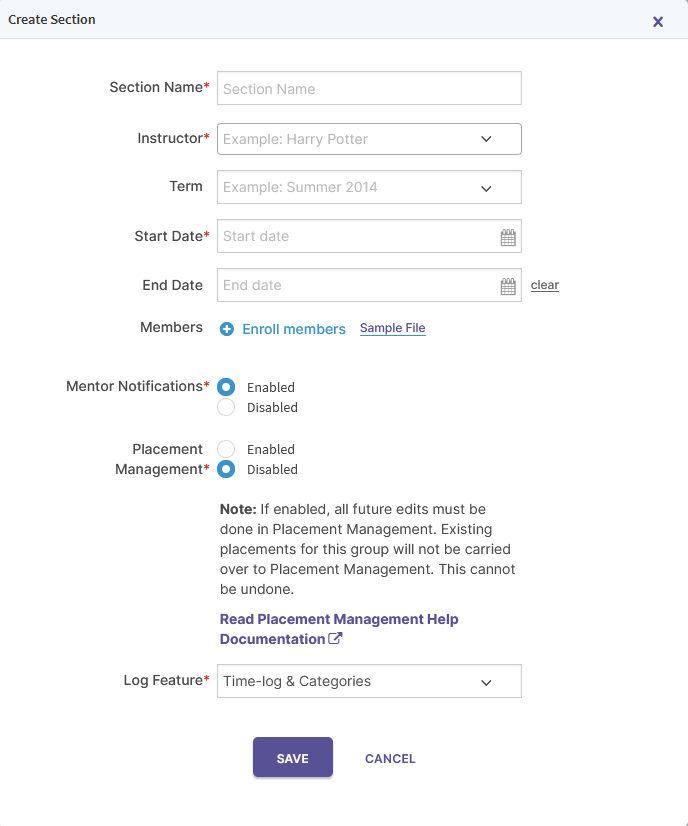 Click SAVE.
IMPORTANT: Once you enable Placement Management tool for a section, you cannot revert to the traditional SL&L admin process.
Accessing the Placement Management tool

The Placement Management tool is available to those with SL&L Administrator access.

From the SL&L Admin interface, click the "Waffle" icon in the upper right corner. From the dropdown menu, select Placement Management.
NOTE: The Placement Management Tool is enabled by Watermark for your Institution. If you do not see Placement Management as an option under the Waffle, contact your CSM.