For all live catalogs, a checkbox labeled "Show in catalog list" is available to check to ensure it is showing in the Catalog drop down, which is a list that allows all end users to navigate to archived catalogs no matter which catalog they are currently viewing.
To allow a catalog in PDF format to be available in this list, you first need to create an Archived Catalog item which acts as redirect to allow the PDF to be downloaded when selected from the drop down.
First step: Upload PDF to the Media Library
Once the PDF(s) are uploaded to the Media Library and published there, you can proceed with the following:
Step One:
Right click on the Institution item in the Catalog Tree, select Insert, and select the "Archived Catalog" item.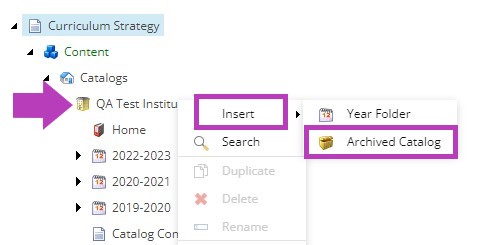 As with all items you add to the catalog tree, with the initial creation, a name is required. In this case, you can label it however you wish the PDF to be offered in the drop down, for example, 2022-2023 Academic Catalog: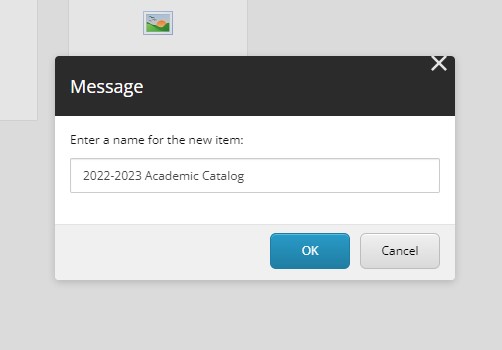 Once the item is named, click OK and the item will be created with the name given in the catalog tree (you can move it to the desired location).

Now that the item is created, you can populate the Redirect Link field (similar to the Catalog Redirect template)
For this particular item, you will check the "Show in catalog list" checkbox to ensure the newly added item appears in the Catalog drop down list, and you will only use the "Insert Media Link" to point the item at a Catalog PDF that has been uploaded to the Media Library.

Once the media link has been added, Save and Publish the new item.
Repeat these steps for as many archived catalog PDFs as you wish to add.
Please reach out to support if you have further questions or issues.