The Course Evaluations & Surveys User integration with Instructure's Canvas LMS has several features which allow you to customize the Course Evaluations & Surveys user experience within Canvas for students, teaching assistants, instructors and Administrators.
This article is for configuring the behavior and user experience of your Canvas User Integration. If you have not yet set up your Canvas User Integration then see the Canvas User Integration Setup article.

User Integration Setup
The below settings enable the Course Evaluations & Surveys LTI links in Canvas. The "Show <role> Link" and widget provide direct access to Course Evaluations & Surveys. Display additional info in the Canvas widget to help drive adoption and urgency. Links for Instructors, Administrators, and Teaching Assistants will display at all times depending on course enrollment and course alignment to the CE&S hierarchy, but will only display for students who have active evaluations.


User Settings Navigation:

Under User Settings Navigation, you can display a customized static LTI link on the user account Settings page within Canvas to all Canvas users, even if they are not enrolled in Course Evaluations & Surveys Projects. This link will take users directly to their Course Evaluations & Surveys Dashboard
NOTE: This static LTI link is not available under User Integration Setup when the Canvas Web Service Token is created at a Canvas sub-account level. This is by Canvas design.


Instructors LTI link and widget settings: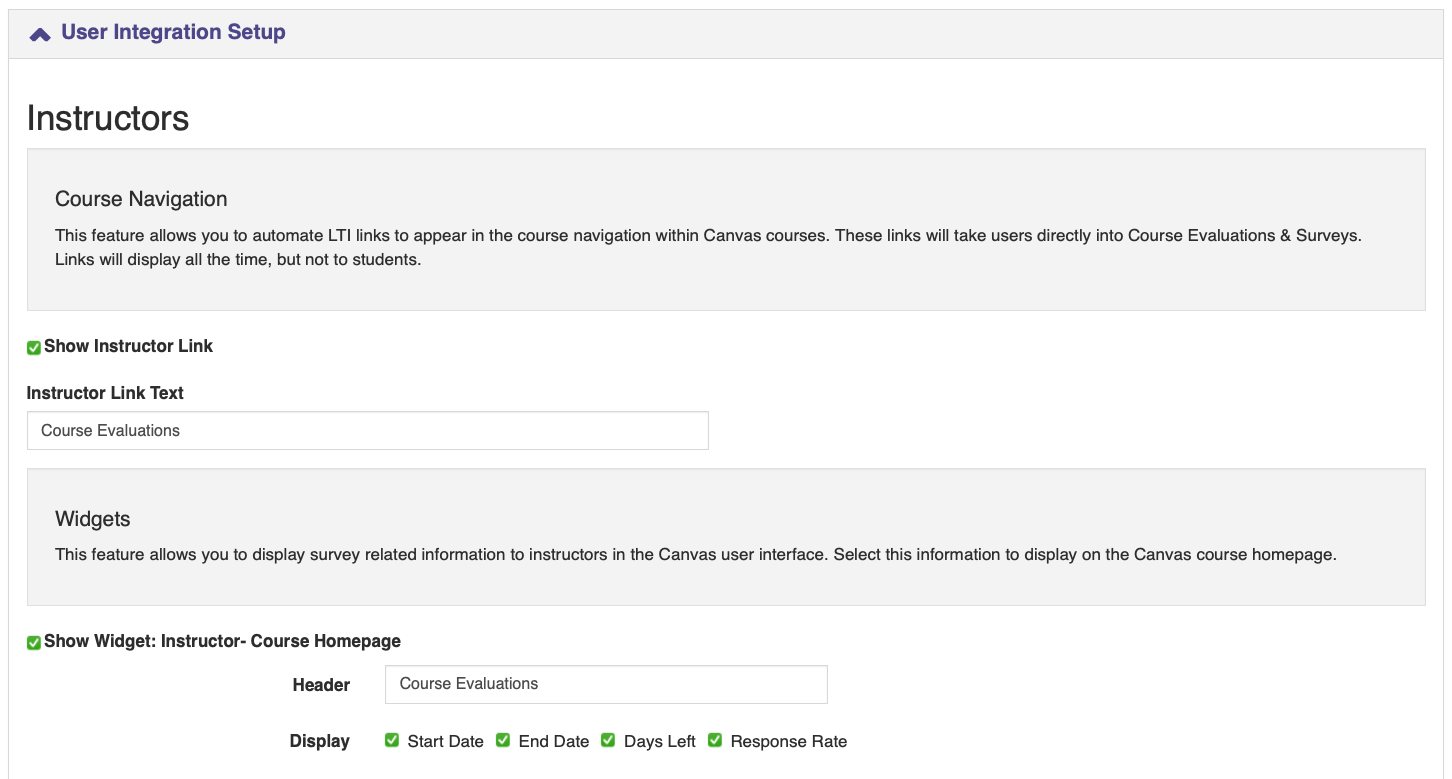 Administrators LTI link and widget settings: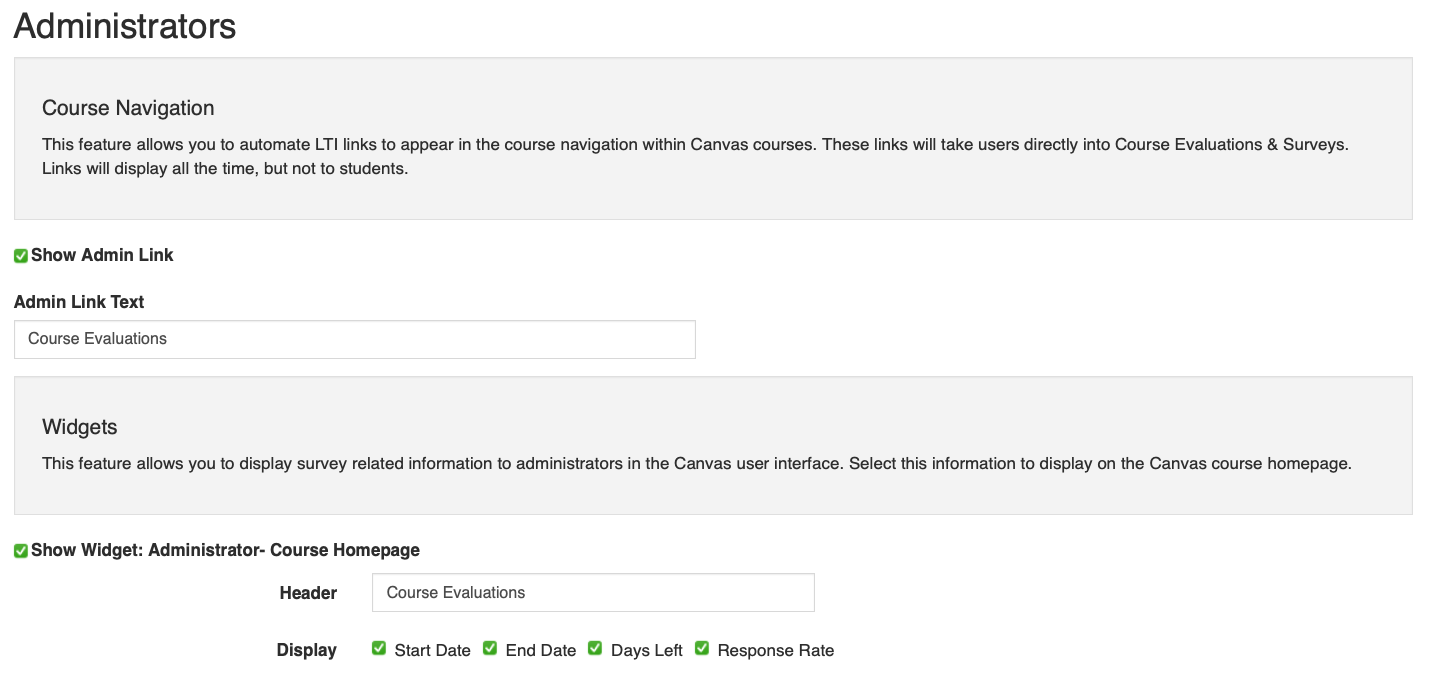 Teaching Assistant LTI link and widget settings: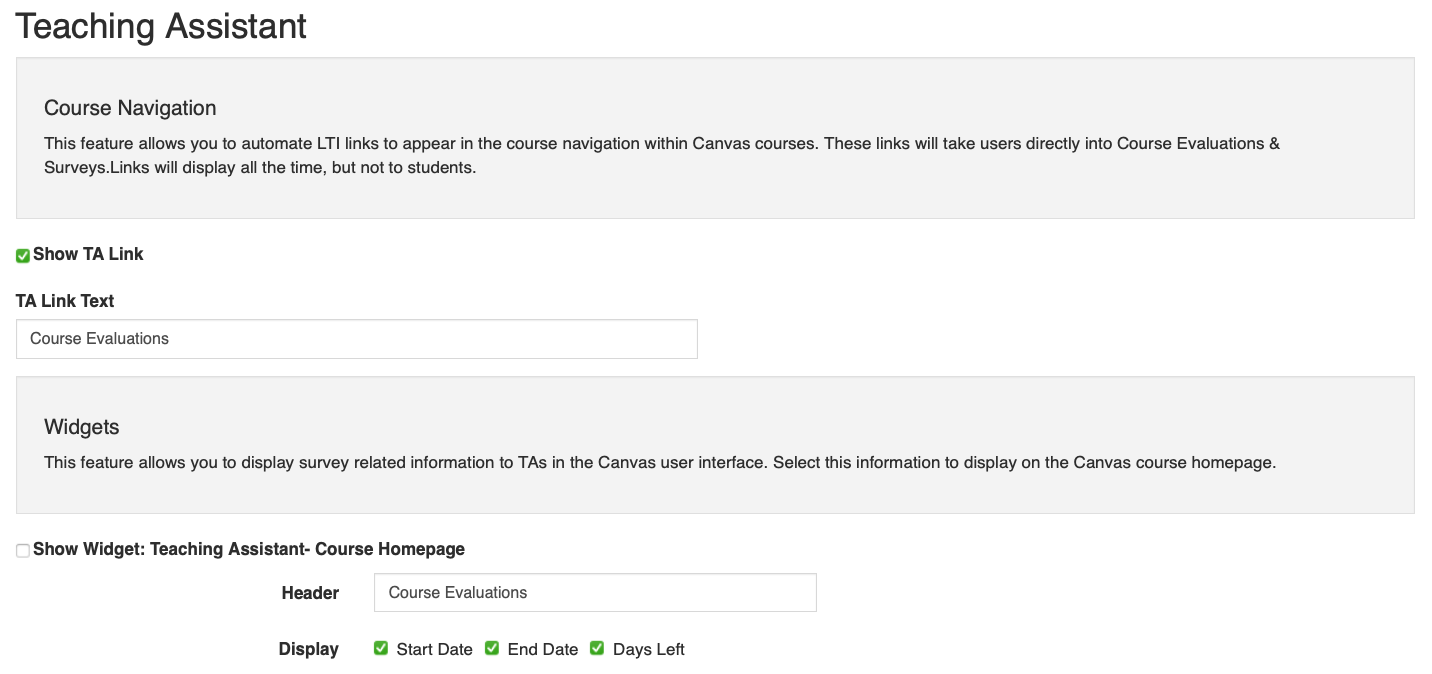 Student LTI link, Survey Notifications, widget, and additional settings: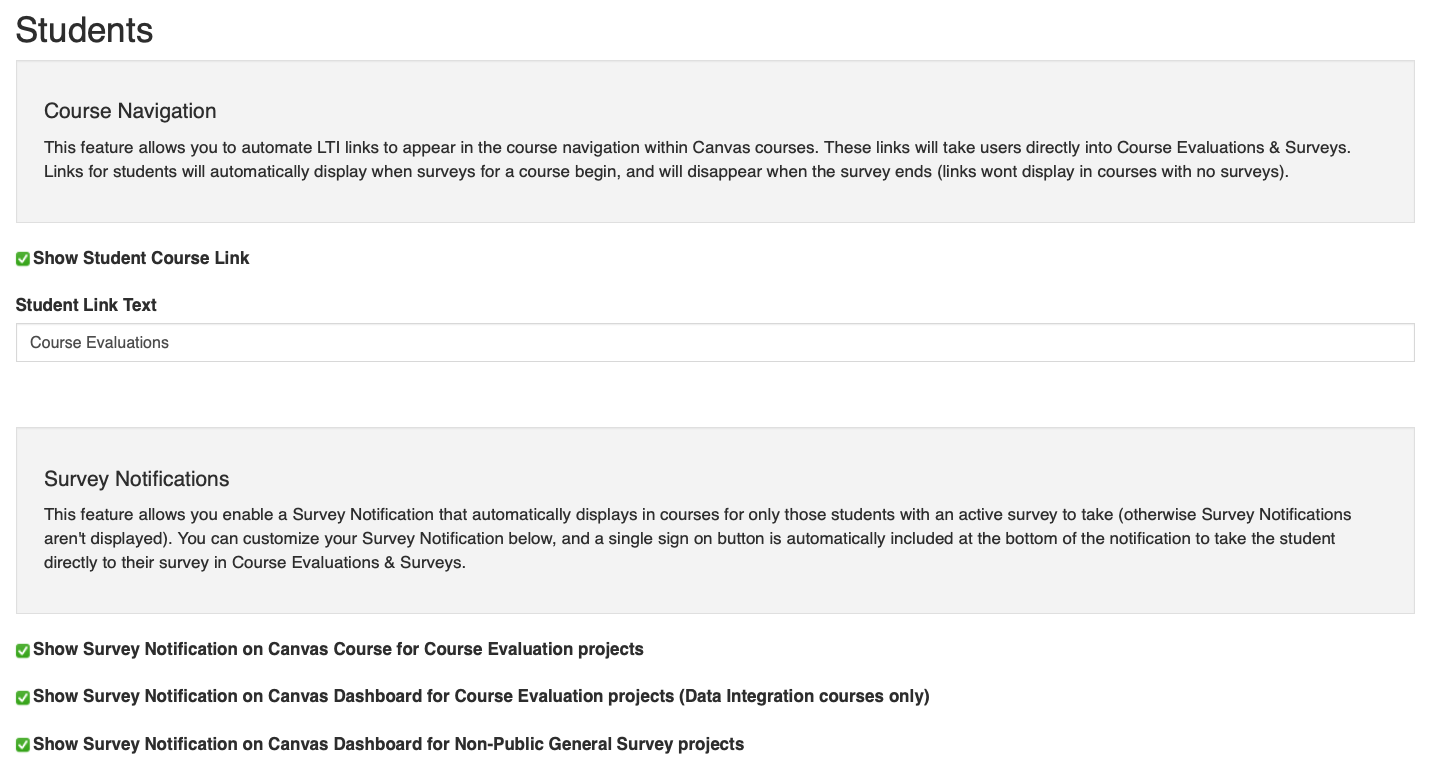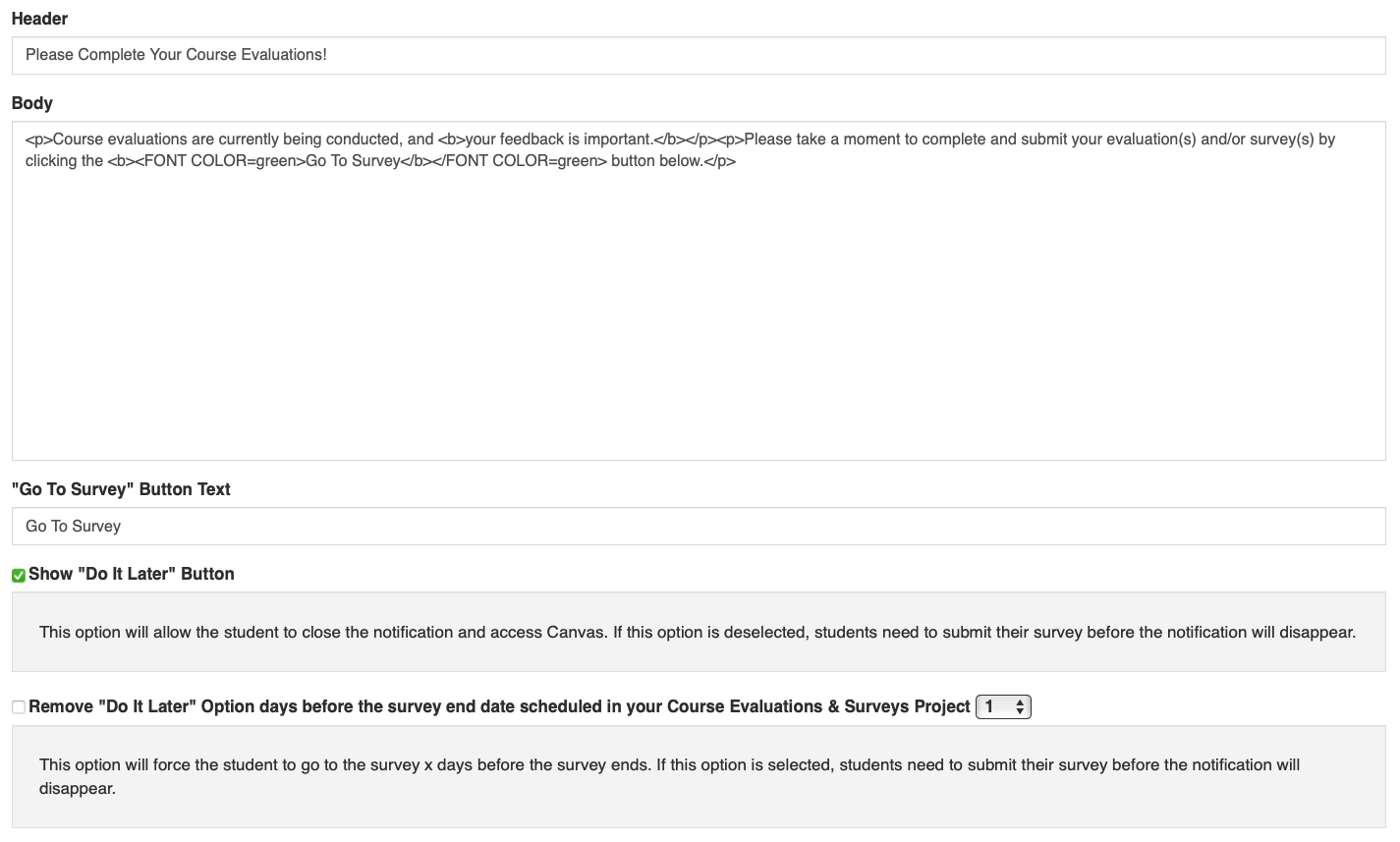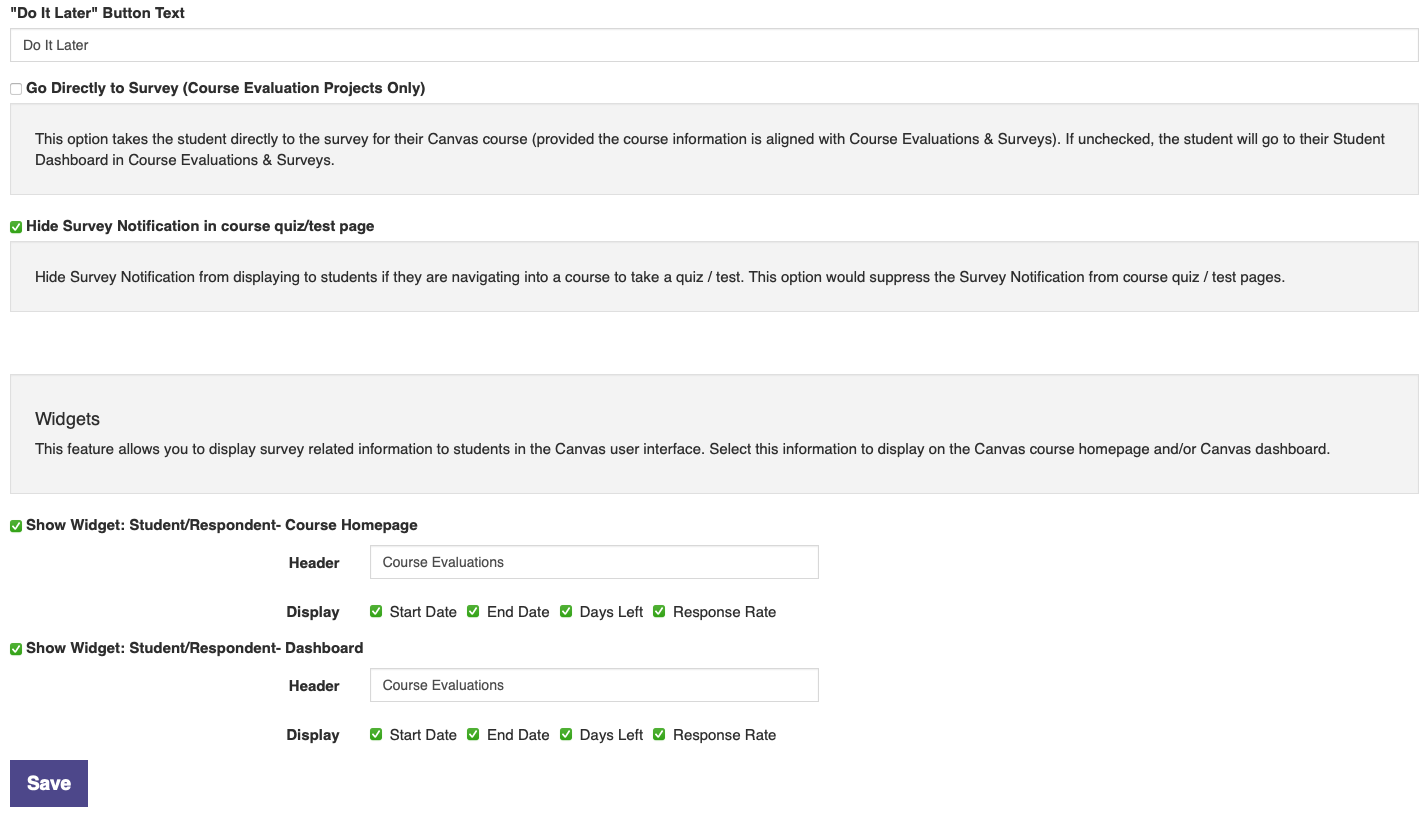 NOTE: If you would like students in an unpublished course to access the evaluation from within Canvas, enable "Show Survey Notification on Canvas Dashboard for Course Evaluation projects (Data Integration courses only)". Because students cannot access an unpublished course in Canvas, consider enabling this option to allow the Survey Notification to fire on the Canvas Dashboard and provide access for these enrollments.
NOTE: The account-level Student Survey Notification can be overridden by the project-level Student Survey Notification Settings feature, which can be used to customize the notification for a specific project.
TIP: The Survey Notification can help set the expectation with the survey taking process, as well as enforce the evaluation culture at your institution. You can customize the Header and Body of the Survey Notification to help set the expectation up front, avoid confusion and frustration, and ultimately help achieve your response rate goals.
Within Course Evaluations & Surveys, navigate to Account > Integrations (section) > Canvas > User Settings tab and scroll down to the bottom of the page to the Canvas Calendar Setup section.
To automatically add calendar items containing a LTI authenticated link in student's calendars in Canvas for all courses within a project, Click on Enable Calendar items with link.