Access to this product feature is dependent on your institution's Watermark agreement
Base ☑ | Faculty Accomplishments ☑ | Reviews, Promotion and Tenure ☐ | Web Profiles ☐
Self-Service Reports is a powerful tool that enables you and your faculty to create user-specific reports that reflect the accomplishments stored within Faculty Success in a variety of formats. These reports are displayed as live-previews, enabling you to see what you will have in your report before you export it from the system.
Building off of this preview, the ability to Add and Edit records directly from this view makes it even easier to use these reports as a home base. Instead of navigating the Activities main menu to add and edit records, you can accomplish the data entry alongside the report review.
This document-style data entry method better aligns with how faculty have historically maintained their CVs, and since they can create their own CV templates in self-service reports, updating one "version" of their CV in Faculty Success will automatically update all their other templates.
How it Works
While viewing a self-service report, described in further detail below, activities will display based on the criteria for each section. The default date range when viewing a self-service report includes all records (even those that do not have dates applied). This enables you to see the accomplishments already available in the system and see which might need to be added or adjusted to reflect their current state. To begin adding or editing entries, Click into an individual section.

Add New Record
Once you have clicked into an individual section, you can select Add New Record from below the toolbar, and a drawer will pop out on the right side of the page. This drawer contains the data entry screen for the appropriate activity type, and the options and functionality will match the experience of adding a record directly from Activities. This means most records will require a date and may have additional required fields to be completed before they can be saved. Once saved, the report section will refresh and the new record will display. If you use Save + Add Another, your first activity will be created and added to the report, and the drawer will refresh to a new blank entry.
A record created in this way will be visible from Activities and other reports. Enter it once and use it infinitely - especially with this new tool.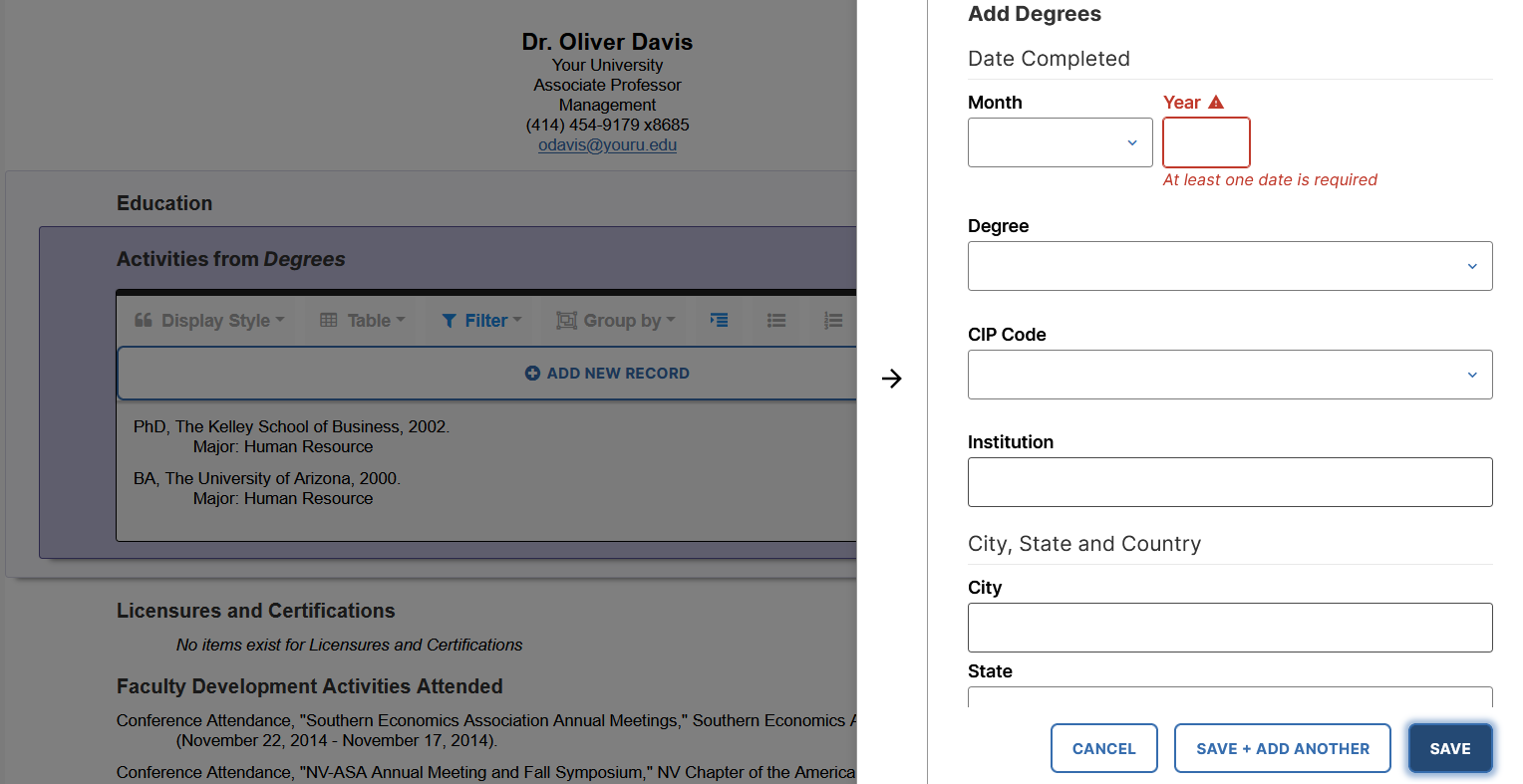 Edit an Existing Record
It's easy to use a Self-Service report to review existing accomplishments and revise them as needed. As you scan the report, if you notice an update that's needed (maybe fixing a typo, maybe revising details that have changed), you can click into an activity section to get access to edit the records. Hover over the record you want to update, and click when you see the edit pencil.

This will open a drawer on the right side of the web page, and display the existing details that are entered for that record. This enables you to edit that information, or enter additional details to ensure that your accomplishments are reflected in the most up-to-date way and highlight your accomplishments. Just like adding a new record, if you save your updates using Save + Add Another, your record will update in the report view, and the drawer will refresh to a new blank entry.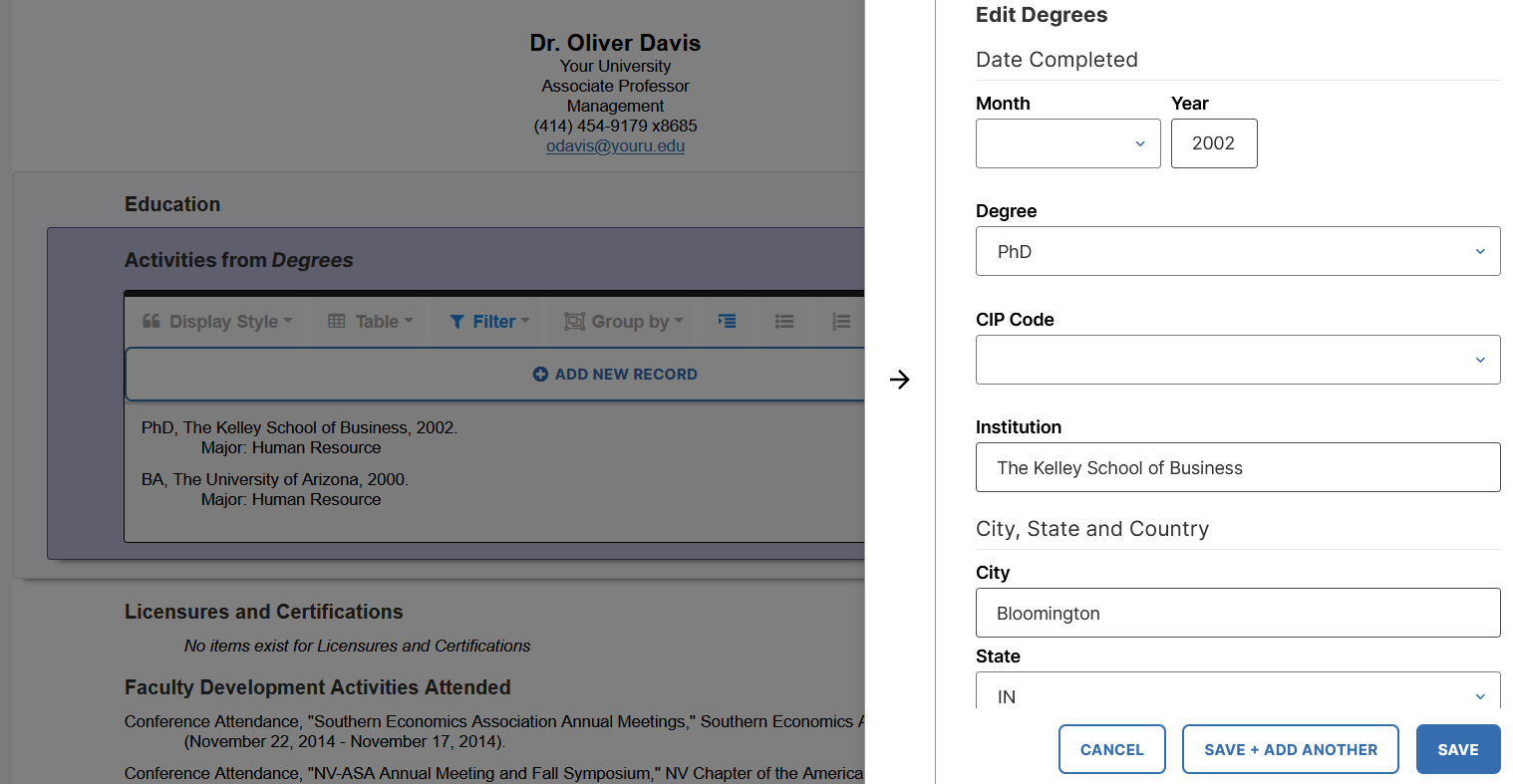 Users with Manage Data
The ability to add and edit records is also available to users that have access to both Manage Data and Self-Service Reports. If a Manage Data user builds their own report, or accesses a report that has been shared with them, they will have access to these same Add and Edit tools. While previewing a report, the Manage Data user is able to use the add/edit functionality to assist in updating the user's activities. Please review How-To: Self-Service Reporting Tools for Administrators for additional information.

Get Started
To immediately begin using this feature, access the Reports page and select any report that was not Created By Watermark. If you do not have one of these reports, then you can create a new self-service report to access this feature.
New Self-Service Report
To create a new self-service report, access the Reports page and click Create a New Report. From the available selections, choose either the Blank template or the Vita template to begin. The Vita will give you the best start if your goal is to add and edit all of your records, while the blank template will be best if you want to focus on specific areas in the system. Once you have your accomplishments displayed in the report, the Add and Edit functions will be available as you select specific activity sections.
A tutorial on how to further customize this document may be reviewed in the related How to Build a Formatted Self-Service Report article.
Shared Self-Service Report
A Shared Self-Service report will appear in your report list as once Created By someone other than "Watermark". These come from users that have access to create and share out Self-Service reports that they've built. Any of these reports can also be used with the Add and Edit Records features. Simply open any of those reports, and click into a specific activity section to begin using the Add/Edit feature.
FAQs
Question: Will the changes made while using add/edit in a report be automatically reflected in my activity pages or other reports with the same information?
Answer: Yes! All changes made will behave identically to making the revisions within any activity screen.
Question: Why am I unable to modify some of my entries?
Answer: Some information, such as Scheduled Teaching, may be loaded on behalf of faculty by the institution. Any activities which are not available for add/edit from the Activities page will also not be available for add/edit within Self-Service Reports.
Question: New information was added to an entry, but why is it not appearing when the document refreshes?
Answer: Each activity type has a citation style which may only include a subset of the fields available from the screen. For this information to be added to the citation, a work request would be submitted by the University Administrator.
Question: I updated an entry, but why has it disappeared from the section of the report?
Answer: Some sections of a report may have additional criteria, and after the update the activity no longer meets the criteria to appear in this section of the report. For example, if there was a publication in a Works in Progress section which has now been updated to have a status of Submitted, it may appear in a different section.