Every year, or maybe multiple times a year, the catalog is rolled over to begin editing the draft for the next. To ensure you have a smooth rollover of your catalog for the next calendar year there are a few steps that are recommended prior to proceeding with this process.
Step 1: Publish Your Catalog
NOTE:
Your catalog does not have to be published in order to be rolled over to a new year, but for most it is already published prior to rolling over.
If you have Shared Content you must request your rollover to be performed by the Watermark Support team - all catalogs/handbooks that contain clones from the Shared Content need to be rolled over simultaneously and this rollover must include the Shared Content book as well. This is to ensure that all links from the original items to the clones remain unbroken. Please ensure that all catalogs/handbooks are ready for the rollover together when requesting this.
All other rollovers for individual catalogs or catalogs that do not have Shared Content, can be conducted using the Rollover Catalog tool in the Home tab.
Click on Publishing to find more information on how to Publish Your Catalog.
Publishing a catalog for the first time from the calendar item can take a little longer than simply making publishing updates. Please contact
contact our Support Team, by clicking Submit A Request, if you have any questions.
Step 2: A Cleared Workbox
All items in the workflow must either be approved or removed before a rollover to the new year can occur or the catalog can be published with all changes present. Unlocking items in the workflow for review before the rollover can be conducted using the "Prepare" function of the Rollover Catalog tool within the Home tab.
If you also have Shared Content - you can still use the "Prepare" feature within the Rollover tool and once you have reviewed and approved or removed all workbox items, you can reach out to support to complete the rollover. All other clients can proceed with the next step in the Rollover tool that allows for a creation of the new catalogs.

The workflow below is an example of how your workflow box should appear when all items have been approved or removed from the box.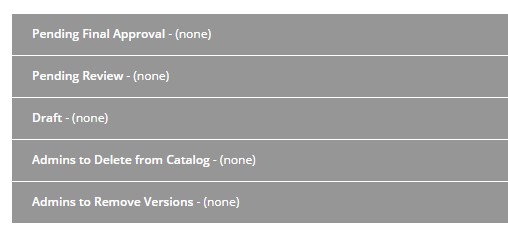 Click on Workbox to find more information on Boxes in the Workbox.
Step 3: Contact Support!
Please contactour Support Team by clicking Submit A Request (subject: Rollover Catalog) if you wish to rollover your catalog(s) to a new year and you have Shared Content between multiple books.
If you do not have Shared Content between your catalogs, you can proceed with rolling over using the Rollover Catalog tool in the Home tab.
Click on Support Contact to find more information on best practices on how to contact our team!
NOTE:
If you roll your catalog multiple times a year, please make sure if you are contacting Support to indicate which catalog is to be rolled over. For example, "please roll the 20-21 Spring Catalog to create the new 21-22 Fall Catalog."
If you are wanting your newly created rolled over catalog published right away, please do indicate that in your email request to our Support team. Otherwise, the draft is rolled and remains unpublished until you publish that catalog or make the request to our team to publish your newly created catalog. You can publish any of your catalogs by following the procedure here.
If you are ready, the yearly (or more) rollover time is a good time to provide an updated version of your course import file from your SIS.