Admins have the opportunity to archive individual items. Archiving an item breaks any links it has to the catalog, but allows the item to be restored at a later date. We do not recommend using the archive button on programs because the links in the courses tables will be removed and no courses will show when the program is reactivated. If you wish for a program to be archived we recommend that a new catalog item within the calendar item is created for archiving. Any programs that should be archived can be placed there. The archive catalog and sub-items should remain unpublished. Because of the issue with breaking links, we also do not suggest you archive an entire catalog with this procedure. Archiving whole catalogs is an automatic process that happens when a new catalog becomes current.

A common use of the archive function is archiving courses. Courses often become inactive for a year or more, but are later reactivated. Archiving a course removes it from the catalog, but later can be reactivated and added back to the catalog. Please note that when archived, the links to the course are removed and would need to be restored manually if the course were reactivated.

To Archive:

Select the course from the content tree, and click the Archive button within the Review tab:





Archive Retrieval:

Archived items can be accessed from the sitecore button in the bottom right of the screen, under All Applications, Archive: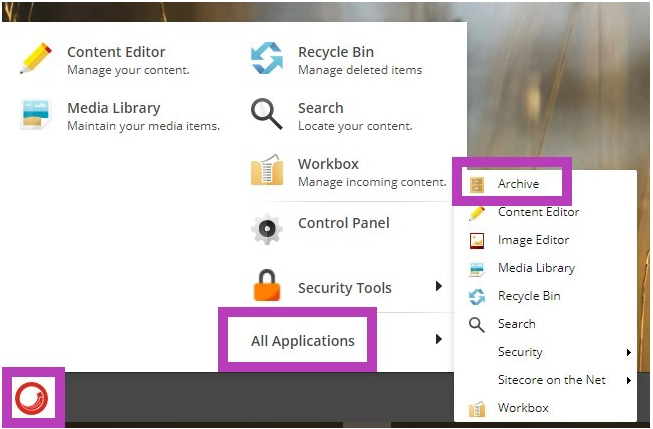 When opened, the Archive functions exactly like the Recycle Bin, with a Restore button for reactivating items stored here or a Delete button to clear out items that no longer need to be saved.