You can access the Workflow Administrator Certification videos here.
A Role Group is a group of users, such as Department Chairs or Deans, who need to take action during a Workflow process. Like Templates, Role Groups can be reused year after year. They can also be used in conjunction with multiple templates.
Role Groups are only created for the reviewers in a given process, not the participants who initially submit their materials for review. Those participants who submit to a Process are referred to as "subjects." They will be selected when scheduling the process.
Because Role Groups determine who has access to a given Step, make sure you have a Role Group that corresponds to each Step. Role Groups may be used in multiple Steps across multiple Templates.
At this time, Workflow offers two types of Role Groups — Administrative Reviewer and Committee. As we continue to expand the functionality in Workflow, other Role Group types will become available.
Managing Role Group Views
You can sort and filter role groups within the Workflow configuration. You will be able to filter by Role Group Name, Type, and Scope.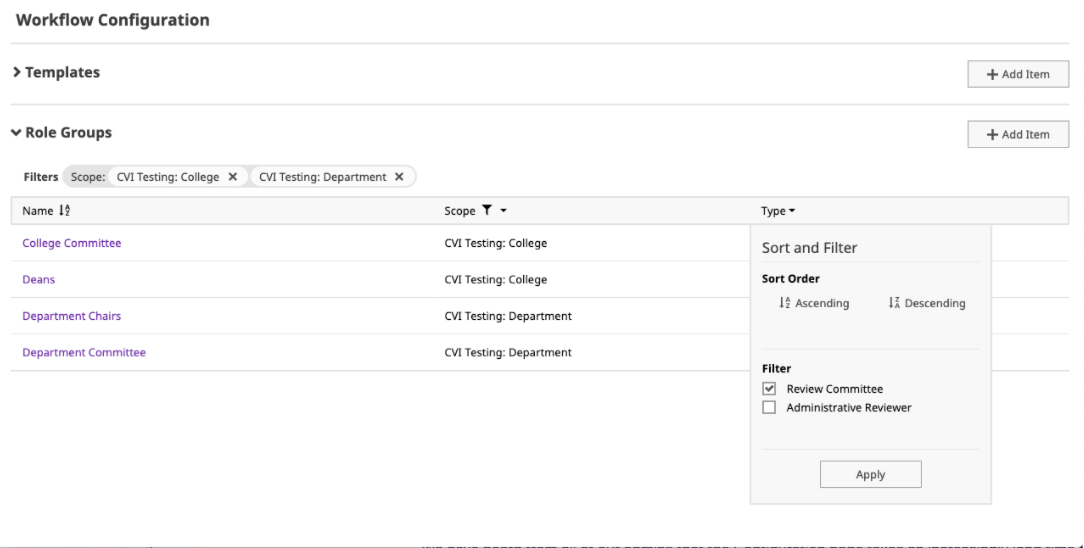 The Workflow module is available to add to Faculty Success for an additional fee. To learn more about adding it for your institution, please contact your Client Success Manager.