Database Configuration is a permission available to administrators with Work Request permissions for the purposes of determining which fields are visible to faculty within CV Imports and on activity summary screens. The default settings reflected in Database Configuration are based on analysis of the most commonly-used fields across all clients, but rest assured that these settings can be adjusted easily to meet your particular needs.
To access Database Configuration, go to the Tools menu.

Read on to learn more about...
CV Imports: Configuring Required, Recommended and Optional Fields
The Database Configuration landing page explains each of the three possible field designations that govern what faculty will be prompted to import from their CV.

By clicking into a category on the left, you will be able to adjust the field designations for a particular screen. Use the radio buttons in each column to configure the fields that the CV Importer will prompt users to populate as they import their CV.

When you are finished reviewing or modifying any of the field settings, press "Save" in the top right corner of the Database Configuration screen.
Although the field settings for Included and Optional fields are configurable, it is our recommendation that only fields that are primary components of high-usage reports be set as Included. This will streamline the import process for faculty, while ensuring that administrators are gathering key information for their reporting needs through CV Imports.
As a reminder, the default settings for field settings are based upon the most commonly-utilized reporting structures for faculty activities accomplishments. If you have any questions on best-practices for Database Configuration, please feel free to contact our Support team.
Note: While static screens appear in Database Configuration, CV Imports only supports data entry through dynamic screens at this time. Learn more about static and dynamic screens.
Summary Screen Columns: Configuring Defaults
As you know, summary screens are there to help users quickly identify what they already have in the system and where there are gaps. Database Configuration lets you set initial column defaults so that when your users log in for the first time, they're met with enough information to know which records they have. It's also an opportunity for you to communicate your institution's point of view on what's most important to capture about each type of activity. Remember that with dynamic summary screens, users can adjust which columns they see so that they have the information they need to complete the data entry or review task at hand.
To configure column defaults for your summary screens, go to the "Summary Screen Columns" tab, expand the section headers on the left, and select a screen. Then choose which of the fields on that screen should show by default when users go to its summary screen for the first time.

Default columns may also be configured for the dynamic sub-answer (DSA) sections for each screen. Select which fields you would like to display from the DSA, then choose between displaying the first row, first three rows, or the last row of the component to display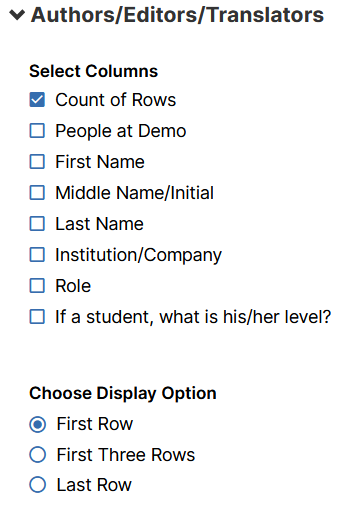 Once you save, your settings will be active across the system for users who have not already selected their own preferred columns through the dynamic features on their summary screen views.