Whether you're a new user looking to access your account for the first time or a returning user seeking assistance with login issues, this FAQ page is your go-to resource.
1. This is my first time logging in, what email do I use to log in?
Your account email will be your institution email. If you haven't set your password yet-- or have forgotten it-- reference our article: How do I reset my Student Learning & Licensure password?
If you are a mentor/cooperating teacher, you will receive an email notification with a unique single sign-on link that will take you into your Student Learning & Licensure account. If you do not receive this email or have accidentally deleted it, you may either click the link above to reset your password or contact the Watermark administrator at your intern's institution and request that they send a new notification email.
2. When I attempt to reset my password, I never get an email.
If you're having trouble logging in to Student Learning & Licensure make sure you have an active account. If you're not sure and you're a student, reference our article How to Activate Your Student Account. If you have an active account and are still not getting the emails. make sure to check your spam/ junk mail folders.
3. I get the error message, "Please input correct email address."
If you have verified that the email address you have entered is valid, please contact your institution's Watermark administrator. They would be able to verify the email address that is associated with your account. If you are a faculty member there may also be a different login URL for your institution that the administrator would be able to provide.
4. My institution uses single sign on but I'm not sure where to go.
Your institution will provide you with the SSO link. Reach out to your institution for this specific link because Watermark Support does not store this information.
5. When I attempt to log in I get the "We weren't expecting you" error.
For Students: If you are a student and you receive this error it means you are logging in through your institution's single sign-on for faculty and administrators only. Please go to sll.watermarkinsights.com and sign in with your school email address, or contact the administrator at your institution to obtain the URL for student single sign-on (if one has been configured).
For admin and faculty, contact your institution's Watermark administrator for further assistance.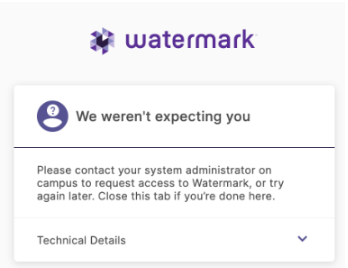 We understand that the various options for accessing your Student Learning & Licensure account can be confusing, so if you still need assistance don't hesitate to contact our Support Team through the Submit A Request or our Chat Messaging widget.