Curriculum Strategy by Watermark supports a Default or Custom Course/Catalog API that can be used to set up an automated process to retrieve catalog information. Documentation is instantly available upon request for building an API to pull default fields associated with catalog content templates (narrative, program and course details). 
Creating the API is easily accomplished by following the documentation requested from Curriculum Strategy. Setting up an API pull to display or reveal content on the institution end calls for a skilled institutional developer to create the process. Institutions can use the API to pull content from Curriculum Strategy. Once a set up is completed on the institution end, that content can then be pushed to an SIS or displayed on the institution site.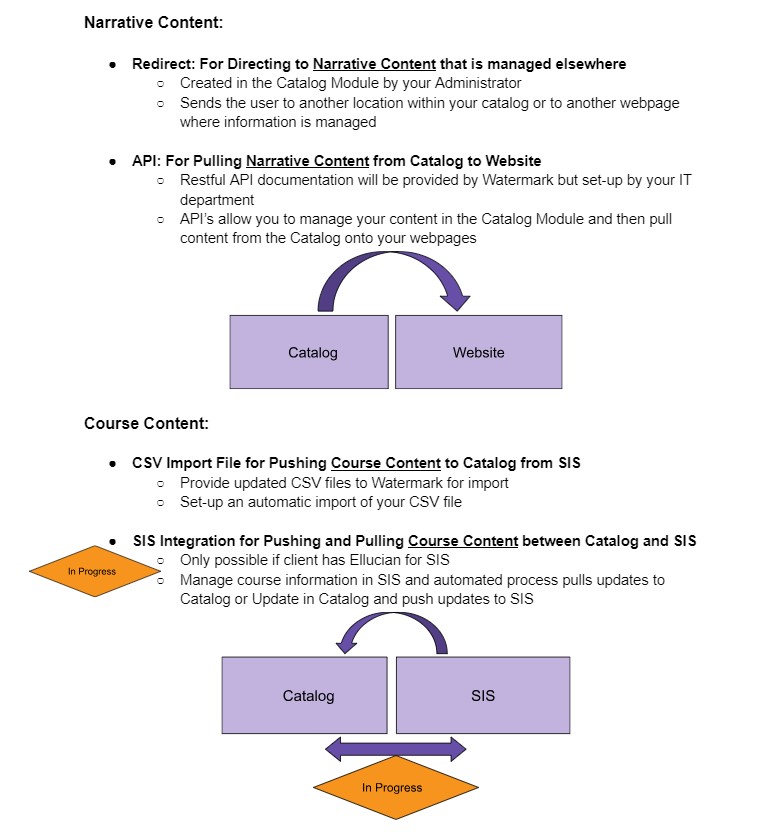 If you wish to include custom fields in your API pull that have been added by request to your catalog templates, you can put in a request for a custom API to support. The custom API needs to be built by our support team and upon completion, you will be provided the documentation to build a custom API that includes any specific fields you have requested for addition to the default catalog templates. In the request to support, you need to include what fields you are looking to be included in the custom API alongside the default fields.
Please reach out to support if you have further questions.