Auto Fill Overview

The Student Learning & Licensure (SL&L) auto fill feature provides the ability to automatically complete rubrics based on scoring of template components. Rubric-based data is often crucial in program or institutional assessment. But for many assessors, the process of scoring a submission based on a maximum number of possible points is a more familiar process than completing a rubric. By using auto fill, assessors can score a submission using this familiar method, and SL&L will complete an associated rubric without additional input from the assessor.

How Auto Fill Works

Auto fill works by assigning a scoring range of a component(s) to a specific element and performance level of a rubric contained within a template. When an assessor scores components, SL&L will automatically score a rubric's element at the performance level assigned to the score.

Prerequisites for Using Auto Fill

In order to properly use auto fill, there are three requirements:

1. The template must contain one or more scoring components. These can be included as stand-alone scoring components and/or adding the scoring function to another type of input component.
2. The template must contain one or more rubrics, and those rubrics must be built with performance levels that increase from left to right. Rubrics can be created with performance levels in any order desired, although the most common layouts use either increasing (low to high) or decreasing (high to low) performance levels. However, because auto fill uses ranges, rubrics that will be auto filled are required to be constructed low to high, increasing from left to right.
3. The rubric(s) to be auto filled must be added to the Assessment Panel of the template. Rubrics may be added to a template in the main content area or in the assessment panel. However, only rubrics added to the assessment panel of the template can be auto filled.

To enable Auto Fill for a rubric:

1. Create a template that includes one or more scoring components.

NOTE: Scoring components can include stand-alone scoring components and/or other types of components that have the scoring function enabled.

2. Click the plus icon to add the rubric to be auto filled to the Assessment Panel.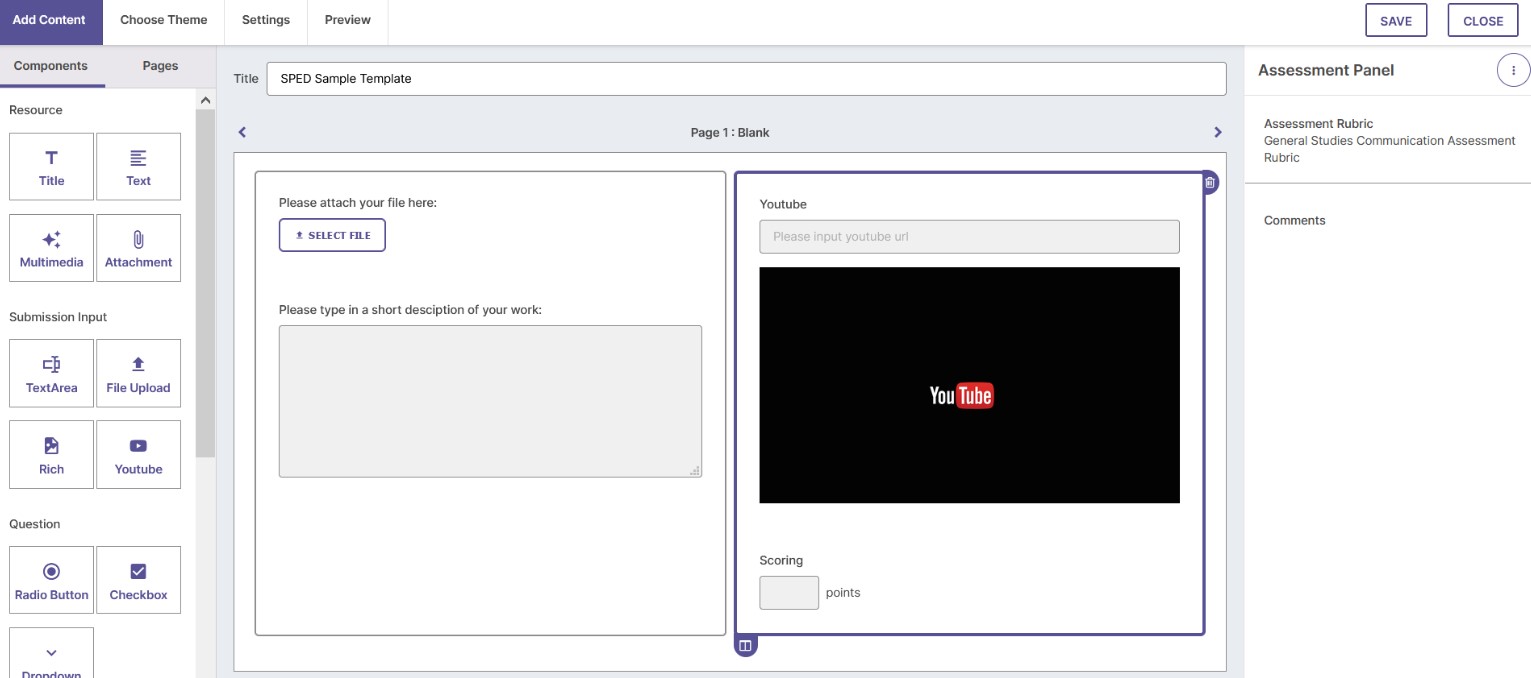 3. On the Add rubric popup window, label the rubric and select a rubric from the dropdown menu.
4. From the Model dropdown menu, select Auto Fill. The Auto Fill popup window will appear.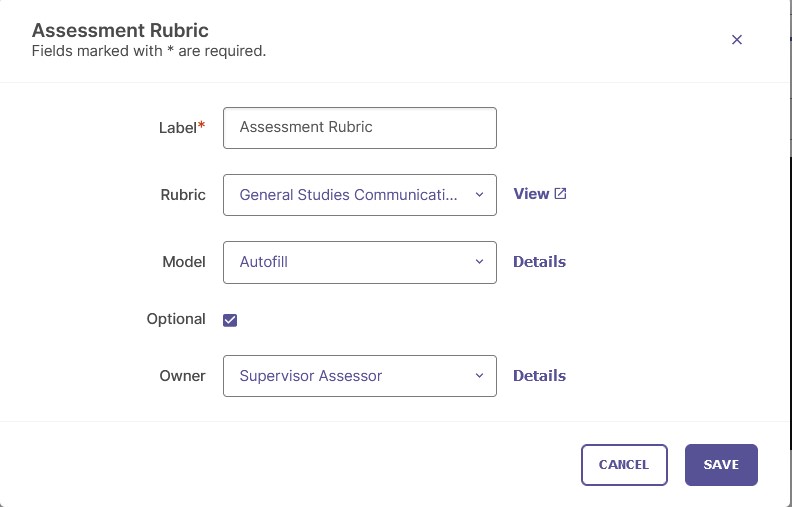 The Auto Fill Popup Window

The Auto Fill popup window displays each element of a rubric. For each element, specific scoring components can be mapped. Then, the range of scores that will auto fill each performance level can be selected. SL&L automatically assigns a score of zero to the left most value, and the maximum possible total score of all mapped components to the right most value. By default, the value for each performance level will be equally divided across the entire range. However, customized ranges can be established using the input boxes below each performance level.




To map scoring components that will Auto Fill rubric elements:

1. In the Mapping To: section of the Auto Fill popup window, click Select components.
2. Click the checkbox next to all scoring components that will be used to auto fill the rubric element's performance
level.

NOTE: After clicking Select components, the list of scoring components includes all scoring components that have been added to the template, and the maximum point value for each component.

3. When finished selecting scoring components, click Select.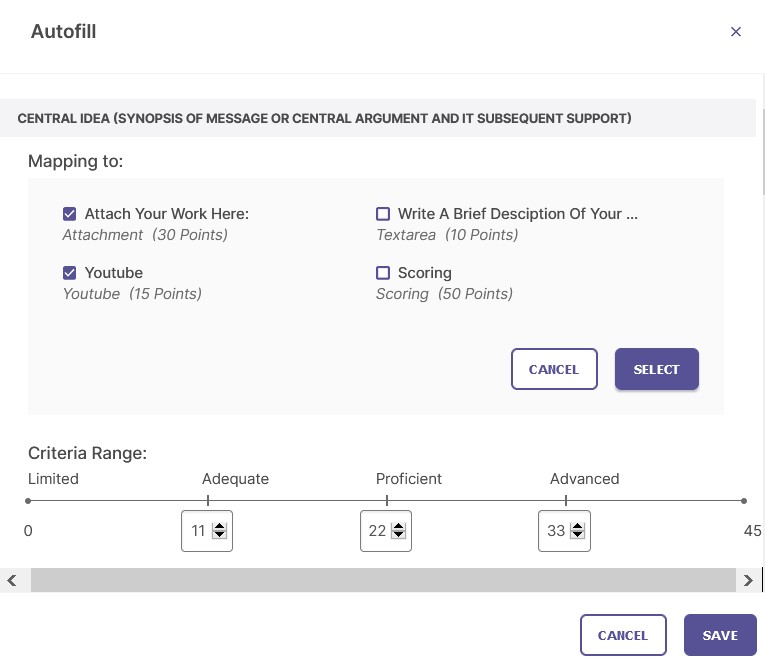 4. In the Criteria Range: section, adjust the range values for each performance level.

NOTE: The value listed in each box establishes the maximum score that will result in the element being auto filled at each corresponding performance level.

5. Repeat steps 1-4 for each rubric element that will be auto filled.

Completing Assessments using Auto Fill

Completing assessments on activity submissions is performed just as any other assessment. As scoring values are entered into the template submission, the auto fill rubric will be automatically completed, based on the settings made using the steps above.

NOTE: Although SL&L automatically selects performance levels in an auto filled rubric, performance levels can still be selected manually. Manually selecting performance levels will overwrite auto filled selections.