System Administrator
The System Administrator is the account that manages the AMS implementation and holds special privileges, including the ability to:
Create user accounts

Designate AMS Coordinators and their permissions and administrative domains

Customize the homepage and Analytics

Manage the faculty credentials module

Update user information (username, password, email)

Manage single sign-on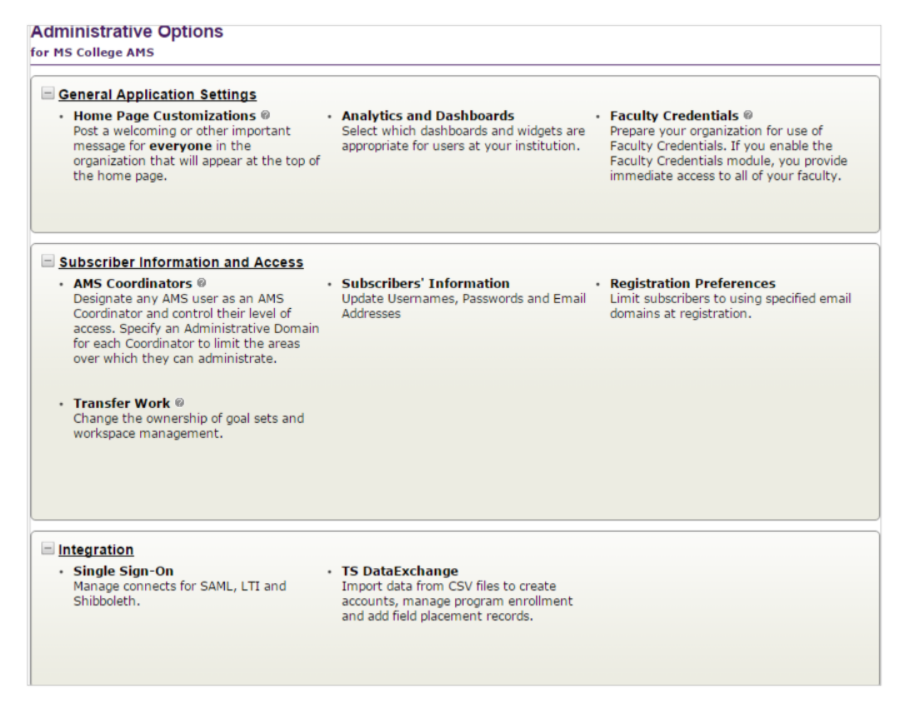 The System Administrator permission is applied by the Client Support Team.
If you'd like to add an additional System Administrator, Submit A Request for Support.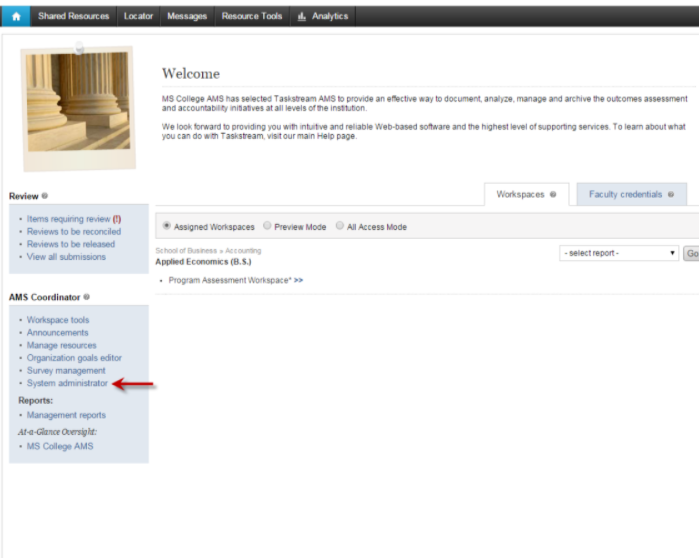 When you click System Administrator, it opens in a new tab. It has a separate login from the login to get into the account.

System Administrators can add AMS Coordinator permissions to an existing account: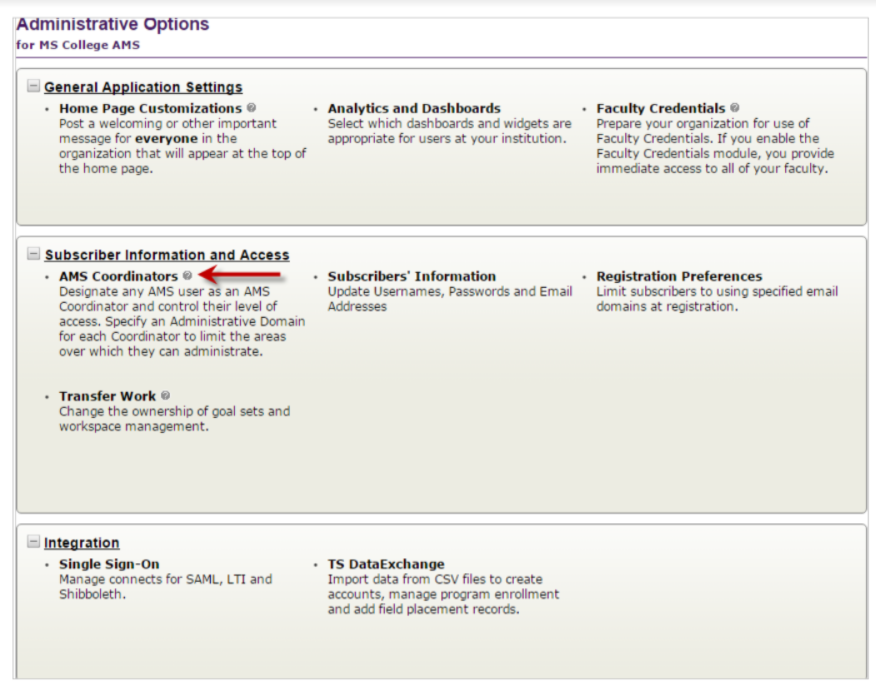 AMS Coordinators
Any user can be designated as an AMS Coordinator with any or all of the following permissions (definitions below):
Workspace Tools

Announcements

Manage Resources

At-A-Glance Reporting

Organization Goals Editor

Affiliation Management

Survey Distribution

Faculty Activity Report

Credentials Report

Review Credentials

Confirm Credentials

Enter Information on Faculty's Behalf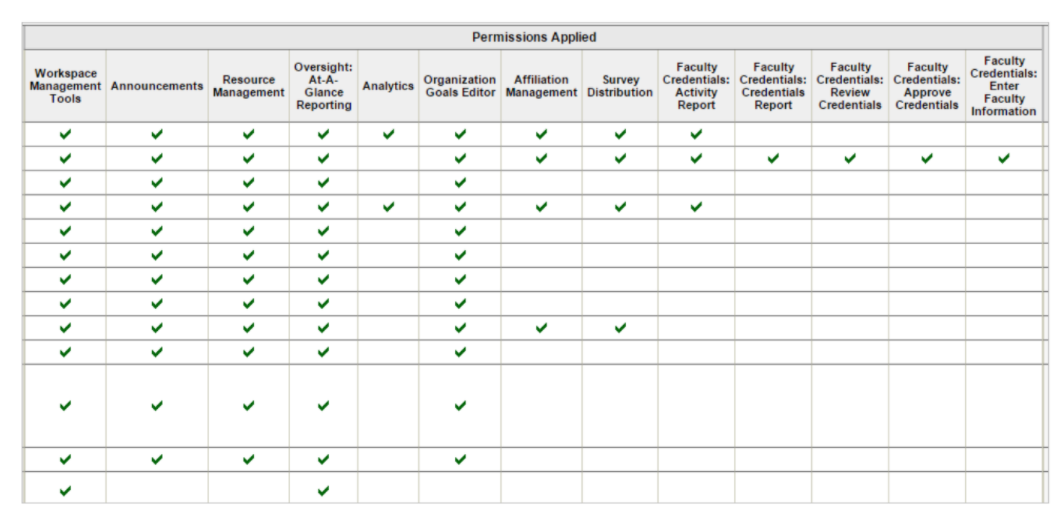 Workspace Management Tools: Users with workspace management are able to build workspace templates, enroll departments, programs, administrative offices, or courses into workspaces, and enroll managers and reviewers into workspaces.
Announcements: Post announcements to the AMS Homepage.
Resource Management: This allows users assigned this permission to share web pages and rubrics created in your account with your community. This tool is not frequently used.
Analytics: Run high-level activity reports that graphically display assessment progress. Ability to run these reports only on specified domains.
At-a-Glance Reporting: Run reports on data entered into workspaces. System Administrators can assign this permission so that coordinators can run reports only on their own administrative domain, such as their department.
Organization Goals Editor: Create and distribute goal sets that will allow different organizational areas to map to those sets.
Affiliation Management: Add specific affiliations (departments, programs, courses etc.) to specific accounts so those users can enter assessment data into their area's workspace(s). The individual must also have Workspace Management Tools and be enrolled as a manager in that workspace in order to grant View/Edit access to an individual user (Workspace Participant).
Survey Distribution: Able to create and distribute surveys.
Workspace managers
Workspace Managers are AMS Coordinators with Workspace Tools who have been enrolled as a workspace manager with Workspace Setup with or without All-Access Mode to access all workspaces and management reports. AMS Coordinators with Workspace Tools may be enrolled as Workspace Managers in the Enrollment area of Workspace Management.

Just assigning the Workspace Management tools permission is not enough for them to manage a workspace. They must be enrolled as a manager in that workspace after the permission is assigned.
Other permissions: Workspace Managers are able to manage visibility settings in a workspace, assign the number of reviewers to each requirement in workspace (if doing a multiple reviewer process), assign participating areas (programs, courses, etc.) to specific reviewers in the Preferences area of Workspace Management, and make a workspace inactive if it is no longer in use.
All Access Mode: This is permission that can be applied by the Mentoring Services Department at Taskstream. It allows a Workspace Manager to automatically have View/Edit access to workspace in which the manager is enrolled.
Workspace managers can also enroll/designate Reviewers and Review Managers.
Review Manager permissions
If your school uses a review process, Workspace Managers can assign the following permissions to any account: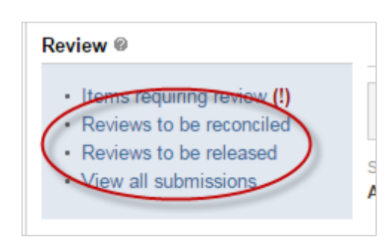 Oversee Reviews: View, edit, cancel or release any review at any time.
All Access Reviewer: Complete review for any participating area submission. All Access Reviewers do not have to be grouped with a participating area or be selected by an participating area in order to review.
Reconcile Reviews: Reconcile reviews, suspend reviews and call for extra reviews in workspaces that require multiple reviewers for a single submission.
Reviewers
Reviewers are enrolled in a workspace to provide feedback to workspace participants on the content that they have submitted. They do not have access to anything other than what has been submitted to them (unless they are separated affiliated with a specific area to enter content into a workspace).

Workspace Participants
Workspace participants are affiliated with participating areas, e.g., courses, programs, offices, that are enrolled in workspaces. Assign workspace(s) by affiliating the user with the participating area and then designating the appropriate level of access to the workspace(s) in which the participating area is enrolled. Workspace Participants may be given no access, view only access, or view-and-edit access.