On June 22nd, the URL for Student Learning & Licensure changed from www.vialivetext.com to sll.watermarkinsights.com. This guide has been updated to reflect that change. 
1. From the Admin account for your Student Learning & Licensure (SL&L) organization, click on Settings and then LMS Integrations: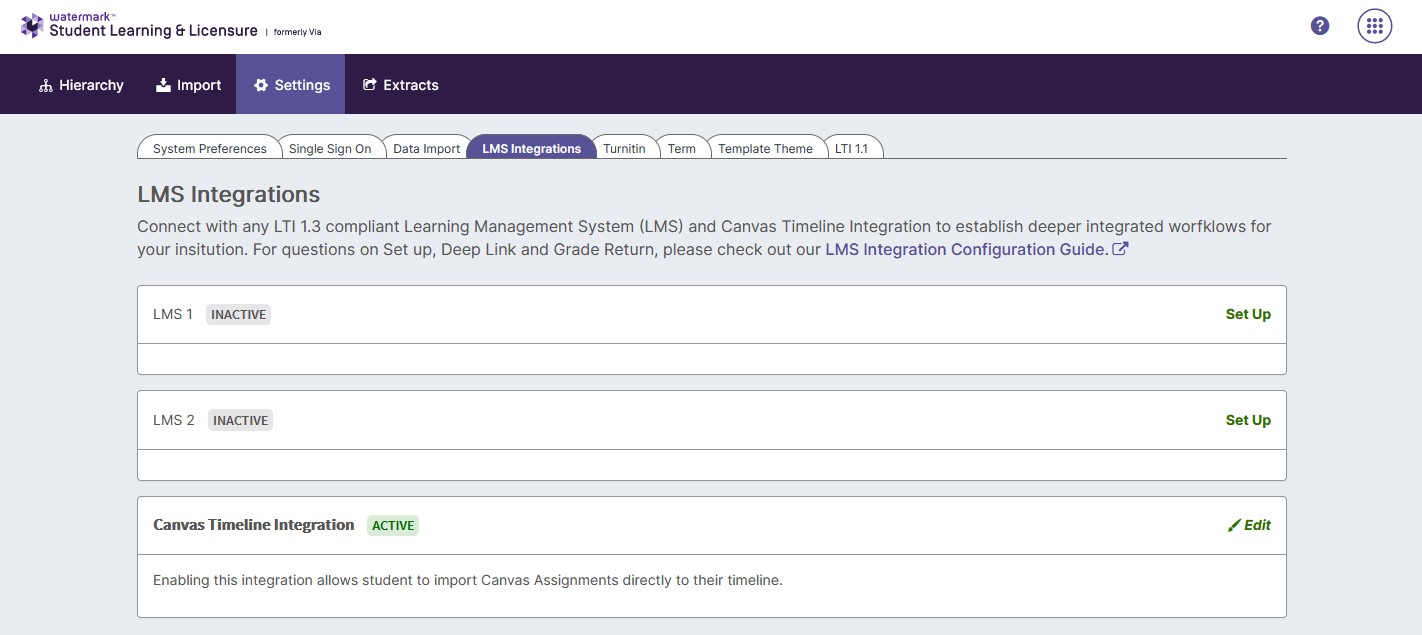 2. Click Set Up in the upper right corner of the LMS 1 card
3. From the LMS dropdown, select Moodle
4. In the LMS URL box, enter the URL for your institution's Moodle environment. Ex: moodle.livetext.com, moodle.jsu.edu, etc.





5. In a different tab or window, log into your Moodle administrator account
6. Go to Site Administration and click Plugins > Activity Modules > External tool > Manage tools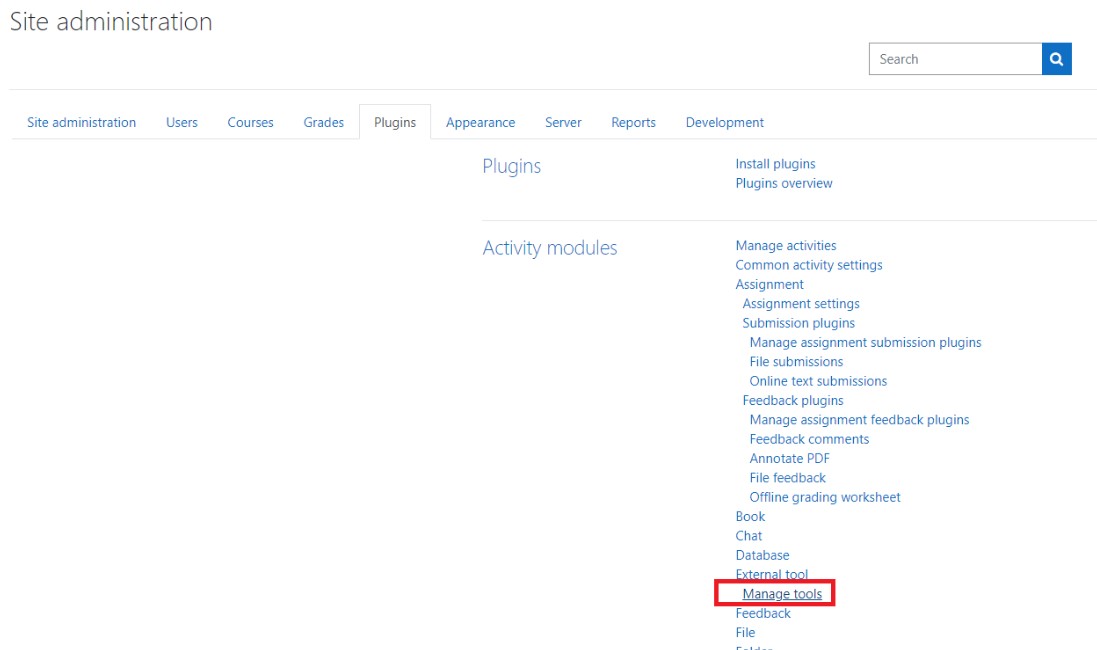 7. Click configure a tool manually




8. Enter a Tool name (SL&L)
9. Enter the Tool URL: https://sll.watermarkinsights.com/via/lti/v1p3/launch
10. Choose LTI version: LTI 1.3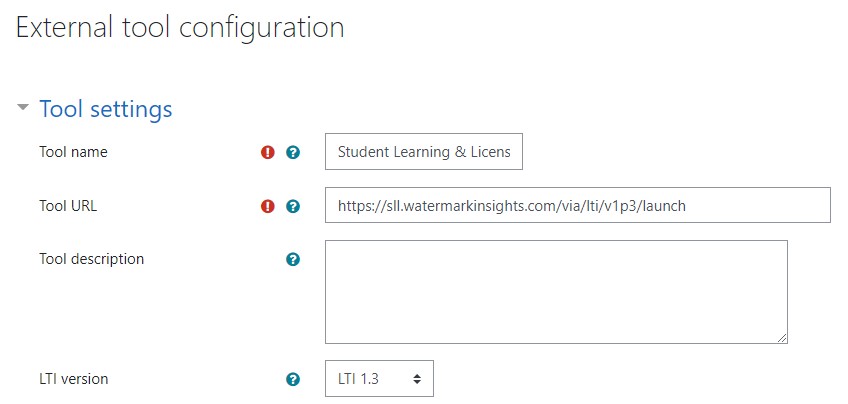 11. Copy the Public Keyset URL from SL&L and paste it into the Public keyset box in Moodle
12. Copy the Initiate Login URL from SL&L and paste it into the Initiate login URL box in Moodle
13. Copy the Redirection URL from SL&L an paste it into the Redirection URI(s) box in Moodle
14. For Tool Configuration Usage, select Show as preconfigured tool when adding an external tool
15. Change Default launch container to New window
16. Click the checkbox next to Supports Deep Linking (Content-Item Message)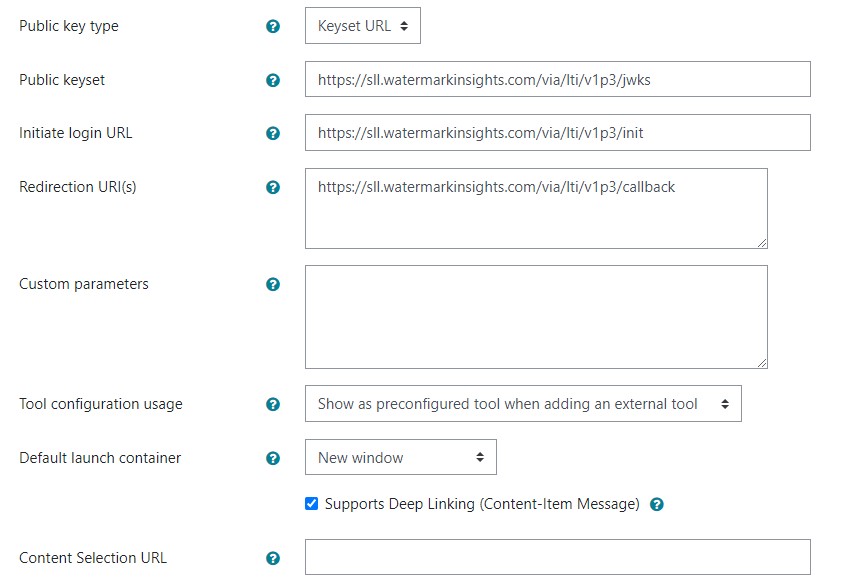 17. For IMS LTI Assignment and Grade Services, select Use this service for grade sync and column management
18. For IMS LTI Names and Role Provisioning, select Use this service to retrieve members' information as per privacy settings
19. For Tool Settings, select Use this service




20. Select Always for Share launcher's name with tool
21. Select Always for Share launcher's email with tool
22. Select Always for Accept grades from the tool




23. Click Save changes
24. Click the View configuration details button for the SL&L tool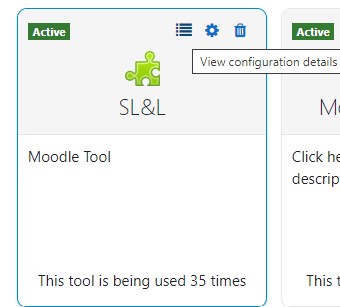 25. Copy the Deployment ID and paste it into the Deployment ID box in SL&L
26. Copy the Public keyset URL and paste it into SL&L
27. Copy the Access token URL and paste it into SL&L
28. Copy the Authentication request URL and paste it into SL&L
29. Copy the Client ID and paste it into SL&L
30. Copy the Platform ID and paste it into the Issuer box in SL&L
*Please make sure there are no trailing spaces or special characters (such as a "/") at the end of the Issuer URL
31. Click ACTIVATE in SL&L