As a TS coordinator, you can view who has a registered Taskstream account with your organization by accessing the Registration Report. To view this report from TS Coordinator, click the Registration Reports link under the Subscriber Accounts area located on the far right side of the screen.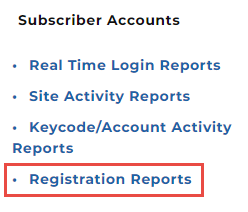 In a Registration Report, there are multiple ways you can search for registered users. You can search for one individual by typing their name in the Search By box and clicking
Search
. You can also search for a group of users either by Categories/Local Areas, by Taskstream Program, or by Demographics from the Member Locator in the left frame. Click your selection and then check off the appropriate group or groups and click on search.
The report will show in the right frame. You can choose to view additional information such as the users' Taskstream IDs and Inactive Subscribers. The report can be printed or exported to Microsoft Excel.
You can also view pre-set reports by choosing a report from the upper right hand side of your screen and clicking
View Report
.
Registration Report Guide