NEW FEATURE: Access to Custom Question Monitoring Widget Provided to Project Admins
Project Admins will now have the ability to access the Custom Question Monitoring Widget. They will be able to view which Instructors added Custom Question to any project created by the Project Admin.  Project Admins will not be able to see details for projects they did not create themselves.
For this release, the Project Admins will only be able to view Custom Questions added by Instructors. We will add the ability for the Project Admin to view Custom Questions added by Administrators in a future release.
NEW FEATURE: Ability to Export Project Summary Across Multiple Projects
CES Administrators and Project Admins can now export a Project summary to Excel. If your institution has multiple Administrators or multiple Projects per term, exporting this data can help streamline your process to ensure Project setup prior to their start date. Data is exported for only the Projects in view and includes all Project details to help verify setup is complete.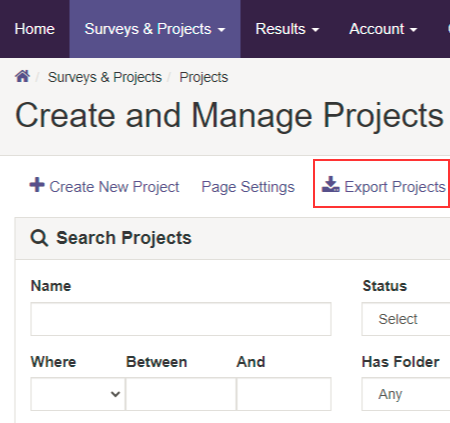 NEW FEATURE: Node Response Rate by Project API
Institutions who are using the REST API to extract data from CES can now use the REST API to get the response rate of a project by hierarchy nodes.  Full API documentation is available by navigating to Account > API (section) > Documentation when logged into the system as a CES Administrator.
COMING SOON: Improvements to Custom Question Survey Creation Workflow.
In our October release, we will be rolling out new and improved navigation experience to the Custom Question Survey creation process. This is the first phase of updates being made to custom questions surveys/projects so the user experience feels more fluid and intuitive. This will be mainly user experience changes with small functionality improvements.
Below are some preview screenshots of what the new interface will look like.  Please note that this a preview of a few new screens and not the full interface.  A full article with complete instructions will be available when the new Custom Questions workflow is released.
Clicking on Create New Custom Question Survey button, user will land on this new page where they can add title and description.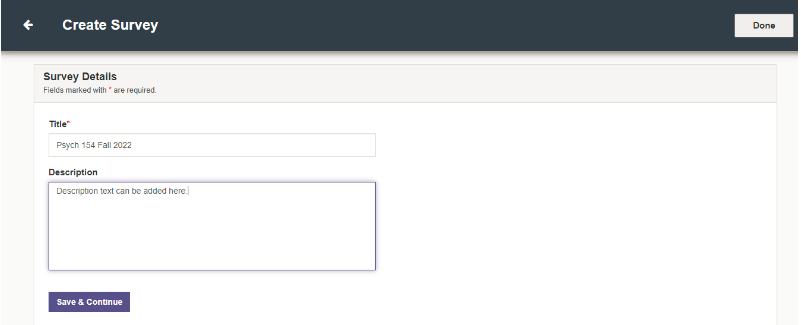 Once user clicks on Save & Continue, there will be an option to edit survey details along with an option to add a Question. They can either Create a new question(s) or choose to select question(s) from an item bank.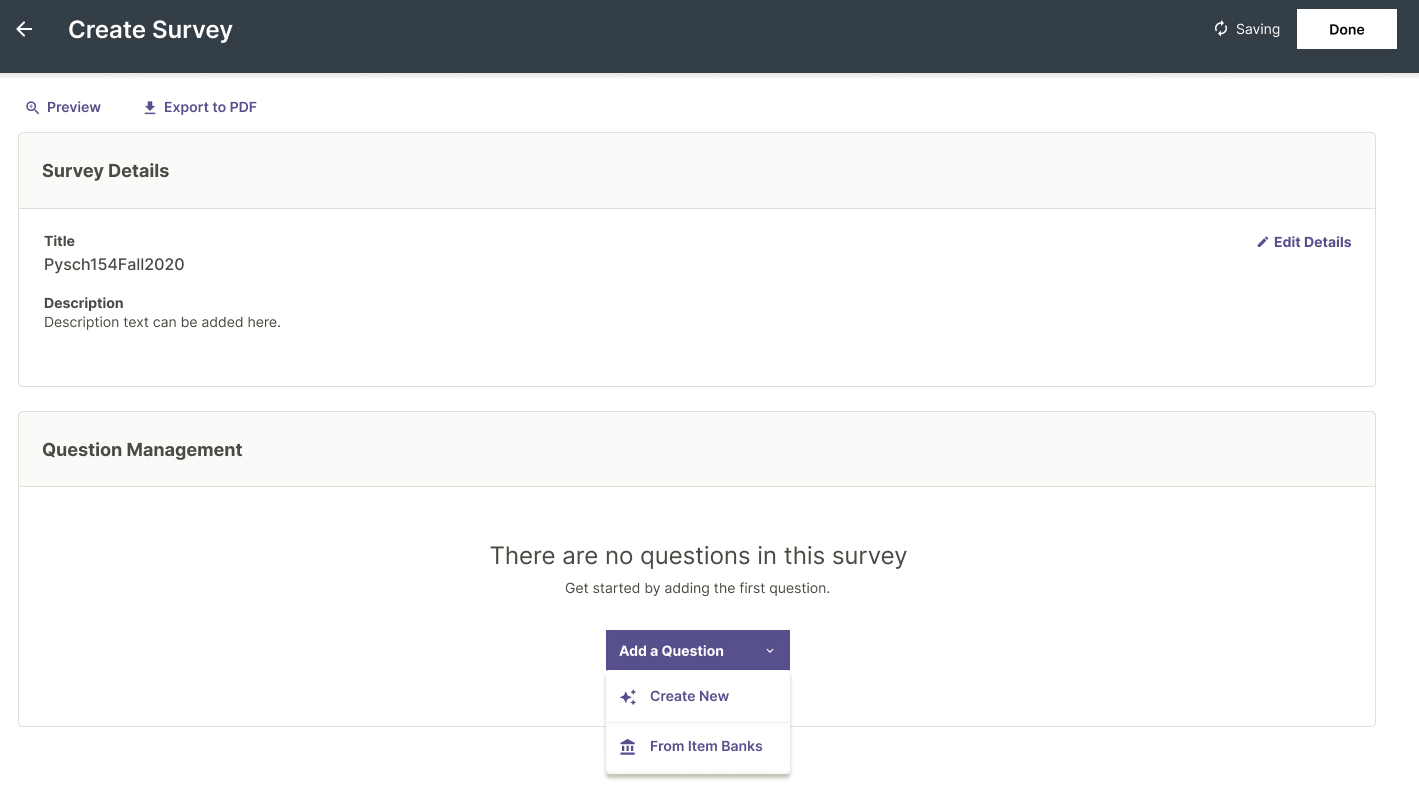 If user chooses to create a new question, they can do so by selecting the existing question types.

If they choose to select from an Item Bank the user will be brought to this screen where they will be displayed with questions from all item banks that are available to them by default. But they can choose to select a specific survey from the search filter and get questions for that particular item bank.