Narrative courses are similar to regular courses, but are fundamentally different. Narrative courses are program/course requirement information that belongs in a course table, but are not courses themselves. Subject Code, Course Number, Course Name, and Credits are all fields that can be used and will show in the program table. Additionally, Narrative Courses are kept in a separate folder to prevent them from becoming a live link in the program tables, as well as excluding them from the websites navigation and exporting to print.

These Narrative Courses are added to program tables exactly as other courses are added, via the course selector for the Requirement Lists. They all reside in a blue folder among the Subject Code course folders labeled "Narrative Courses".


For Example:

Four Sociology electives (12 cr)

This Narrative Course can be populated in three fields that will display within the program table when assigned: Course Name, Subject Code, and Credits.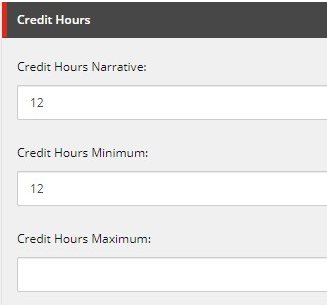 Here is how this narrative course would look on the live site within the program table:






Types of Narrative Courses

And

Or

Science Elective 3(credits)

PSY 100-level Elective 3

Internship Pass/Fail