Central Authentication Server (CAS) is an open-source single sign-on (SSO) protocol adopted by many educational institutions. If your institution has already adopted the CAS framework for SSO purposes, you can authenticate a user on your network once, via some credentials (like username and password), and allow the user seamless access into Taskstream without the user ever knowing their Taskstream user credentials.

The setup is fairly straightforward. A Taskstream CAS URL will need to be configured and supplied to your institution, while you would also need to provide your CAS URL to a Taskstream representative.

This is the expected CAS work-flow from your user's perspective: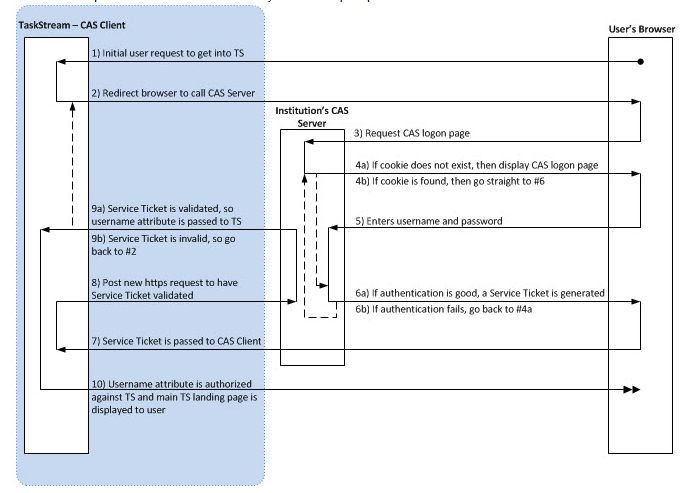 If you are interested in setting up CAS SSO integration into Taskstream, please email techsupport@watermarkinsights.com and provide your CAS URL.

Note: The Taskstream CAS solution does not automatically create new Taskstream accounts for a new user when they click the link from your portal/website. You must provision the Taskstream accounts for any new users beforehand. Please refer to this link for the various methods to provision Taskstream accounts. If a new user clicks the link and does not have an existing Taskstream account to match against, the user will see an error message stating they do not have a Taskstream account and to contact their administrator.