Overview
Watermark offers three Subscription Services levels to meet the needs of our institutional partners. 
Services credits can be used to redeem offerings for any Watermark product from the Watermark Academy.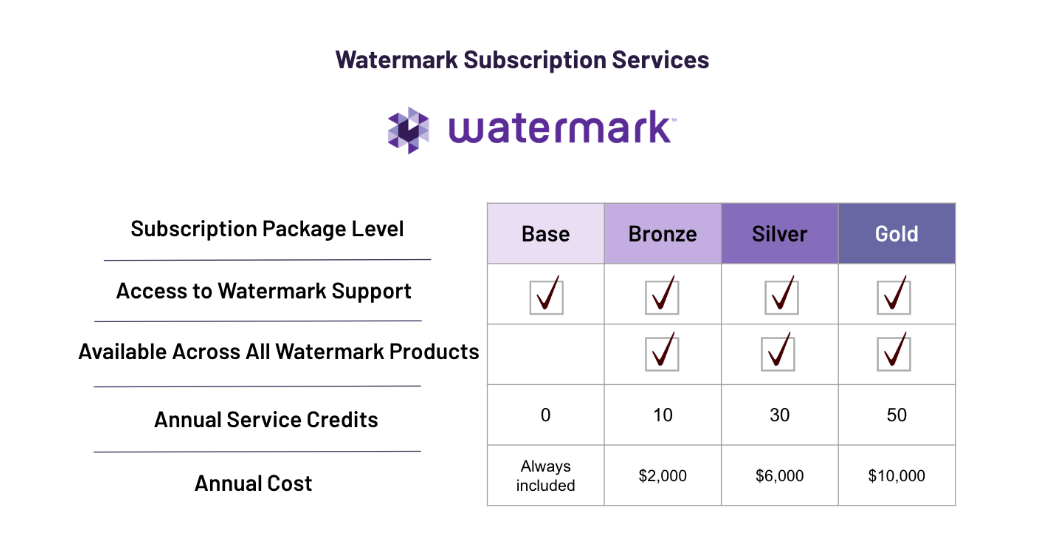 Following implementation, after you are trained on and using a Watermark product, you may have additional questions about how to do something, or be interested in a better understanding on how to fully utilize a specific feature. 
Subscription Service packages will help you easily consult with a product expert who can answer questions and help you accomplish your goals.
Each Subscription Service package contains Services credits that are based on the purchased package level.
Ready to learn more about Watermark's Subscription Services? Click here.
Why do I need a Subscription Services Package?
Long term increasing ROI of Watermark products is dependent on the continuous learning and adoption of new product features and functionalities by Institutional System Administrators.  Many times, these systems administrations are wearing multiple hats and would benefit from a partner with expertise in the product as well as knowledge on how other institutions are using the product.  That is where subscription services can help.
Have resources available at the ready when

change happens over the next few years at your institution.  Set yourself up for success.

Stay up to date and understand how product enhancements can benefit your institution and

make your lives easier
Deep dive into functionality

when you have the bandwidth 

Get

best practice advice

from consultants who partner with institutions day in and day out on how to use their Watermark product in the most effective and efficient way 
Subscription Services Redemption Use Cases 
Product certification courses to recognize expert level product usage

New Administrator training when transition occurs in the system administration role on your campus

In person and remote end user training

Technical support when changes occur with LMS integrations, single sign on functionality, etc.
The purpose of these Services packages is to ensure that institutions have the level of support needed based on internal resources, budget, and expectations.
For additional information about our Subscription Services package offerings, please contact your Watermark Client Success Manager. 
If an institution opts for no additional post-implementation support, using only the Base subscription package, any post-implementation Watermark Services will be invoiced based on the flat fee amount posted on the Watermark Academy.
Ready to learn more about Watermark's Subscription Services? Click here.