This update brings two big changes to Faculty Success!
We are bringing more of the Watermark suite styles into Faculty Success, and we're excited to announce that these changes to the look and feel are now live. These updates bring more cohesiveness to the suite by ensuring that users can have a consistent and accessible user experience in our products which will also allow them to let their goals guide their navigation within the system.
An important new feature to self-service reports allows for users to add/edit records directly from the reports screen. Self-service reports is our reporting tool that enables you to view a live preview of a report while you format it and define which records should be included. With this feature, user's no longer need to switch between Reports and Activities tabs to keep their information up to date.
Faculty Success
Enhancements
User Experience
Our goal with these updates is to build an inclusive and equitable experience for all users while providing a consistent narrative to guide them as they interact with our products. As we continue on this journey, we want to prioritize accessibility and reliability paired with efficiency. We will continue to refine and reconfigure our screens as we continue to work to optimize these new components for Faculty Success.
Some of the changes and benefits include:
New button styles and colors can be found throughout Faculty Success. We want to ensure meaningful color application for emphasis, tone, visual cues, and cohesive layouts that will allow users to focus on the task at hand.
Accessibility is a big focus in our design updates. We have increased the target size with input fields while also revising focus indicators. The drop-down list has also received a style update to match the Watermark experience and has improved accessibility.
Read-only & locked fields have disabled input displays to better differentiate between field inputs and labels
Updated menu styles for drop-down fields and action menus to provide better touch targets and accessibility
We will be working to update the screenshots in all of our help center articles over the next month. Thank you for your understanding!
Faculty Accomplishments
New Features
Self-Service Reports - Data Entry and Review
When viewing a Self-Service Report (Document Style), users with access to Manage Data and/or users with their own activities will have additional tools available to them when selecting a specific report section. We have added the ability to add new records and edit existing records from within the report preview.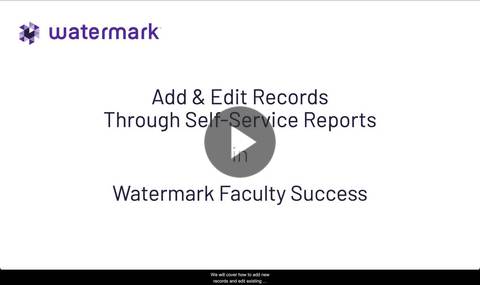 We know that when you are proofing a document, it can be tedious to go back to Activities, find the screen, and then find the record that needs a correction. That's why we're bringing the editing tools right to your documents. This means that there is no question as to how a record will appear on a report as you are editing it - you can see the two side by side.