Enhancements to Watermark Planning & Self-Study
Self Study & Program Review
Text Editor Enhancements
With this release, we upgraded our text editor in Self-Study and Program Review to include highly requested features and to adjust formatting. The editor now includes buttons for indentation so you can indent paragraphs without using keyboard commands. We also added the ability to choose your font, for greater flexibility and to help you comply with any accreditor requirements. Font choices will be reflected in all export types. In addition, if text is pasted into the editor, and the formatting is not displaying properly, users will be able to highlight the text and clear out the formatting, so they can make adjustments such as adding bullet points, spacing, or indentations within the text editor itself. This allows users to adjust any formatting issues more quickly, without the need for technical support.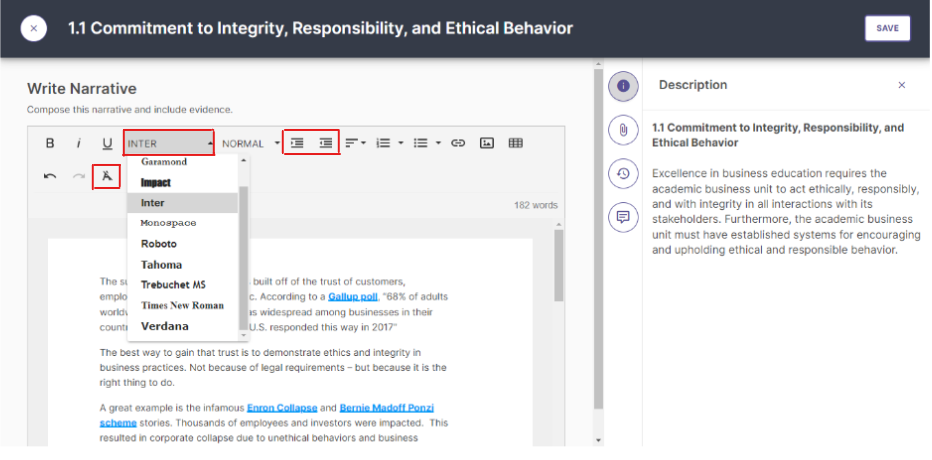 In the above display the font styles, increase and decrease indentation and clear formatting options are shown.
Organization Profiles and Management
Ability to hide organizations in an outcome map
With this new feature users can now deselect and reselect organizations in the Outcome map for a more specialized view of the organizations they want to map to. This allows organizations to make these maps clearer by taking out any organizations that don't have outcomes that need to be aligned.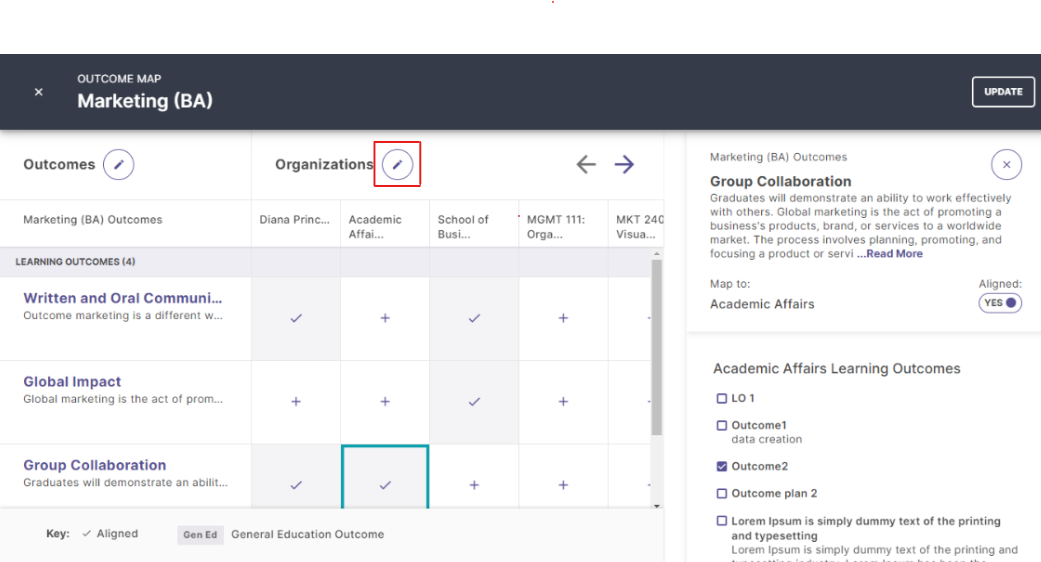 In the above display we can see the organizations mapped by the user by clicking on the edit icon.
Upon clicking on the edit icon beside the organizations, a modal window opens where the user can view the list of relevant organizations and include or exclude them from the map using a toggle.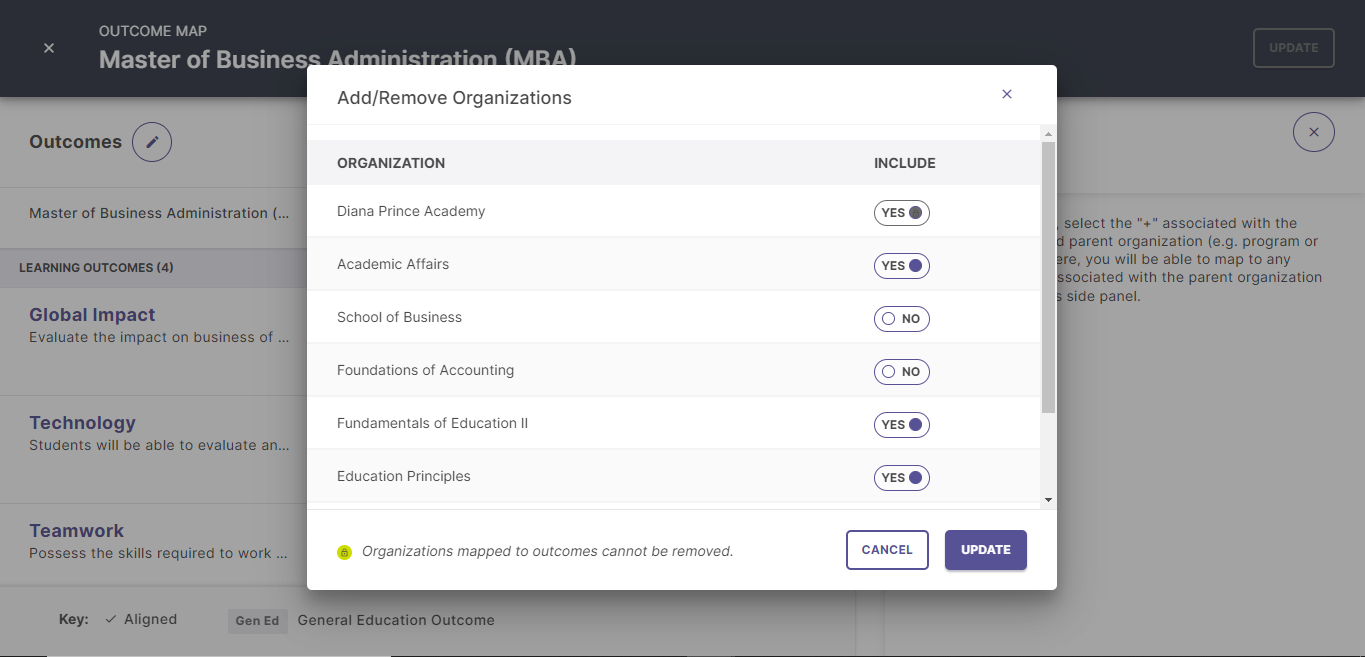 In the above display, the view is of the list of organizations available to include or exclude them from the outcome map.
Import Outcomes - Prevent Simultaneous Uploads
The system now detects and notifies a user if there is another Outcomes import being worked on by another user. This will prevent the current user from importing outcomes while the other concurrent import is in progress, reducing the risk of duplication, data inconsistencies and other errors.
If there is any other import in progress and a new user tries to import outcomes by clicking on "Upload CSV", they will see a modal window with the details of the upload already in progress, including the name of the person who initiated it along with the date and time.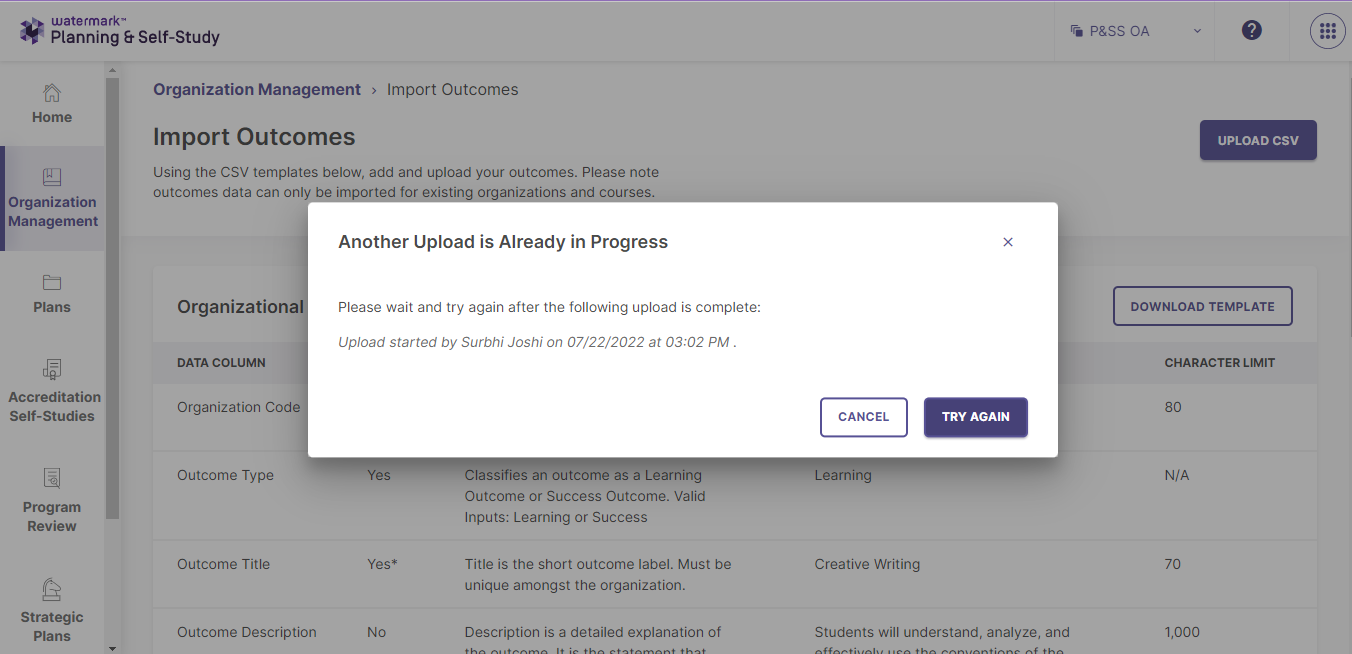 Modal window when there is an ongoing upload with the details of the user.
Users can click the "Try Again" option to upload their outcome file again. If an upload is already in progress, an error notice stating "Upload is still in progress" will appear. Users can still click on try again until the ongoing upload is done.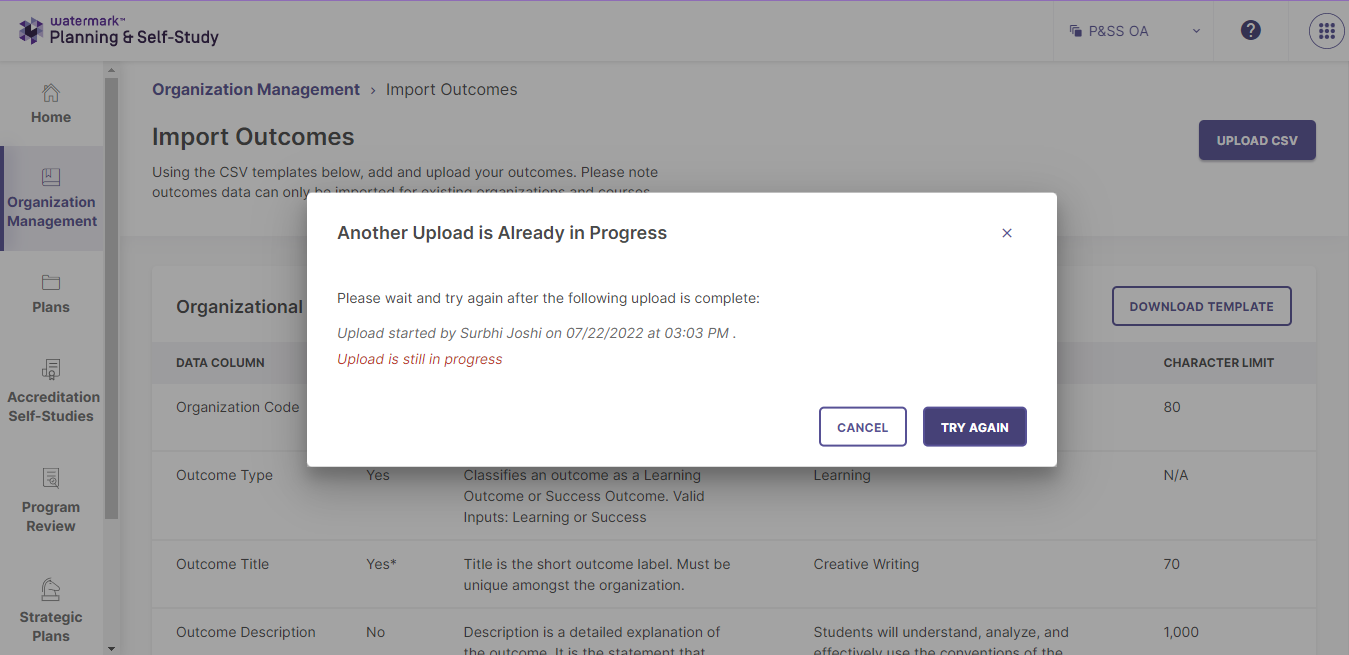 Error message when user tries clicking on try again and there is still an ongoing upload in progress.
Enhancements to Leader Insights
As we continue to make subtle improvements to the usability of existing Planning & Self-Study insights in the Leader Insights area, we are also starting to include insights from other Watermark products. Institution-level leads at institutions that license both Planning & Self-Study and Student Learning & Licensure will start to see their very first insights about common learning assessments begin to appear in Leader Insights alongside those derived from Planning & Self-Study. This is just the beginning of insights from Student Learning & Licensure - please stay tuned for more to come in the next few months!
New! Learning Assessments in the Current Academic Year
In this release, institutions with Student Learning & Licensure* can view several insights that will help them understand the progress and engagement in common learning assessments.
This new widget provides a participation overview so leaders can understand:
How many organizations and programs are assessing student learning through Student Learning & Licensure assessments in the current academic year?

How many common learning assessments are in use across those organizations and programs?

How many students are being assessed this year through learning assessments in Student Learning & Licensure?

What is the progress of assessment by term within the academic year?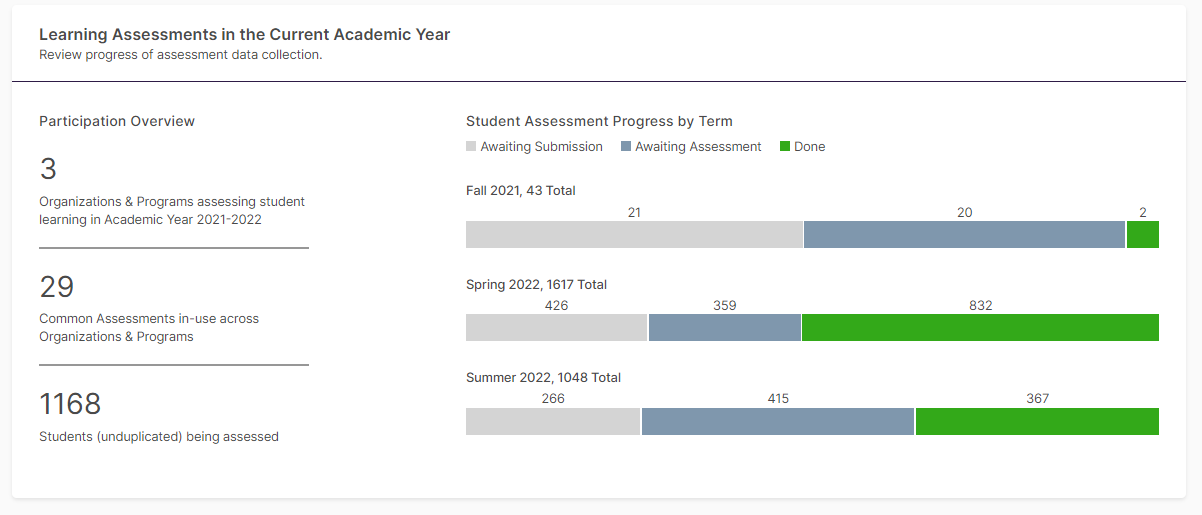 New 'Learning Assessments in the Current Academic Year' widget when the Institution licenses Student Learning & Licensure
Over the next few releases we'll add more detail about learning assessments by term, including drilldowns so leaders can learn more about the common learning assessments collecting authentic evidence of student learning.
* Institutions that have Planning & Self-Study and Student Learning & Licensure will be linked in July by Watermark staff so Student Learning & Licensure insights will appear automatically in Leader Insights. Institutions that are NOT on System Administration with Planning & Self-Study are not eligible at this time. Student Learning & Licensure need not be integrated with System Administration to view this insight within the Leader Insights area.
About Leader Insights
As a reminder, institution-level leads can access this area by selecting "Enter Institution" in the My Leadership area on their Planning & Self-Study home page, and then clicking the "View Insights" button. Administrators can access this by clicking on the top Institution profile link within Organization Management.

View Insights button on the Organization Management page for "Diana Prince Academy", the top-level organization in the hierarchy
Over time you can expect Leader Insights to grow in depth and breadth, and to expand to include insights from other Watermark products.
As a Watermark Labs feature, you'll also see us refine the user experience and features in this area rapidly, so please don't be alarmed if things evolve or look a little different when you next log in.
Watermark Labs
As a reminder, the Watermark Labs designation is for functionality made available to everyone while we continue to improve upon it. It allows you to take advantage of these features today, provide feedback, with the asterisk that there may be some areas for improvement as we continue to develop the experience. The Watermark Labs status will only be applied for a limited time while we continue to actively update the work.