As of this release it's now possible to add subjects to in-flight faculty review processes!
Reviews, Promotion & Tenure
New Features
Add a Subject to a Committed or Launched Schedule
You can now add a subject to any confirmed or launched faculty review process schedule! This makes it a lot faster to account for anyone inadvertently excluded during initial setup, and easier to administer the process and report on results, since all participants are within one schedule.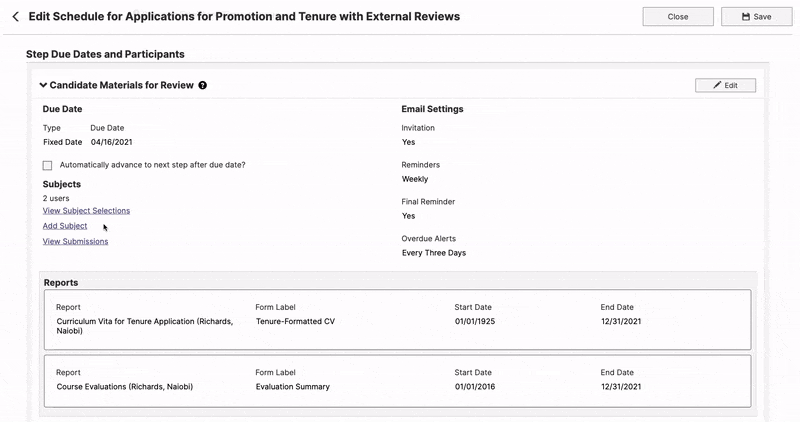 GIF showing the process for adding a subject: 'Add Subject' link under the Candidate Materials Review step in a schedule for the Applications for Promotion and Tenure with External Reviews template; 'Select a subject to include' window with a searchable user account dropdown list; the 'Add' button becoming a spooling icon while the action is processing, with a 'Subject validation in progress' tooltip on the that button; the 'Add successful' confirmation; and proof of the subject being added in the expanded 'Individuals' list within the 'View Subject Selections' window
We know how important tools like these can be as you support your reviews, so we've released this as a first cut knowing we will take further steps to make it faster. We'll continue to refine the efficiency of this process on our side over the coming weeks. In the meantime, please allow a few minutes for this feature to run after you click "add"!
For more on this new tool, please see Adding Subjects to a Schedule Post-Launch.