What is a screenshot and why is it important?
A screenshot, screen capture or screen grab is a digital image that shows your computer display. It's literally a picture of your computer screen.
Taking and sharing screenshots can be very helpful when reporting unexpected behavior in the Watermark software and even in run of the mill support requests because not everyone's computer is the same. Depending on your operation system, browser version, or the type of computer, something could appear different for you than it does for others. Providing a screenshot gives a visual example and helps our support team see and diagnose what might be going on.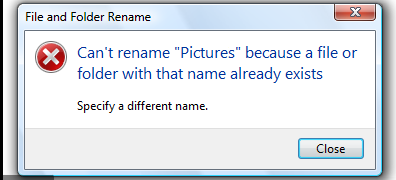 Above is a screenshot of a common error message in Windows.
How do I take a screenshot?
The way you take a screenshot depends on the type of computer you have. Below are directions for the two most common computer types:
Windows
See Microsoft Support Article: Copy the window or screen contents
Apple macOS
See Apple Support Article: Take a Screenshot on Your Mac
If you are unsure how to take a screenshot on your computer, a quick search from a search engine can help out.
Note: The screenshots you take will be saved on your computer as an image and you can include the image if you need to reach out to the Support Team.
How do I take a video of my computer screen?
A quick search engine inquiry will get you directions for how to record your screen from Windows or a Mac computer. There are also free and easy screen recording websites that can be used.
We've heard good things from Watermark users about Screencast-o-matic (they are unaffiliated with Watermark):
https://screencast-o-matic.com/screen-recorder