Now that you can tailor parts of email notifications for your faculty review processes, it's time to make that easier to do over time! Today's release introduces reusable email snippets. You'll also see some improvements to the accessibility, design and layout of the Workflow Configuration page.
Reviews, Promotion & Tenure
New Features
Reusable Email Snippets
It's now possible to configure reusable snippets of body and closing text to add to email notifications for your faculty review processes, and select from your snippet library when you're setting up your Schedules!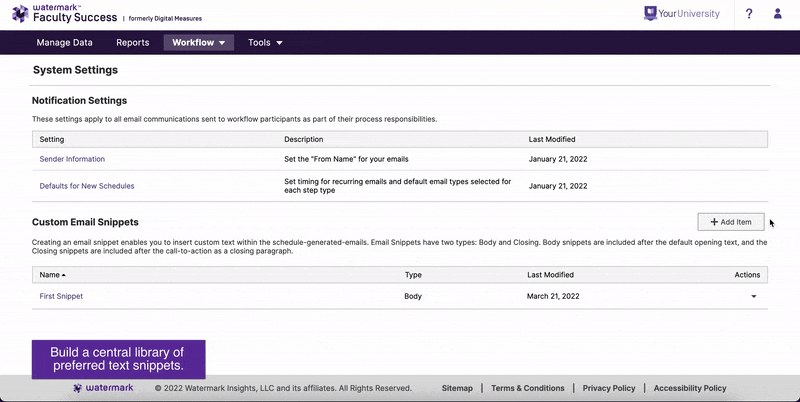 GIF of 1) adding an item to the Custom Email Snippets section of the Workflow System Settings page with a Snippet Type of "Body", a title of "Preferred Body Text for Annual Reviews" and Custom Text of "[Add a custom body message here to adjust tone, add context or instructions, etc.], and 2) choosing the "Preferred Body Text for Annual Reviews" saved snippet in the Custom Body Message dropdown list and the screen updating to show a preview of that snippet's body message text.


In System Settings there's a new "Custom Email Snippets" area - this will become your saved snippet library. Add your various versions of custom body or closing text here when you know you need to use them across multiple Schedules at once, or think you might want to use them again in the future. Then when it comes time to configure email settings for a Schedule, you can simply choose the saved snippet to use for each message!
Enhancements
Updated and More Accessible Templates Page in Workflow Configuration
You'll also notice some updates to the design and placement of things when creating and editing Templates. Everything works the same as it did before! But we made some accessibility improvements, cleaned up a few things, and updated the technology that supports this page so it can better keep up.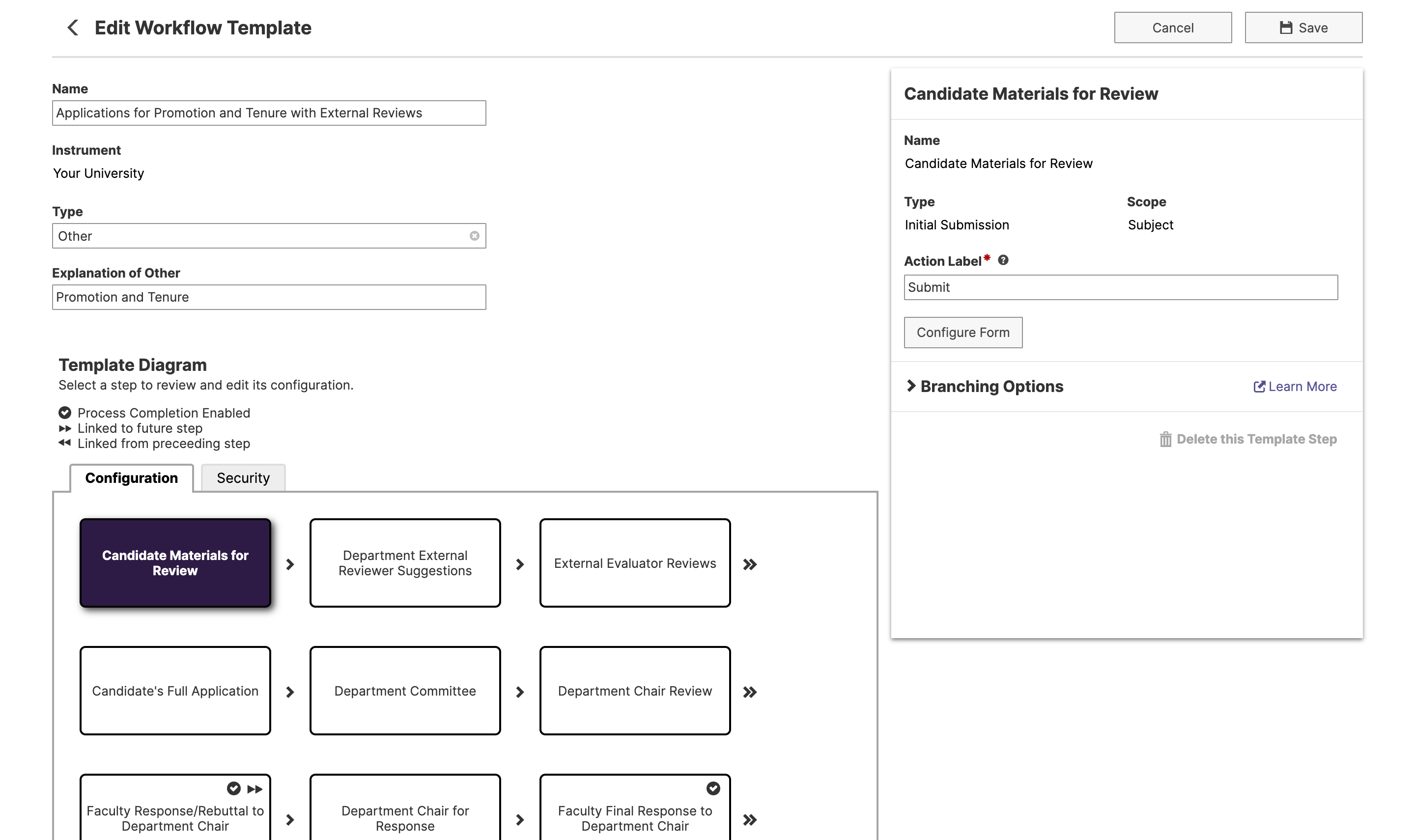 Updated Template page in Workflow Configuration


In particular you might notice:
The Security and Configuration tabs moved to the left above the Template Diagram.
We added a legend of the icons used in steps.
In the Step Configuration Pane, the details are now at the top, it's a little wider to make things more readable, and the design and button labels better aligns with the visual language of the rest of the system (and with other Watermark solutions).
The entire page now works seamlessly on various screen sizes.