Easier and faster data entry shouldn't come at the expense of data quality. That's why as soon as CV Imports went live, we set out to make it easier for faculty, proxies and administrators to review records, identify gaps and duplicates, and resolve them. The first half of this solution - tabular summary screens - arrived last summer, to make it easier to review records at a glance, check for the most important elements, and fill gaps. Today we're excited to deliver on the second part of our promise, regarding duplicate resolution, with Compare and Merge!
Faculty Accomplishments
New Features
Sweating data quality? Compare and Merge is here to help.
Users can resolve duplicate records quickly with this new option on activity summary screens.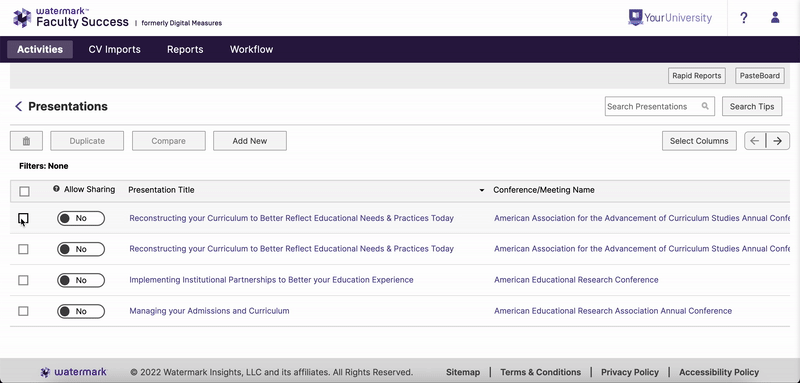 GIF showing a comparison and merge of two presentation records
From a new button on the Summary Screen, users can:
Compare up to 6 records at once.
Scan through them side-by-side.
Choose which data to keep from each record.
Preview and edit further before you commit.
See immediate resolution.
Learn more about this new capability here resolving duplicates with compare and merge.
Enhancements
Get a fuller picture with DSA details in summary screen tables.
The details stored in dynamic sub-answer sections (DSAs) - AKA those nested sets of sub-records on activity screens that capture things like lists of authors, editors, presenters, investigators, students mentored or advised, joint appointments and more - are key to understanding a record. Now you can include those details in your summary screen table.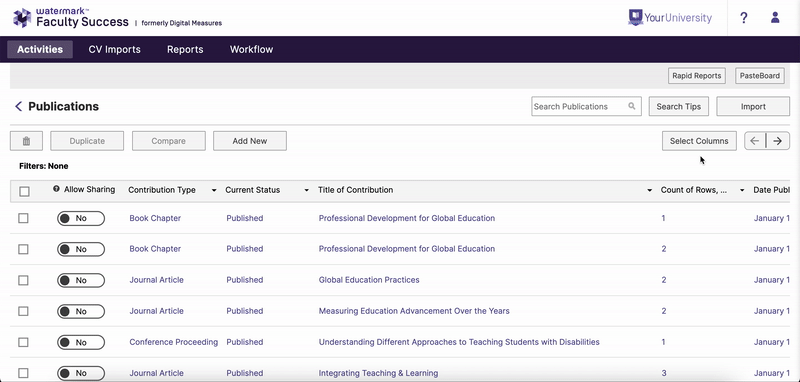 GIF showing how to add DSA details to a summary screen table
When the table view with dynamic columns was first introduced to summary screens last year, dynamic sub-answer (DSA) rows were simply represented in the form of a count (e.g., a count of authors). But to effectively review records to confirm accuracy and fill gaps, users need more details on those sub-records. Now when selecting the columns to include in their summary screen table, users can include individual fields from DSAs and choose to display those values for just the first DSA row, the last DSA row, or the first three DSA rows.
Mouse- and trackpad-based horizontal scrolling for summary screen tables.
This enhancement gives users a more natural way to scan through their record details.