This release delivers a self-service catalog rollover feature so you can build your starting point for next year's catalog in minutes, and the ability for users to preview how proposed curriculum changes will look on the catalog website.
Catalog Rollover - Live now!
With the new self-service catalog rollover option, you - as a catalog administrator - can build your starting point for next year's catalog without delay, and get right to editing.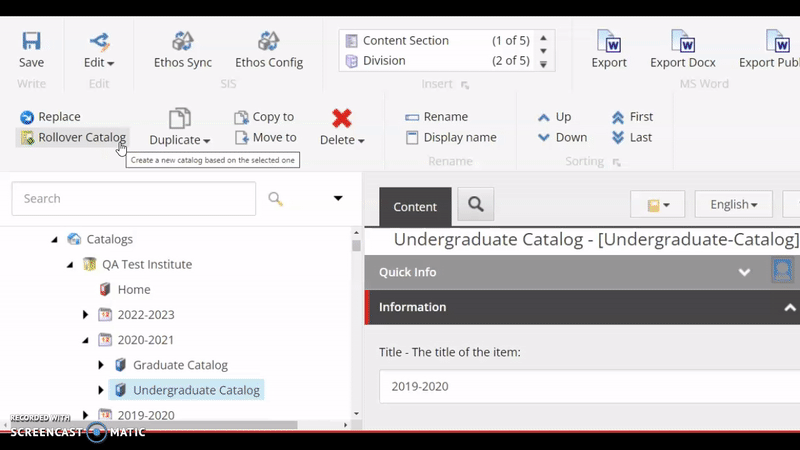 Once you choose a catalog to roll over, you'll be guided through steps to address any items that are actively in a workflow so you know you're creating a catalog based on the most up-to-date content. Then you can name and assign your new catalog to the right year, and run your rollover! Because of the volume of information it's copying forward, the rollover may take some time to complete, but you'll see the new catalog in your hierarchy immediately, and while you'll see the content built out gradually as the rollover finishes, you can interact with the emerging pieces as soon as they appear!

For more information on this feature, including notes on preparing a catalog for rollover by addressing pending items in a workflow, please see the new Catalog Rollover article in the Admin User Guide.


Curriculum
Preview Curriculum Proposals - Coming the week of February 7th
Users will soon be able to preview how their proposed course and program changes will display in the catalog once approved. Once this feature is enabled, a user will be able to navigate from their course or program proposal form to the preview and back, to easily review and verify their work and confirm it will adjust the catalog entry as expected. You can read more about this preview option here.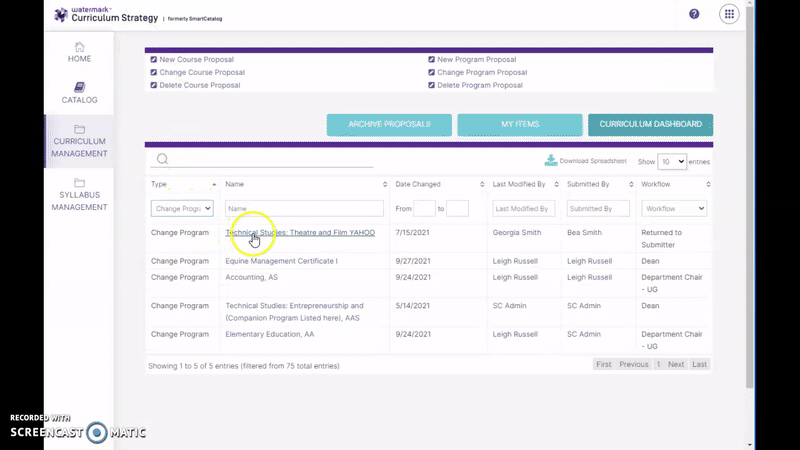 We hope this helps users avoid errors and feel more confident in the proposals they're submitting!

Timing: You can expect to see this new feature arrive in your system between February 7th and 11th. If you do not see it within your Curriculum Management forms after February 11th, please contact Watermark Support.