1. To access the User Manager once logged in, click the button in the lower left hand corner to access the Security Tools and select User Manager or under the "Security" tab at the top of the content editor: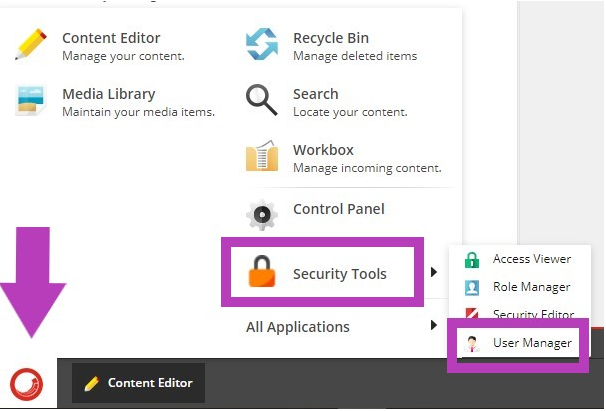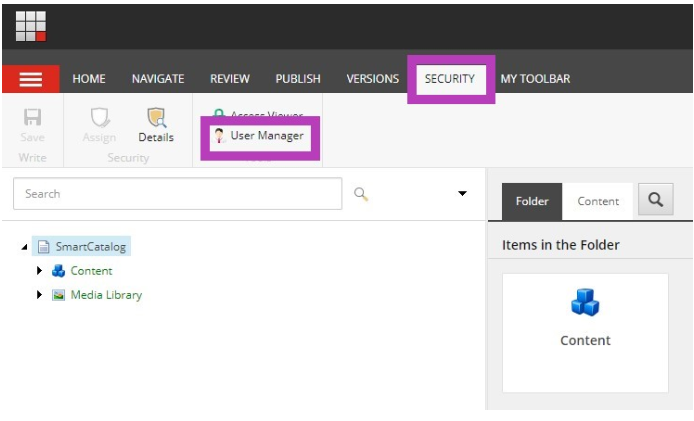 2. Once the User Manager has opened, click the "New" button in the upper left hand corner.




3. When the "New User" window is open, fill in the fields indicated below. (User Name, Full Name, Email, Password, Confirm Password)
​
a. Password: At least 8 characters and include at least one special character. (ex. domain** or smart***)

4. Once these fields are filled in, click "Edit" to assign permissions to this user for specific parts of the catalog or the entire catalog. The permissions are in the form of workflow and access roles that assign a specific workflow and grant access to specific parts of the catalog.
Please note, that when setting up a new user who will be logging in via the SSO/Navigator, the username required for the new user set up needs to be identical to the username they will be using to log into the SSO.
Setting up a new user within the catalog system will always require a password to be entered. This password does not relate to the SSO credentials in any way and can be a default password of your choosing. We normally use the institution domain name with an asterisk(s). Again, this password must be at least 8 characters and include one special character.
Please contact support if you have further questions.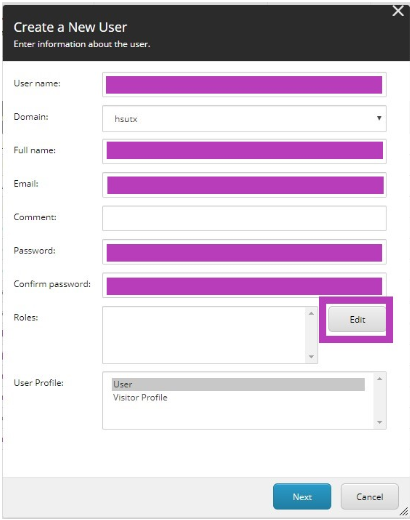 5. Clicking the Edit button to the right of the Roles window launches a window for selecting the roles you need to assign to the new user profile.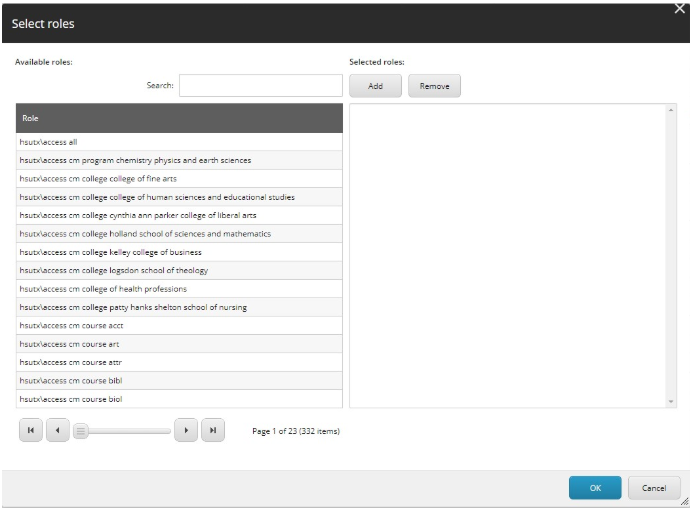 6. If you are creating a new user profile for a user that will be a catalog administrator, the only role required is the "school\admin" role, and this will grant them access to everything needed. If the new user is to be an editor, reviewer or approver of catalog items, the profile will require one "workflow" role to access a workbox, and at least one "access" role to access specific parts of the catalog they will need access to. Only one workflow role is assigned, but as many access roles as needed can be assigned to the user profile. These access roles are the sections/items of the catalog they will be able to edit, review or approve.

7. Once you have assigned the new user the appropriate roles, click "OK". Roles will not be assigned unless this is done.

8. The "New User" window Roles field will then be populated with the roles you have just assigned and you can click "Next". (All roles within are roles that have been inherited by roles that were assigned. These roles are not assigned individually)



9. The window will change to communicate that you have successfully created the new user. Click "Close".