Unit Administrator LTI Quick Guide
Getting Started
In this quick guide, basic steps are outlined to build web links in a Canvas environment. The assumptions are that implementation steps have been completed with your Tk20 Product Consultant (i.e. coursework has been created and sent in Tk20, provider domain has been registered in LMS) and you are ready to begin linking courses in your LMS to Tk20 coursework. For more information on the implementation process, please reference the LTI Overview document or speak to your IPC.

Note(s): Screenshots are from a Canvas version which may be slightly different than yours.

External Tool Configuration
Before beginning this process, your PC will work with your LMS Administrator to change the Key and Secret from the Tk20 LTI Tool Provider Setup Section. In addition to changing the Key and Secret, your PC will need to enter the URL for your LMS. In addition to registering one domain, PC will need to add a second domain. This can be the domain for the institution's staging or testing server.

Login as the faculty or administrator.
Hover over the Courses link and select the Course Number.
Click Settings on the left side menu.
Click the Apps tab.
Click the View App Configuration button
Click the + button.
Enter in the following information:

Name
Customized Consumer Key
Customized Shared Secret
Configuration Type: Select Manual Entry.
URL
Domain
Privacy: Select Public.
Click the Submit button.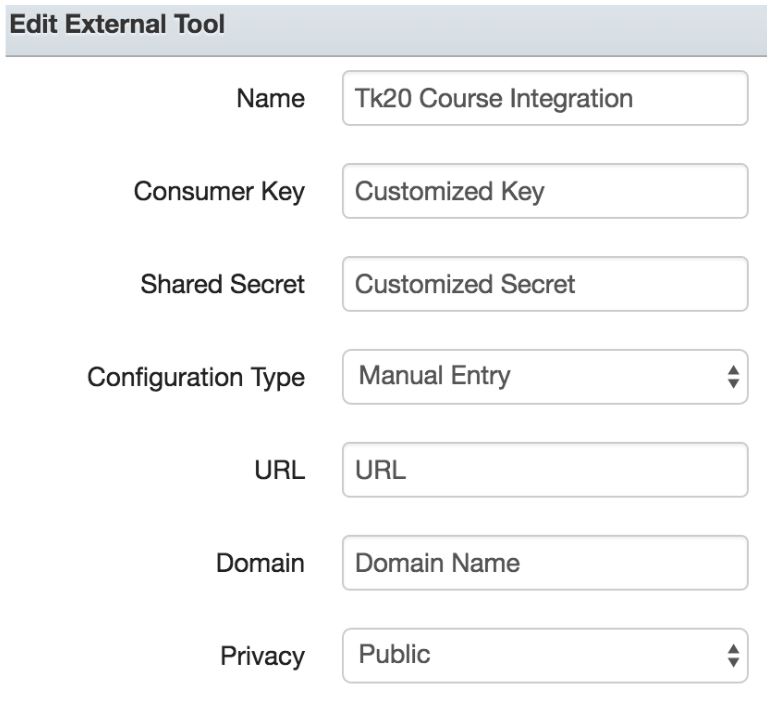 Embedding the Coursework/Assignment Link
While there are many locations in Canvas to display the Tk20 Coursework Link, we recommended an Assignment. In order to post grades back to the LMS, the coursework link must be associated in the Assignments area. This will add a column in the gradebook to submit grades.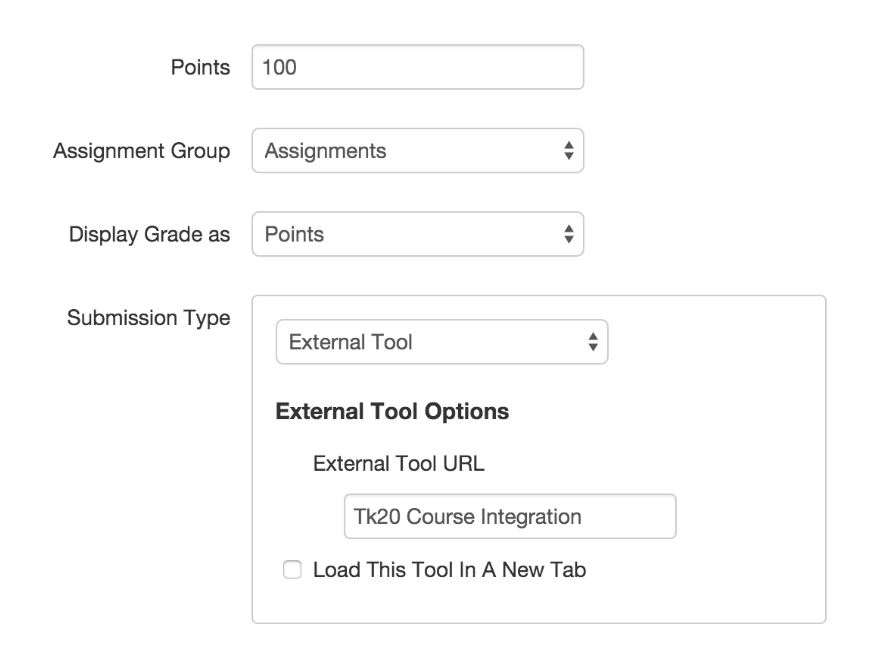 Click Assignments from the course side menu.
Click the + Assignment link on the right side.
Enter a title for the assignment. e.g.
Enter '0' points for the assignment.
Corresponding to the "Submission Type" option select "External tool" from the drop down menu.
Click the External Tool URL box.
Select Tk20 External Tool Link registered in your server.
Click the Save button.
Note(s):
If you want the Tk20 screen to open in a new tab (versus embedded), select the checkbox to the left of Load this tool in a new tab.