In Progress Tab

After logging in, the In Progress tab will list all of a student's open courses. For each individual course, activities ready to be started or continued will be listed with the course information.

Please note, if you do not see the course you are attempting to submit to, please contact your institution directly regarding the course or internship.




Course Activity Tab
Clicking on an individual course will display the course activity tab. The course activity tab allows a student to view, begin, or continue activities. If an activity has been assessed, the student can also see the results of the assessment. The course details tab also provides access to the course homepage.






The Homepage Tab
On the course details screen, selecting the Homepage tab allows a student to view the course homepage. The course homepage can provide information and resources about the course to student. If you are expecting to find resources on this tab; but, they are unavailable, please contact the instructor directly.

Activities
Activities can be thought of as assignments, and are tasks that are completed by students, often followed by assessment of the student's work. Activities can contain several methods for students and instructors to provide information. Instructors may include information such as directions for completing the activity, or attached files for reference. Students can submit information in various ways, such as text boxes, answering multiple choice questions, and uploading attachments.

The Activity Tab
The activity tab shows all current activities for a course, including an activity's name, due date, and submission status.

To begin or continue an activity:

From the In Progress tab, or from a course details page, click on the activity to be completed.
Populate any required fields and provide any necessary information.
Click the SAVE button to save all work, and return to the activities list, or click SUBMIT to complete the activity submission.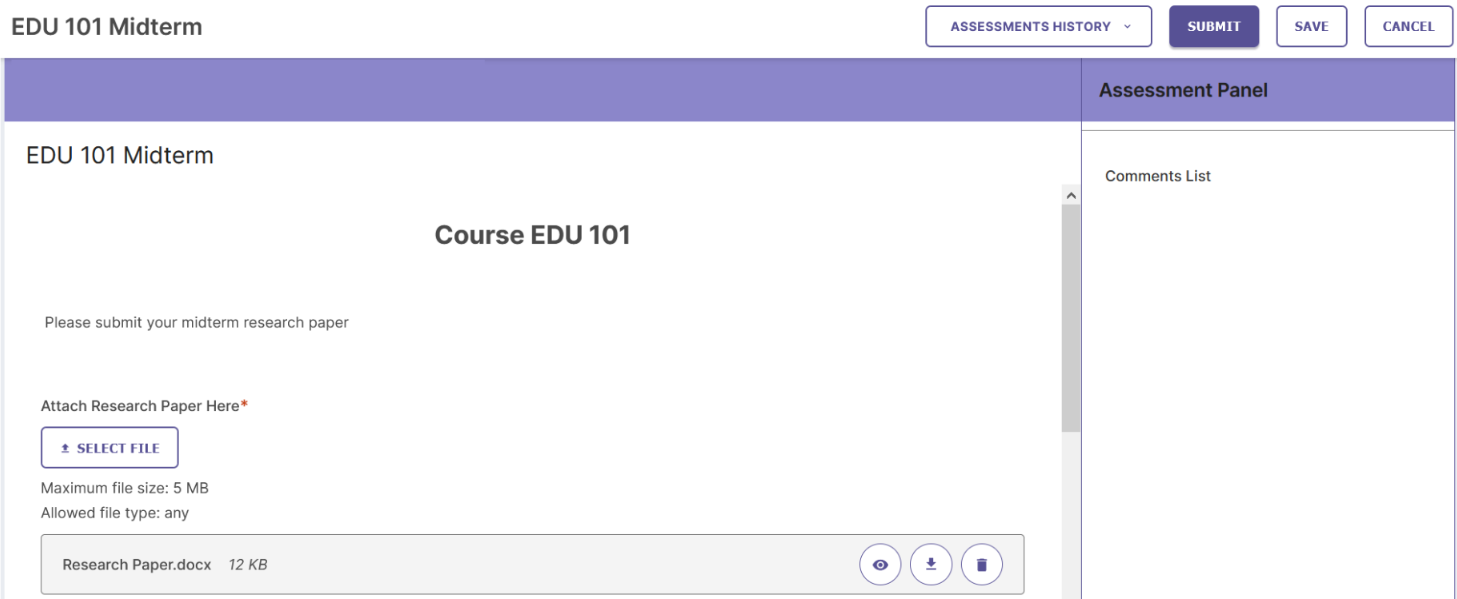 To withdraw a submitted activity:

From the In Progress tab, or from a group details page, click on the activity to be withdrawn.
Click the WITHDRAW button.



NOTE: Not all submitted activities can be withdrawn. There are four cases in which the WITHDRAW button will be greyed out:

The assessor has begun the assessment process.
The withdraw feature was disabled for the activity when it was created.
The activity due date has passed.
The course end date has passed.
If you are unable to withdraw but you need to make changes to your submission, please contact your instructor.

To view a completed assessment:

From the In Progress tab, or from a course details page, click on an assessed activity to view the assessment results.
Any previous submissions to the activity can be viewed by selecting it from the Assessments History dropdown menu.
When finished, click Cancel.