In order to create user accounts in AMS, you must have System Administrator permissions.


1. Log into the manager account with Institutional System Administrator privileges and click on System Administrator under AMS Coordinator Tools.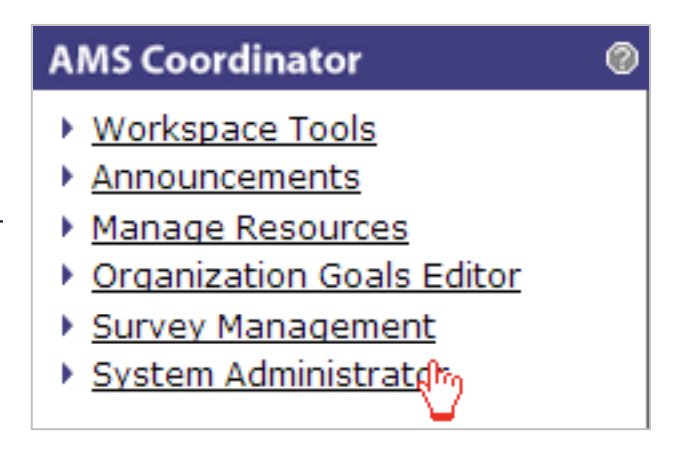 2. Enter your access code and password and click the Continue button.

3. Click on TS DataExchange. If you do not see TS DataExchange as an Administrative Option, please email support@watermarkinsights.com and we will be happy to enable this option for you.
4. Under Create Accounts, click the Create and view Taskstream accounts link.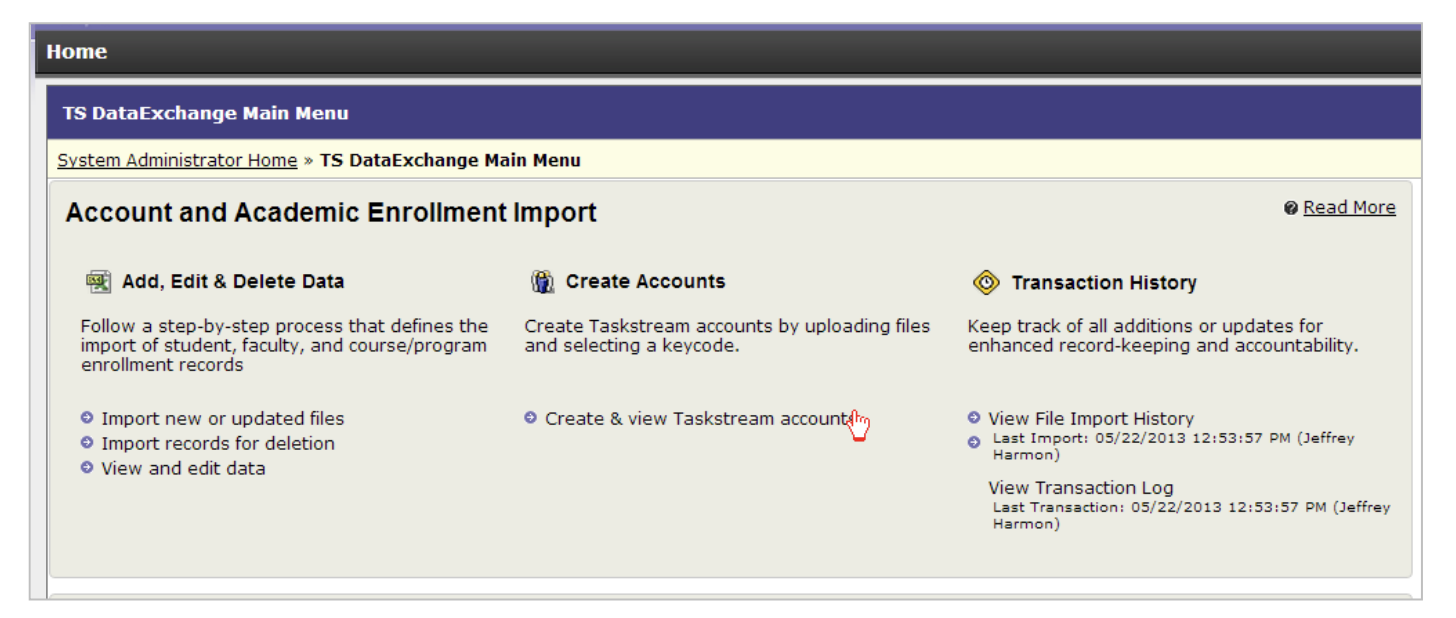 5. Click the Import New Subscribers button for the appropriate faculty user keycode. If you do not see any keycodes listed, contact our Support Team (by clicking Submit A Request from the Help Center) and our team will create one for you.

6. Click the Download Template link if you do not have a template available and populate the spreadsheet with the appropriate fields. Regarding the account creation template, populate the spreadsheet with each user's information: PersonID is a unique identifier (e.g. employee ID, CAS ID if applicable, or the user's email address), First Name, Last Name, Email Address, Username (should be the user's email address to prevent duplicate usernames), and External ID (which is optional; can be an individual's SIS ID if applicable or can be left blank).

7. Click the Browse (or Choose File) button to navigate to the file location on your computer. Click the Continue button.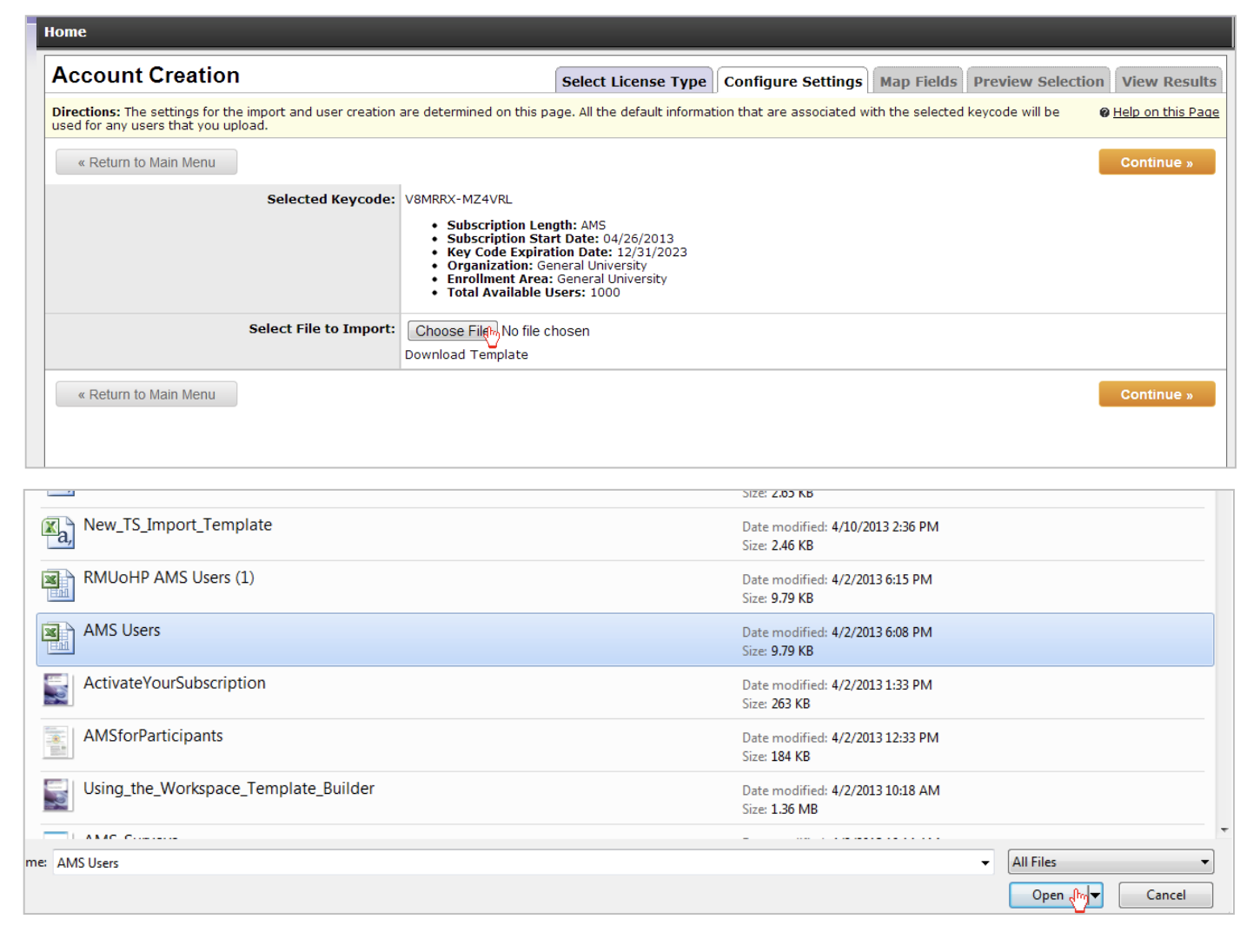 8. The first time you create accounts, you will need to map fields for all required fields (red asterisk) using the pulldown menus as follows:
a. Person ID → PersonID
b. External Id Number → ExternalID (leave blank if this was left blank in the template)
c. First Name → FirstName
d. Last Name → Last Name
e. Email Address → EmailAddr
f. User Name → UserName
9. Click the Continue button. If any errors are found in the Results column, click the View Errors and Detailed Results button to see the error details. Fix the errors in your CSV template and repeat steps 7– 9.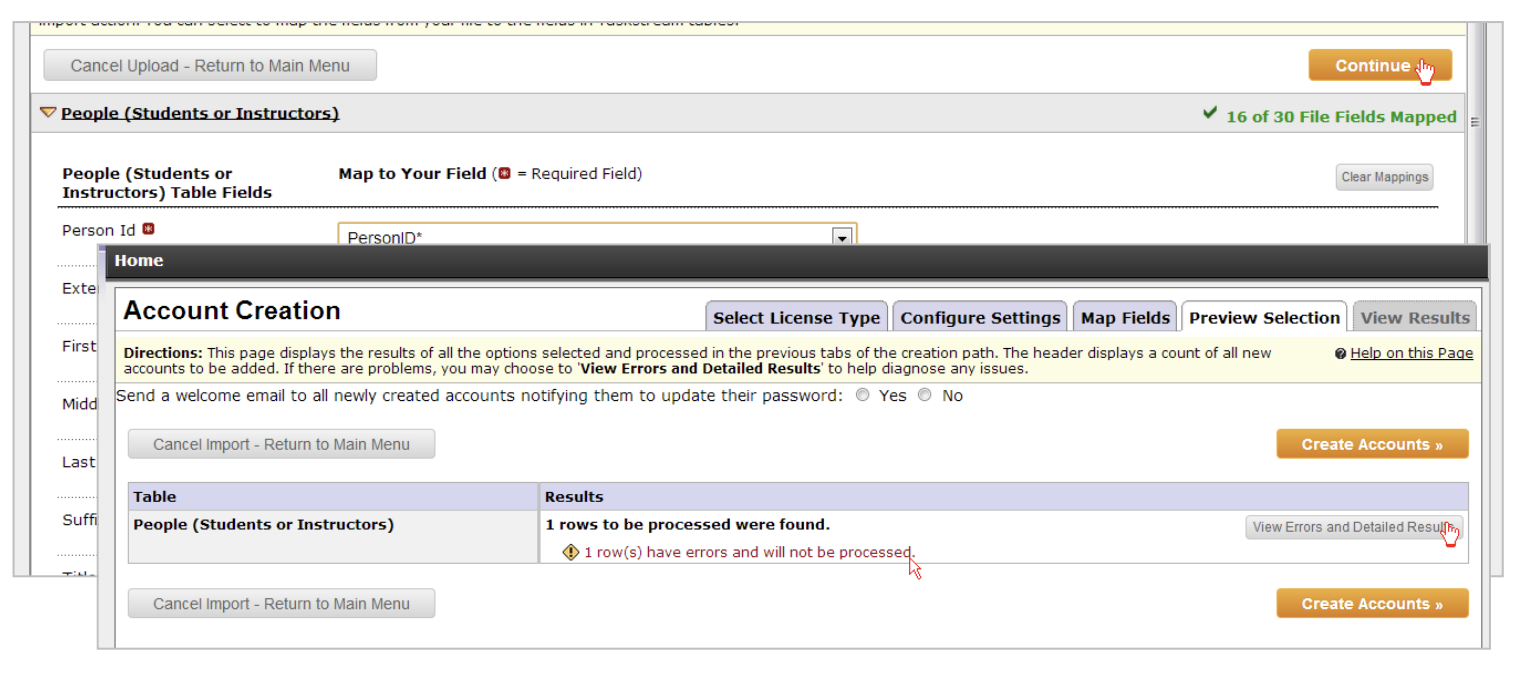 10. Indicate whether, Yes or No, you would like to send a welcome email to all newly created accounts notifying them to update their password.
Note: If you log in to Taskstream AMS via login.watermarkinsights.com, the Welcome Email functionality you are seeing displayed in this guide does not apply to your setup. Please select "No" on the Welcome Email functionality being described in this video. All new users you create will need to first access their account via login.watermarkinsights.com/find-email and they will receive a password reset email following that method. If you have any questions, contact our Support Team (by clicking Submit A Request from the Help Center)

11. Click the Create Accounts button.
After creating user accounts, you will want to be sure you add the appropriate affiliations. You can do this by using the locator tab.
For more instructions, click the link to the article below.
Locating, Reporting on, and Affiliating Subscribers in the Member Locator