If you are enrolled as an Evaluator in a program, you can access work that you have already evaluated by following the directions below:

1. Click the name of the program you'd like to access from your homepage
2. You can search for work by a specific student (author) or, you can search for multiple students with work in some or all areas of that program. To view only previously completed evaluations, select to view "All Individuals (do not filter)."
3. From the evaluation grid, you can access previously evaluated work by clicking the View/Edit link for the appropriate assignment.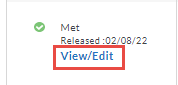 This link navigates you to a display of tabbed pages of information related to that area, starting with a summary of the Evaluation/Score.

To view your completed evaluation for the selected assignment, click the Evaluation/Score tab.
To view the work previously submitted by the author, click the Work Submission tab.
When applicable, you may also choose to view related Interactions w/Reviewer(s).