Client Success, Client Services, and Client Support are all part of Watermark's Client Experience Team and it can be tough for an administrator of Watermark products to know who to contact about what.
The three teams are dedicated to your success but serve different roles: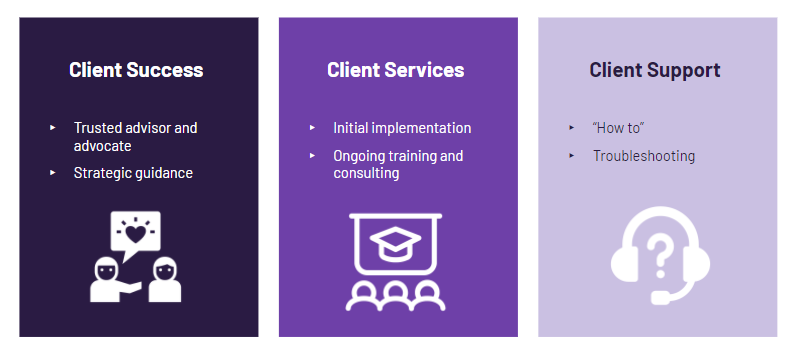 First, we have Client Success.
The mission of our Client Success team is to ensure you derive value from the solutions you've invested in, and that you have the best possible experience while doing so. Each institution has a dedicated Client Success Manager (CSM) and, whether you oversee the administration of a system on campus or are involved at the strategic level, your CSM will be an important contact at Watermark. If you're not sure who your CSM is, reach out to Support at support@watermarkinsights.com and we will get you in contact with your CSM!

What does your CSM do?
Act as your trusted advisor to ensure you achieve your required outcomes with our Watermark solutions
Develop an in-depth understanding of your needs
Communicate common experiences to internal teams for continuous improvement
Next, we have Client Services.
Our Services Team is responsible for the initial implementation of you Watermark products. However, they don't disappear after you go-live. Our Services team is available for ongoing training, consulting projects, integration work, and other strategic initiatives. These product experts can help you launch a brand new initiative or just give you a refresher to keep your skills fresh.
We are growing our training offerings on the Watermark Academy at academy.watermarkinsights.com. Here, you'll find live training sessions in the form of webinars, workshops, and certifications to help you become a power user.
Webinars: Free, large-scale training sessions. We post recordings of our previous webinars on the Watermark Academy website, so you can review them anytime you'd like!
Workshops: Smaller, classroom style training sessions that give you an opportunity to interact with our Project Managers, Product Consultants, and other Watermark administrators, as you take a deeper dive into learning about your Watermark tools.
Certifications: Earning a Watermark Certification allows you to showcase your expertise and deep system knowledge. Certification courses are 4-hour, in-depth courses that are an extension of what you've learned in implementation. Our small group certification courses help you enrich your knowledge and skills so that you become an expert administrator.
Check out the Watermark Academy at academy.watermarkinsights.com!
Finally we have Client Support.
Our Support team can assist with any "how to" question, troubleshooting, if you run into an error, or get stuck on particular function.
The preferred way to contact Support is to Submit A Request at support.watermarkinsights.com
This allows us to route your question to a product expert who can get back to you quickly- 24/7.
To learn more about all the ways you can get support with your Watermark solutions, see:
Contacting Watermark's Customer Support