Welcome to the Watermark Unified Help Center, your one-stop shop for learning about Faculty Success and Reviews, Promotion and Tenure, getting ideas for best practices, and connecting with peer institutions.
Search
The search bar is the most powerful tool in the new Help Center. Search for a topic or phrase and it will suggest articles we've published related to your topic. You will see a full list of articles, community topics, and new feature ideas related to your question.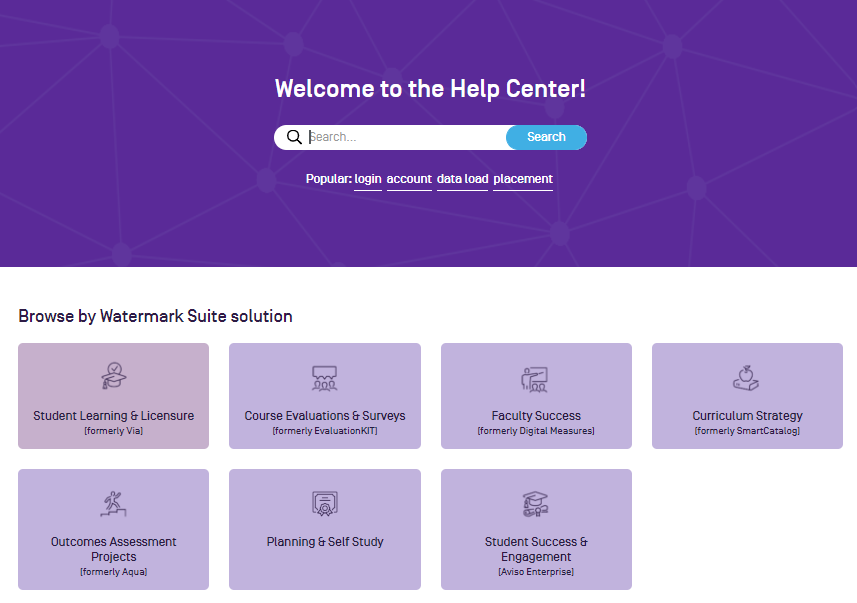 Our knowledge base contains all of our help articles, set up guides, tips and resources to help you make the most of Faculty Success.
With a more intuitive layout and a fresh coat of paint, we hope you'll find exactly what you're looking for when visiting the Help Center. To browse further topics for Faculty Success, click the icon.
Review the latest public Getting Started materials, such as login guidance and the Faculty/Staff Guides for end users.
Get certified or refresh your skills in Faculty Success and Reviews, Promotion and Tenure in Training & Resources.
Stay up to date in News & Updates. We'll share updates on the latest enhancements, announce the latest features, and provide you with our product roadmap.
Dive into Faculty Accomplishments to get started with Faculty Success or refresh your memory on the basics or advanced topics related to data collection and reporting.
Use the Reviews, Promotion and Tenure section to discover more about our process management tool and how it can digitize your annual review, promotion and tenure, and other campus processes.
Understand our connections with other Watermark solutions, Web Services (API) accounts, and technical requirements for Advanced Authentication in Integration & Authentication.
Community
Do you ever wonder what other clients are doing? Ask them! Head to the Community section of the Resource Center to join the conversation and post your questions. We will make sure that your questions get answered either by other clients or by a Success Consultant with expertise on the topic.
New Feature Ideas
We love your suggestions for improvements to Faculty Success! Browse New Feature Ideas related to each utility in the system and cast your vote to help us prioritize our efforts. If you have a suggestion that hasn't been documented please add it so other clients can hear your ideas.
Ask for Help
Help is just a click away. If you're having trouble finding the right article, simply click on the "Contact Us" link at the bottom of the homepage. We'll follow-up with relevant articles and best practices.