After selecting the Outcomes that the Organization will assess in the Plan, the next step is to enter the Measures used to assess each Outcome.
On the Plan page, the selected Outcomes will appear.

To add a Measure to an Outcome, first select the Outcome. This will expand the Outcome to reveal a "New Measure" button. Click to add a new Measure.

This will produce a form with various fields for the Measure: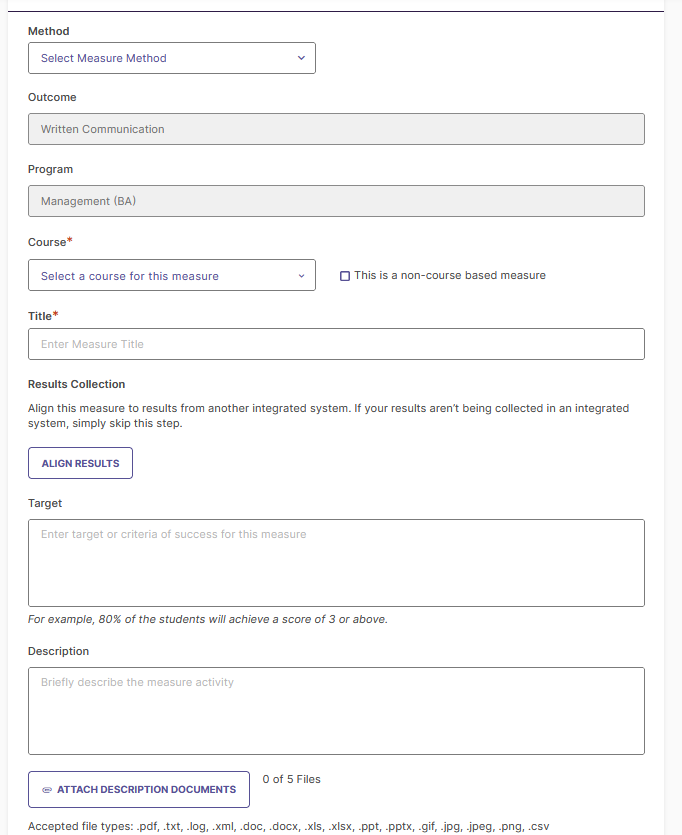 Method: Use this dropdown to select whether the Measure is Direct or Indirect, with the most appropriate subtype. An example would be a Direct Measure with a subtype of "Assignment".

Course (required, only available to Program-type Organizations): If a Measure is collected from a Course in the Program's curriculum, this field will be used to identify that Course. The dropdown menu will product Courses to select. If the Course does not appear on this list, it will need to be affiliated to the Program. For more information on this, please see:
If a Measure is not collected from a particular Course, select the box next to "This is a non-course based measure".
Title (required): Enter the title or name of the Measure.
Results Collection / Align Results: Only needs to be completed if the institution utilizes a data integration between Planning and Self-Study and either an LMS or another Watermark product, such as Outcomes Assessment Projects or Student Learning and Licensure, you can align a Measure to an assignment collected from that system to automatically populate assessment results from that system into Planning and Self-Study.
For more information on this, please see:
Target: Enter the target or criteria of success for the Measure, e.g. "80% of the student will achieve a score of 3 or above."
Description: Enter a brief description of the Measure activity.
Attach Description Documents: Upload up to 5 files that provide more details about the Measure activity.
Once you are done entering information for your Measure, click the Add button in the upper right-hand corner of the page to save your changes.

A message will appear asking whether you are ready to enter the results of the Measure you just entered. Click No, Continue Later to return to your Plan page where you can enter more Measures for your Outcomes, or click Yes, Manage Results Now to go to where you can enter your assessment results and findings. This process is detailed below under Add Results.
Please note that this page can be returned to later to edit or revise the Measure. For more information on Editing vs. Revising Measures, please see the section on Measures in the article linked below: