MathJax Available for Catalog Sites & Syllabus Output
We now have the ability to implement MathJax upon request to the Catalog Sites.
MathJax is a third-party vendor that allows you to create easy-to-read math equations from a rich text editor.
MathJax is an excellent option for creating easy-to-read math in all browsers if you include equations in your course or syllabus descriptions. While this is a helpful addition to your web-facing content, MathJax will not work as part of the catalog Word export.
This is a handy addition for faculty who create math courses that need equations built into the description or syllabus.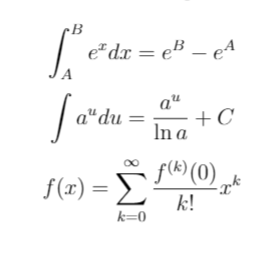 As this option needs to be implemented on a request only basis, please contact support if you are interested in having this feature available within the catalog.
Page Properties Reporting Tool
In an effort to create self-service tools that allow administrators a more straightforward catalog maintenance process, Curriculum Strategy is introducing a report that will document which items in the catalog have been selected as Show in Navigation and Include in Print.
For more information, please see the Page Properties Tool article.